Top 10 South Africa moments
Published 10/02/2015, 4:35 AM EDT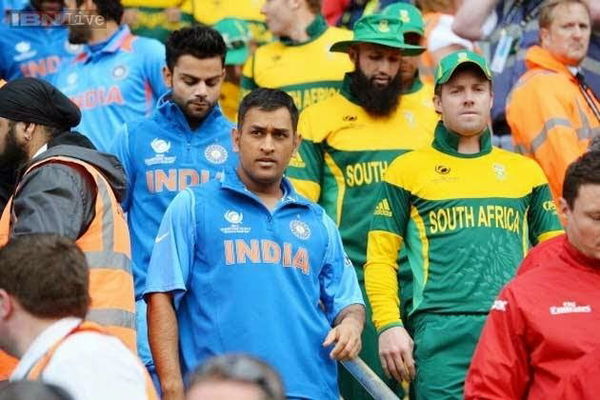 ---
---
With the ongoing Mahatma Gandhi – Nelson Mandela series, we at EssentiallySports bring to you the top 10 South African cricketing moments
ADVERTISEMENT
Article continues below this ad
10)  Jonty Rhodes 5 stunning catches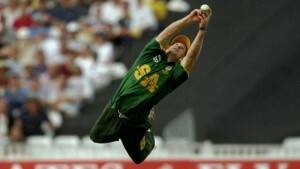 ADVERTISEMENT
Article continues below this ad
Image courtesy: cricket country.com
Is it a bird? Is it a plane? No, it is Jonty Rhodes.
For a fielder, apart from the keeper, to take five regulation catches in an innings involves great skills and the record still remains unbroken almost a decade and a half after Jonty Rhodes set it against West Indies. He earlier displayed his talent at the 1992 World Cup by running out Inzamam-ul-Haq with a horizontal dive from backward point and it was this point which earned him his reputation as a superb fielder.
9) The other De Villiers delivered
When South Africa's  victory over Australia in Sydney in 1994 is remembered, all that comes to one's mind is the image of Fanie de Villiers and his figures of 6 for 43, which became the architect of that five-run win.
Kepler Wessels,  and his deputy Hansie Cronje, had that final morning meeting where they discussed  a strategy to deal Border's threat. The plan was executed well by Allan Donald and Fannie De Villiers thus handing SA an unexpected victory.
8) Smith, Kirsten and Ntini make it to the Lord's honour board
Every player who plays at the Lord's is inspired by the honours board in the pavilion, and wants his name put on it and the South Africans were no different, as by the time the Test match finished, three of Proteas had done it. The skipper , Graeme Smith, scored a blistering 259. The senior pro on his last tour, Gary Kirsten scored 108  and Makhaya Ntini took 5 for 75 on the first day as the English innings were wrapped up for a paltry 173. He repeated the performance in the second innings with 5 for 145 to become the first South African to take 10 wickets at the Mecca of cricket.
7) Semi final misses
South Africa and New Zealand were 2 teams in  red-hot form during the 2015 world cup and they played out one of the all-time greatest World Cup matches that went down to the penultimate ball.
South Africa, once more, proved why they were called the Chokers and were left to lament several costly missed chances in the field in the heart-breaking loss which brought tears in the eyes of their players . The first of many came in the 32nd over when de Villiers fumbled the ball as he was about to remove the bails at the non-strikers end and run out Anderson.
In the 41st over, Quinton De Kock was involved in a similar incident.
Then, in the 42nd over, Farhaan Behardien spilled a catch in the outfield and thus proved the saying right that 'catches win matches'.
6) The Chokers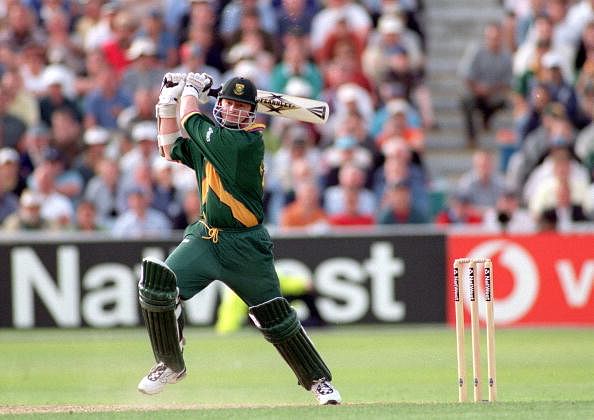 One of the most dramatic finishes in the history of one-day cricket world cup saw the eventual champions Australia make it to the final on the basis of Super Six net run-rate after both sides had been bowled out for the same score. Lance Klusener bludgeoned the Australiann bowlers on his way to 31 in 14 balls to draw the game. Klusener levelled the scores at 213 in the final over, but a lack of understanding resulted in Allan Donald being run out with two balls to spare.
5) Gibbs dropping the World cup
Australia captain Steve Waugh during the semi final of the 99 world cup was given a lifeline by Herschelle Gibbs after clipping a ball to him at square leg, as he was let off the hook by the South Africa fielder. As expected, he went on to take advantage and scored a century. Gibbs got excited and attempted to throw the ball up in the air in celebration before he had full control of it. Waugh went on to make 120 to help Australia win the game. And also the cup. It was claimed at the time that Waugh sledged Gibbs by saying: "You've just dropped the World Cup, mate".
4) Hard luck Proteas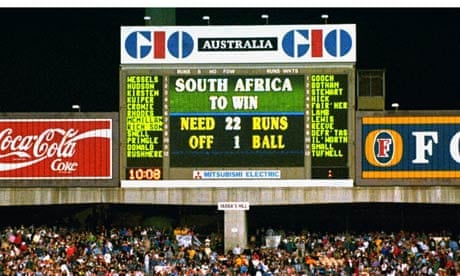 England went on to the final of the 1992 World Cup after beating South Africa under controversial circumstances in their semi-final at Sydney. Due to a 12-minute rain delay, to the Proteas'dismay victory their target was revised from 22 runs from 13 balls to an impossible 22 runs from one ball as the Duckworth-Lewis method came  into effect only after the 99 world cup
3) Proteas 1 wicket victory over Sri Lanka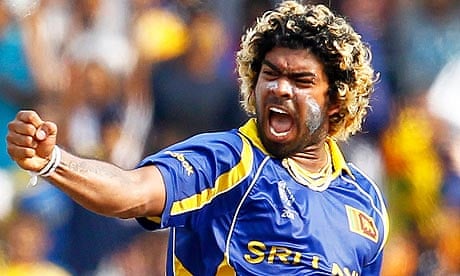 South Africa completed a nail biting one-wicket victory over Sri Lanka after Lasith Malinga became the first bowler in international cricket to take four wickets in 4 balls. With South Africa just a boundary away from their 210-run victory target, Malinga produced ferocious yorkers to  dismiss Shaun Pollock, Andrew Hall, Jacques Kallis and Makhaya Ntini as they were undone by his clever bowling However, Charl Langeveldt and Robin Peterson held their nerves and got South Africa over the line.
2) Steyn gun fires
The largest margin of victory in India v South Africa test matches is of an innings plus 90 run win at the Motera stadium . Dale Steyn and Makhaya Ntini tore apart the Indian batting line up then consisting of the fab 4 and took only 20 overs to clean up India for 76. In reply, AB de Villiers sored his first test double century (217), and then as we all know there has been no looking back for him since then, helping his team take 418 run lead in the first innings, in addition, Indians were bowled out for 328 in the 2nd innings and the match was over before 3rd day's stumps. It also happened to be India's biggest defeat at home vs any team in nearly 50 years! The Steyn gun gave a magnificent display of pace bowling on a lively track to finish with a tally of 5-23 as India crashed to 76 in their first innings in one of their worst batting performances in recent years.
ADVERTISEMENT
Article continues below this ad
1) South Africa's record chase
The 5th One Day International cricket match between South Africa and Australia played in Johannesburg is considered to come in the list of best chases the world has ever seen. The match broke many cricket records. Australia while batting first scored a huge 434 for 4 off their 50 overs, breaking the previous record of 398–5 held by Sri Lanka. In reply, South Africa went  scored 438–9, winning by one wicket with one ball to spare.
ADVERTISEMENT
Article continues below this ad