Top 10 Swing Bowlers in Modern Cricket
Published 08/10/2017, 7:46 AM EDT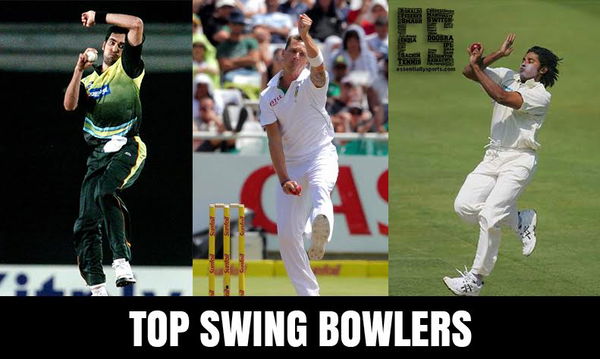 ---
---
Swing bowlers are known to rattle batsmen by virtue of their ability to move the ball vehemently in the air followed by late movement off the pitch as well. A swing bowler is also one of the most vital elements of any team, because apart from leg-spinners, only good swing bowlers possess the ability to create breakthroughs out of nowhere.
ADVERTISEMENT
Article continues below this ad
While it is an art difficult to master, it is also one which bears the best result. There are some maestros who'd make major inroads early on with the new ball and some who'd get wickets with a 33-34 over old ball and deceive with their ability to create an unusual rough on the ball to produce reverse swing.
Here is a compilation of the best swing bowlers in the modern era who have in major amounts, revolutionized the art and been vital cogs in their respective teams:
ADVERTISEMENT
Article continues below this ad
10. Tim Southee
If Allan Donald thinks that Tim Southee has the potential to be one of the best swing bowlers in the world, that seems to be testimony enough for him to be on this list. Tim Southee, the lanky New Zealand fast bowler has become the spearhead of the Kiwi attack at the young age of 26. In his debut age at the age of 19 against England at Napier, Southee destroyed the English batting order with figures of 5/55. Later his performance of 7 for 64 against India in Bangalore in 2012 (also the best figures by a New Zealand bowler in India) proved that he wasn't just a bowler who thrived in seamer friendly conditions only. With an action that is naturally generates outswing combined with the brisk pace makes him an attacking new ball bowler particularly in Tests. His performance of 18 wickets at an average of 17.33 in the 2011 World Cup illustrates that he has the ability to perform in the shorter formats as well with his death bowling being exceptional. If he manages to keep injuries at bay, there is little doubt that Tim Southee could end up as one of the most successful swing bowlers in the world.
Tim Southee has 204 wickets in 57 tests at an average of 31.55 and strike rate of 61.8, and 160 wickets from 119 ODIs at an average of 33.22 and a strike rate of roughly 37.
Have a look at his 7 wicket spell against England in the 2015 Cricket World Cup.
https://www.youtube.com/watch?v=2q1-kySR3tY
9. Shane Bond
Shane Bond is an example of the fragility of fast bowlers in cricket.  His athletic action was such that it would naturally angle in and his 150-plus kmph efforts meant the ball would swing late. Toe-crushing yorkers were a specialty and the mayhem he created with a new ball was a sight to behold. He feasted on the world's best batsmen; Ricky Ponting fell to Bond in all of the first six ODIs they played against each other. His greatest spells were undoubtedly the hat-trick in Hobart in 2006-07 and his 6 for 23 against the eventual champions in the 2003 World Cup.  With a career interrupted by frequent injuries in  knees, feet and other body parts, Bond's desire to play could never be questioned as he kept coming back into the side. Some of the trouble came from his unwillingness to reduce his intensity; had he been happy to drop his pace and take things easier, he might have played more cricket.
One of the fastest bowlers in world cricket since the 2000s, Bond's legacy as a fast bowler is secure. He has the distinction of being the quickest New Zealander to 50 wickets in Tests and ODIs. His prematurely ended Test career is regarded by many as New Zealand's best fast bowler since Sir Richard Hadlee. He played only 18 tests and took 87 wickets at an average of 22 and strike rate of 37.
His performance in WC 2003  is one of the finest exhibitions of fast bowling and just goes to show what kind of impact he could have had on cricket if it hadn't been for injuries.
https://www.youtube.com/watch?v=N3DbzBxGPHc
8. Umar Gul
With the annexation of most of the Pakistani Team following the 2003 World Cup Debacle, few Pakistani bowlers have emerged that hold up to the exceptionally high standards of Pakistani Bowling. Discounting disgraced bowlers – Mohammad Asif and Mohammad Amir, it has been Umar Gul who has been keeping the tradition of reverse swing bowling alive in Pakistan over the last few years. While a slew of injuries forced him to concentrate more on the shorter formats of the game, Gul has used reverse swing brilliantly in both T20s and ODIs. More than his skill, it has been his death bowling that has been particularly outstanding. Apart from bowling reverse swinging yorkers, he has been able to stem runs with brilliantly accurate yorkers bowled way outside the off stump just short of being wide. This has made him as perhaps the best death bowler in the world.
Here is one of Gul's finest performances in ODIs, a career best 6/42 against England when his team needed it the most.
7. James Anderson
Jimmy Anderson is perhaps the best fast bowler English cricket has ever produced and they have produced the likes of Ian Botham, Harold Larwood and Fred Trueman. Notwithstanding the fact that he has been more successful at home than abroad, he would again be remembered as one of the greatest swing bowlers when he decided to hang up his boots. For a little under a decade now, Anderson has been a vital cog of the English Cricket Team and his success a major factor in England cricket team's rise. Early on his career, he use to rely too much on inswingers and cutter. But it seemed that his lack of line and length, coupled with injuries, would cut short his career. Yet, in the absence of any other fast bowler, Anderson became the spearhead of the English attack. Concentrating on his line and length so that it complements his deadly seam and swing, his limited repertoire become lethal. By his own admission, it was after Indian bowler, Zaheer Khan's success in England that made him add reverse swing to his skillset. Over the years, his ability to swing the new ball in both directions early on in the innings with no discernible change in action and more importantly reverse swing the old ball has made him a complete fast bowler and a formidable name in cricket.
In the recently concluded test match against the West Indies in Lords', Anderson became only the 3rd fast bowler to reach the figure of 500 test wickets. Anderson has 506 wickets from 129 tests at an average of 27.39 and a strike rate of 55.8.
While there are many videos on the internet of many Anderson's bowling spells, his 7-43 against New Zealand definitely worth viewing.
6. Dale Steyn
What can be said about Dale Steyn that hasn't been already said? He is the complete fast bowler. Pace. Check. Swing. Check. Aggression. Check. Fit. Check. Steyn's raw aggression and pace is not only intimidating but also reminiscent of the great West Indian fast bowlers like Michael Holding. Each delivery that Steyn bowls is good enough to dismiss any batsman. In his destructive spell of 7-51 against India at Nagpur, one poignant moment stood out, the first bowl that Steyn bowled to Tendulkar, 143 kmph, swung in and the next, around 141, swung out. This ability to swing the ball in both directions at over 140 kmph at will is what makes Steyn extremely dangerous. In 2008, he became the fastest South African, and the 15th fastest overall, to reach 100 Test wickets. That September, Steyn was named ICC Test Player of the Year after taking 86 wickets in 14 matches at an average of 18.10.  At 32 only, Steyn still has a good couple of years of cricket left in him and by the time he retires, he could well be on the top of this list.
For those who enjoy fast bowling, watching Steyn at Perth is a dream come true. Do have a look !
https://www.youtube.com/watch?v=1j0TgTVKLIY
5. Zaheer Khan
Zaheer Khan has been the spearhead of Indian bowling for nearly a decade. The Baroda player who made his debut in 2000 against Kenya. His performance in the Champions Trophy, specifically the full toss that clean bowled Steve Waugh and his inch-perfect yorkers, made a big impression on world cricket. He was immediately compared with the Pakistani greats, Waqar Younis and Wasim Akram.
Here is how Zaheer began his career.
https://www.youtube.com/watch?v=qTAoUOFGPvE
Lack of control on his line and length meant he was extremely wayward early on. His opening over in the World Cup Final 2003 against Australia went for 15 runs and set the tone for the Indians. A hamstring injury saw him being dropped from the Indian team in 2005. He signed up with Worcestershire, worked on his fitness, and made a comeback in 2006 against South Africa at Johannesburg. Cutting back on his pace and concentrating more on reverse swing, Zaheer has a dream comeback. His spell against England in Nottinghamshire apart from other great spells culminated with him being declared as the Wisden Cricketer of the Year in 2008. Another injury in 2010 seems as if Zaheer would be out of the World Cup 2011 in India. Missing much of the 2010/11 season, Zaheer returns to the team for the World Cup ,where is ability to swing the ball in both directions with the new ball and more importantly his cutters and reverse swing in the middle overs and powerplays, is instrumental in India's successful campaign. Life comes a full circle with his 2 maiden overs against the Lankans in the final and India lifts the 2011 World Cup.
4.  Glenn McGrath
Not many bowlers can boast of counting Brian Lara as their bunny, for that fact alone, Glenn "Pigeon" McGrath deserves a spot in this list. Yet, Glenn McGrath had the rare ability to reinvent himself again and again throughout his career. Initially a fast bowler who bowled at over 140 kmph, he cut back on his pace as he grew older. He dismissed the notion that fast bowling is just about swing or pace or bounce . Most of his success was built on bowling in the right areas, at the right line and length. With the concentration of a Yogi, he would exploit the "corridor of uncertainty" and would get the bowl to move just a bit, but well enough to produce an outside edge. It is surprising to see that a bowler who use to bowl around 130 kmph inspire the kind of trepidation in batsmen that Glenn McGrath did.
No performance of McGrath can come close to his 8/38 vs England in the Ashes 1997 at Lord's.
https://www.youtube.com/watch?v=6pQBzckYG8w
3.  Chaminda Vaas
Apart from having one of the longest names in cricket (his full name is Warnakulasuriya Patabendige Ushantha Joseph Chaminda Vaas), Chaminda Vaas, is perhaps one of the most under rated bowlers in the world. In the history of fast bowlers, Vaas is not the archetypical fast bowler. He wasn't one of the extremely tall bowlers who use to tower on everyone. Yet, if one looks at his record, it is exceptional. He has over 355 wickets, at an average of just under 30 and an even 400 wickets with an average of 27.53. What makes his record even more awe inspiring, is the fact that he played most of his cricket at the bland, batting friendly pitches of the subcontinent, that virtually offer no support to fast bowlers. Vaas use to open the bowling for Sri Lanka. With the new bowl, he had an exceptionally wonderful inswinger that he use to bowl with great control and accuracy. His accurate yorkers, variations in pace and his off cutters made him a handy bowler in the death overs of the innings. Later in his career, he also added reverse swing to his repertoire. Perhaps, his most memorable spell would be his 8/19 against Zimbabwe where he destroyed Zimbabwe who are all out for just 38 runs.
Here is another great example of how deadly Vaas was with the new ball –
2. Waqar Younis –
Waqar Younis made his debut along with Sachin Tendulkar at Karachi in 1989.  His USP were toe crushing inswinging yorkers bowled at over 150 kmph. And this was after he had cut down on his pace following back problems earlier in his career. Like all Pakistani players of the time, Waqar Younis was spotted and that too by the great Imran Khan. On his debut test match against India, he took 4 wickets along with that of another debutant, Sachin Tendulkar, clean bowled.  The key thing that made Waqar Younis a great bowler was not his skill, it was his determination and intensity. He would put everything he had in each of his delivery. It didn't matter if the batsman was Brian Lara or Chris Martin. And unlike bowlers of his age, who believed in hitting the deck hard, Waqar would bowl full and outside the off stump. And With some prodigious amount of late swing, the ball would crash into the leg stump.
Here is an example of Waqar's skill. In this over, he sets up Brian Lara. After bowling some half volleys that are dispatched for 4, he bowls full on the middle stump which swings in and castles Lara's leg stump. Watch and be amazed.
https://www.youtube.com/watch?v=c5Llo7RjP2w
ADVERTISEMENT
Article continues below this ad
Wasim Akram –
One cannot talk about swing bowlers and fail to mention Wasim Akram. With over 500 wickets in ODIs and 400 wickets in test (the only bowler besides Muttiah Muralitharan to achieve this feat), Akram burst into international cricket with relatively no first class experience after being spotted at a cricketing camp by Pakistani batting legend, Javed Miandad at Lahore. In his prime, Akram was an epitome of the ideal fast bowler, he was tall, hit the deck hard, had great control on his line & length and more importantly, had the ability to swing the bowl in both directions. Under the tutelage of Imran Khan, he also developed the ability to reverse the ball. This made Akram one of the toughest bowlers to play. Along with his partner-in-crime, Waqar Younis, the two formed one of the most fearsome bowling attacks. To quote Ponting, "you could get a few runs off him, but you just knew there was an unplayable ball around the corner, be it with an old ball or with a new ball."
Watch this peach of a delivery that breaches the Wall.
ADVERTISEMENT
Article continues below this ad
https://www.youtube.com/watch?v=vLuN8rxqngc