Top 5 Fortnite Crossover Moments
Published 05/10/2020, 3:09 PM EDT
By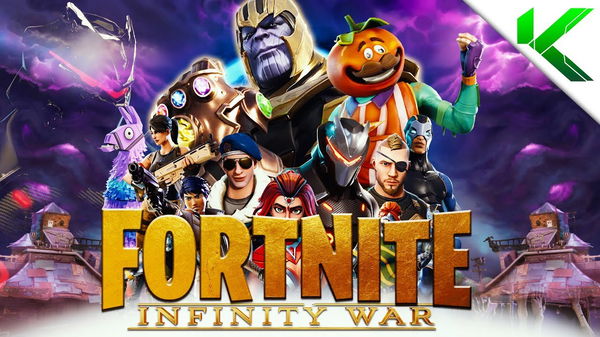 Video games have proven the best escape from our bland daily lives these days. With little to no scope of venturing outdoors for entertainment purposes, gaming has surged more than ever. in these dire times, even games have started to evolve into something more. They are no more just about shooting someone or completing different levels; gaming has almost become something of an alternative life. None more so than Fortnite, a game that has simply taken things to another level in its short but lively lifespan.
ADVERTISEMENT
Article continues below this ad
Launched in  2017, Fortnite has transcended the gaming industry to become something of a contemporary icon. No longer is it a place for just gamers. It is a virtual world where people from all spheres come to enjoy a virtual life; actors, musicians, athletes, everyone's participating in it. What makes the virtual space connect to real-life, even more, is the timely incorporation of real-life aspects, events, trends in the game.
Top 5 Fortnite crossover moments
ADVERTISEMENT
Article continues below this ad
We decided to recall some of our favorite Fortnite crossovers for you to relive. This wasn't easy given the sheer abundance of options we had to pick from, but we managed to narrow it down to 5 for now.
5. Play as John Wick
Is there a better match than Fortnite and John Wick? The trigger happy assassin popped up in the Battle Royale just before the release of John Wick: Chapter 3 back in May 2019. Apart from the Joh Wick skin (who wouldn't want to be Keanu Reeves?) and weapons, players also got a mode called "Wick's Bounty."
4. NFL in Fortnite
America's biggest sport and biggest video game collaborated in 2018 to give us authentic NFL outfits in the game. Players could buy jerseys from any one of the 32
NFL
teams, with an addition of a Fornite team, from the Battle Royale item shop.
What better way to profess your love for football and Fortnite than running around in the game with your favorite NFL jersey?
3. Ninja and Drake party up
As Fortnite and Ninja were truly taking off in 2018, their cause was further helped by one of the biggest rappers in the world. Drake joined up with Ninja and, unsurprisingly, they almost broke Twitch with over 600K concurrent viewers! A certain someone named Travis Scott joined the pair as well.

The event took Ninja's popularity to stratospheric heights.
2. Avengers in Fortnite
The world's biggest movie spectacle adding Fortnite to its marketing roster was testimony to its popularity. In 2018, with The Avengers Infinity War poised to release and Fortnite's new season starting, players were in for an awesome surprise. Epic Games brought us a limited time period game mode that allowed players to wield Thanos' Infinity Gauntlet in all its glory.

ADVERTISEMENT
Article continues below this ad
The only disappointment? The event lasted just a week. However, Avengers would return a year on before the release of Endgame too.
1. Astronomical
Top of our list is also one of the most recent spectacles Fortnite gave us. With lockdowns in place across the planet, Travis Scott and Fortnite gave us a dizzying display through 'Astronomical.'
ADVERTISEMENT
Article continues below this ad

The series of virtual concerts, which also gave us a debut song from the rapper, was an absolute treat. Apart from the music itself, the visual spectacle simply took in-game events to another level. You can expect many more artists to take this route even after the COVID-19 pandemic subsides.
Fortnite has given us a plethora of events like the ones we've listed above. We have covered but 5 from those. Which crossover event appealed most to you? Surely we missed a few of your favorites. If you give us an appealing reason, maybe we could reconsider.