Manchester Derby gone dirty : Top 5
Published 10/25/2015, 2:27 AM EDT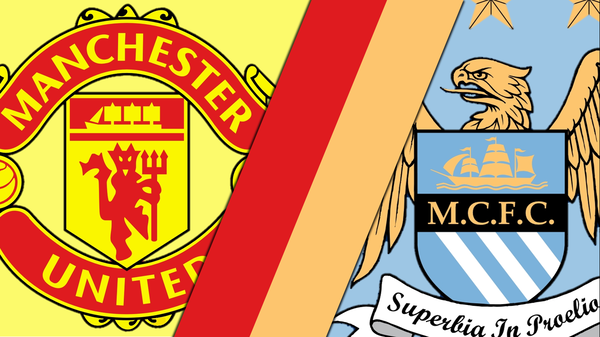 ---
---
Manchester has been a hotbed for some amazing matches over the years. With some of the best moments of the Premier League  having taken place within the city, it has earned itself a nasty reputation for those teams who come to play here. Be it Manchester United or Manchester City, they both have made their place in the footballing world.
ADVERTISEMENT
Article continues below this ad
And when two giants from the same city come face to face, it's not just another game of football. It's a battle for supremacy. It's a war-cry for the bragging rights. These are the matches which divide supreme from mediocre. And neither would ever put a foot backward.
This hostility has been a part between these two clubs ever since Manchester City started playing top-tier football. It was further amplified by the influx of Arab funding, which supposedly went against the belief of their counterparts. This anger often channeled itself into the game, with commitment at an all time high. And when things did not go the expected way, these emotions outburst on the field, by either of the sides.
ADVERTISEMENT
Article continues below this ad
Here are the top 5 moments in the Manchester Derby which went dirty!
5.  Fellaini spits at Sergio Aguero:
https://www.youtube.com/watch?v=0jSlSL7-3UA
This is a recent incident, after Louis van Gaal took over Manchester United.  Last November at the Manchester Derby, Fellaini made a really harsh tackle on the Argentine near to the closing of the first half. As Aguero fell down clutching his shin, his team claimed for a penalty, which was not given by the referee.
In the heat of the moment, Marouane Fellaini bent down to release his emotions on the striker but as he did so, images captured him spitting close to the position  where Aguero lay hurt. Although this escaped the referee's notice, many fans claimed it to be an act of disrespect towards their beloved striker. In the post match conference, Louis van Gaal tried to defend saying it was unintentional and it happens while one talks though it surely didn't seem that way.
4.  Tevez tackling Phil Jones and the chaos:
https://www.youtube.com/watch?v=6ABnHQl4PU8
This match, which happened back in 2012, had a special edge to it. On the 9th of December, in the dying minutes of the game, the ball edged to the sidelines, with Tevez trying to get the ball and Jones trying to cover Tevez. While the ball ran out of the sideline, ensuring a win for United, Tevez lashed out at his inability by kicking Jones in his shins. This was done right in front of the then United manager, Sir Alex Ferguson. This made the entire situation even worse as the hatred for Sir Alex in Tevez is no arcane fact.  Action was never taken, but it did prove a message.
This was one of the several events in the game which proved to be one of the worst in the recent history of Manchester derbies. With Robin van Persie snatching the winning goal in the 92′, the celebration proved too costly for Ferdinand as he was hit by a coin on the head, making him bleed. This, along with the backdrop of blue flares and instances of fans running down the pitch had painted the game really dark.
3. Balotelli attacked by Rio Ferdinand:
Back in 2011, in the FA Cup semifinals at Wembley, emotions were running high. When Manchester City did win the game 1-0, helping them reach the FA Cup finals for the first time in 30 years. This was a very momentous win over their rivals, and more so when it secured them a place in the final! Balotelli being himself, could not keep his emotions under check. After the final whistle, he went over to the United fan's stands and thrust his badge towards them, pointing and provoking the rival fans.
This did not go well with Rio Ferdinand as he came rushing towards Mario Balotelli and pushed him, shouting at him. Soon it seemed the whole Manchester United team wanted to confront Balotelli  while van der Saar tried to defuse the situation.  It seemed all so dangerous that Mancini, the then Manchester City manager had to intervene himself to protect Balotelli as the Italian striker walked back, with the rest of the players trying to pacify the enraged Rio Ferdinand.
2.  Gary Neville reacts:
FA Cup matches are always a big deal due to the knockout nature of the match. And when a derby falls on an FA Cup match, you know blood will be spilled, metaphorically. On the 2nd of February 2004, the two sides met each other in the fifth round of the FA cup.
Gary Neville seemed to be in an attacking position as he pushed forward the ball forward into the box, where he was seemingly brought down by Steve McManaman inside the box. Gary thought he deserved a penalty and flailed his hands hoping the referee would change his decision.
When it was apparent it wouldn't happen, Gary stood up and ran his way towards Steve McManaman and headbutted him twice. This attracted all other players as they tried to calm the situation, but Roy Keane being his angered self again picked up a strife with one of the City players. None of these escaped the referee's eyes as he first gave Gary a yellow and then a red for the headbutt.
It was understood that actually Gary had dived inside the box, and that had prompted the referee to give him the yellow before the red card. Quite a shock as Gary was generally known for his composure as a defender.
1. Roy Keane vs Alf Inge Haaland:
We all know Roy Keane. The hot-headed, 'ready to burst out his anger' kinda player was always known to invite trouble thanks to his comments and antiques on the ground. And when he is put in a derby game, where every moment matters, he becomes an unpredictable active volcano of sorts. All though this particular event had its beginnings in another major rivalry, the second part was involved in the Manchester Derby.
Back in 1997, Roy Keane ruptured his cruciate ligament trying to tackle Haaland, who was playing for Leeds United. Haaland, who assumed Keane was faking his injury, bent down and asked him to "Get up and stop faking it. " Knowing the intensity of the Leeds United- Manchester United rivalry, he took it offensively.
Four years on, when Haaland moved to Manchester City, Keane faced him yet again. But this time, the tables turned as he committed a horrific tackle on Haaland which earned him an immediate red card, and ended Haaland's career. He received a 3 match ban and a fine by the FA, but that did not change his view on the tackle.
ADVERTISEMENT
Article continues below this ad
In his autobiography, he had written-
" I'd waited long enough. I f—— hit him hard. The ball was there (I think). Take that you c—".
"And don't ever stand over me sneering about fake injuries. Even in the dressing room afterwards, I had no remorse. My attitude was, f— him."
ADVERTISEMENT
Article continues below this ad
"What goes around, comes around. He got his just rewards. He f—– me over and my attitude is an eye for an eye."
It sure seems like he never even gave a second thought about ending someone's career. He was fined another £150,000 and banned for 5 games after an FA  inquiry was put on him for the comments. He is probably the best example of how fierce emotions can get in case of rivalries.