Top 5 Moments in Wayne Rooney's International Career
Published 08/24/2017, 8:29 AM EDT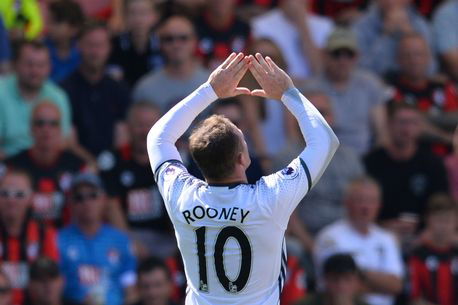 ---
---
On Wednesday, an era officially ended when Wayne Rooney announced that he will retire from International Football. The 31-year old made his decision when he turned down a chance to play in England's World Cup Qualifiers matches against Malta and Slovakia. After a long England career right from 2003 when he was just 17 years old. Essentially Sports pays tribute to the Veteran by looking at his top 5 moments in an England jersey.
ADVERTISEMENT
Article continues below this ad
The scene was at the famous Maracanã and Brazil had scored, courtesy a strike from Fred. Alex Oxlade-Chamberlain had equalized for the Three Lions and then it happened. Milner's pass found its way to Rooney's feet and sent a sublime shot straight into the goal, giving England a 2-1 lead.
ADVERTISEMENT
Article continues below this ad
During the 2014 World Cup, Rooney was under a lot of pressure because he had not scored a single goal during the 2006 and 2010 editions. After the opening match against Italy, it seemed as if Rooney would once again fail to score. However, during a do-or-die match against Uruguay, he had other ideas. Johnson performed a sliding pass, Rooney picked up the ball and slotted it in at close range. He had finally gotten the monkey off his back.
This took place during England's qualifying matches for the 2014 World Cup. Having routed Montenegro 4-1, England needed a win over Poland to qualify for the FIFA World Cup. Enter Rooney in the 41st minute, a cross came flying in and Rooney got there first to head it into the goal, breaking the deadlock. To seal the victory, Steven Gerrard banged in a second goal to allow England to automatically qualify for the World Cup.
Rooney was destined for the England record books. In a qualifier match for the Euro 2016, he had equalled England legend Sir Bobby Charlton's record for the most goals scored for an England player. This was achieved in a 6-0 thrashing of San Marino, which also qualified them for the 2016 Euros. In their next match, England were leading Switzerland, 1-0 when a penalty was awarded in England's favour. Up stepped Wayne and he fired it into the top corner to break Charlton's record. Soon afterwards, Charlton was the first person to call up the new record holder and congratulate him for breaking a 45-year old record.
ADVERTISEMENT
Article continues below this ad
14 years ago, Rooney made his debut as a fresh faced 17-year old for the England team. During a Euro qualification match against Macedonia, he scored his first goal for the Three Lions. No doubt it would be the first of many more goals to come. During that match, Rooney saw an opening and the ball trickled towards him, beating the Macedonians for pace, he fired it into the back of the net to the delight of the crowd and his teammates.
ADVERTISEMENT
Article continues below this ad
Rooney's presence in the England team will surely be missed and his passion for the sport was evident.
Trending Stories