Top 5 Wimbledon Controversies
Published 06/09/2016, 10:07 PM EDT

Follow Us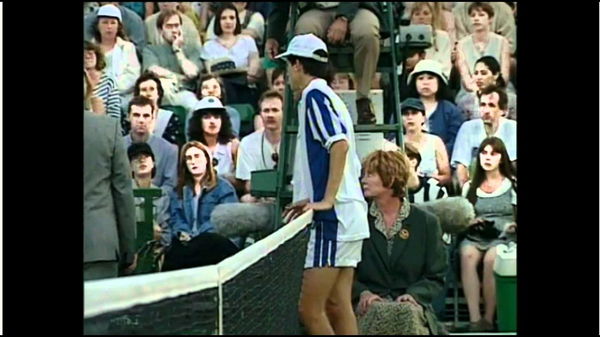 Wimbledon has been tagged as one of the most formal and old-fashioned affairs in sports. Its strict rules and traditions definitely set the quaint tournament apart from the likes of other popular controversy-ridden sports.
America's Favorite Video Today
However, the tournament at the All England Club hasn't been without controversies and in this classic tennis tournament, there have been numerous occasions of controversy. With the tournament set to commence soon, we take a look at some of the biggest controversies that have rocked the Wimbledon.
  #5 Greg Rusedski Outburst – Wimbledon 2003
ADVERTISEMENT
Article continues below this ad
A leading pundit in the tennis circuit, Greg Rusedski came across as a relaxed, likable guy in his playing days. However, there is a controversy to counter these virtues in him, as the Canadian-born player unleashed quite a bit of anger during a 2003 second round match against Andy Roddick.
While engaged in a rally with the American, a member of the crowd decided to falsely shout "out" when one of Roddick's forehands came towards Rusedski. He returned the initial shot, but he also turned his back away, to practically forfeit the point. When it was confirmed that the referee had never made any call, Rusedski went into a sudden burst of anger. He launched one of the most foul-mouthed responses in the history of the tournament, aggrieved that the referee wouldn't replay the point. For this, Rusedski was fined £1,500 – a fee that most people thought was hugely lenient considering the extent of his anger.
#4 Tim Henman Disqualification – Wimbledon 1995
Tim Henman is seen as one of the legends of British tennis and even has a hill named after him at Wimbledon. However, at times, even legends show that they're only human, and not in a pretty way. He and his doubles partner, Jeremy Bates were the first players to be disqualified in the Grand Slam Open era.
In a match involving Henman and Bates against Jeff Tarango and Henrik Holm, Tim Henman unleashed his frustration after missing a net point. He smashed a ball with some anger that unfortunately hit a ball girl on the ear, leaving her in tears. Umpire Alan Mills immediately opted to disqualify Tim Henman and his partner.
At a  press conference at the All England Club,  He described the incident. "I was not happy at losing the point and was angry. I went to hit the ball hard. I'd looked to see if the linespeople were out of the way". Clearly, on the verge of tears, he said: "It's a complete accident, but I'm responsible for my actions".
#3 Anne White's Catsuit – Wimbledon 1985
American player Anne White turned up to her third round match of Wimbledon 1985 against Pam Shriver wearing a white catsuit: an all-in-one Spandex jumpsuit with coordinating leg-warmers. While she clearly abided to the strict all-white policy, her opponent requested that the outfit is changed. Pam Shriver said the outfit was distracting and asked the tournament's officials to ban her from ever wearing it again.
Anne White was quite surprised about the issue and went on to justify that it was a combination of 'fashion and function'.
#2 Gilles Simon's Sexist comments – Wimbledon 2012
Gilles Simon claimed that the men's game was much more attractive than the women's and also the fact that because men can spend up to twice as long on court, they should earn more.
"The male players spent twice as long on court at Roland Garros (during the recent French Open) as the women. The equality in salaries isn't something that works in sport. Men's tennis remains more attractive than women's tennis at the moment", said Simon.
It drew an angry response from various female players, notably Maria Sharapova, Marion Bartoli and Sloane Stephens, who immediately leapt to the defense of their game.
Considering the huge debates that have taken place over the years regarding the issue of men's and women's prize money, Gilles Simon should have known that he was actually making a sexist statement.
ADVERTISEMENT
Article continues below this ad
#1 Wimbledon's Tennis Girl 
A poster featuring blonde model Fiona Butler, who was 18 at the time the image was taken, attracted a flurry of criticism when the official Wimbledon Twitter account included it in a post promoting the "Powerful Posters" exhibition.
The photo was actually taken in 1976, and released the following year under the name "Tennis Girl," selling well over 20 million copies globally!
ADVERTISEMENT
Article continues below this ad
The Tennis Girl photo was eventually taken down,  and officials from the All England Tennis Club posted an apology. "It is a controversial piece of poster history," they said of the image, "but we do not endorse it."
The Controversial Photo tweeted by Wimbledon
Providing feedback will help us make your experience better.
Enjoyed Your Read? Let us know how likely you are to recommend EssentiallySports to your friends!