In the Field & Dugout: Top 8 Player Managers in Football History
Published 08/08/2015, 4:29 PM EDT

Follow Us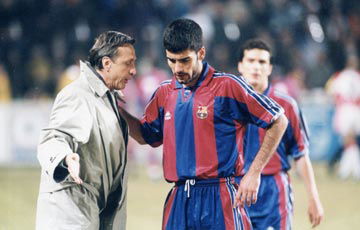 "Some people think football is a matter of life and death. I don't like that attitude. I can assure them it is much more serious than that."
– Bill Shankly
America's Favorite Video Today
Football is a beautiful game. Described as the ballet of the masses, it is the greatest gift Britain presented to the world (perhaps excluding Audrey Hepburn). The game continues to touch lives across generations and its ability to unite and divide in equal measure is unmatchable. It is symbolic of an unimaginably strong emotional attachment that is translated into a lust that cannot be mollified.
The association with football simply never ends.
ADVERTISEMENT
Article continues below this ad
But is it the same for those who satiate our lust?
Football players rarely enjoy careers spanning over more than a decade. Longevity is subject to a number of factors and their love for the game is tested in ways fans cannot imagine. The mental stress on professional footballers is immense. Towards the twilight of their careers, most footballers are mentally burnt out and lose all inclination to elongate their association. Those who are made of sterner stuff attempt to renew their relationship in different forms. Some become pundits, some promoters. The strongest, however, become managers.
To succeed in management after years of playing the game is a feat that deserves the greatest of plaudits. Essentially Sports has attempted to rank these stalwarts on the basis of their accomplishments on the field and then in the dug-out.
We present to you our list of legends who enjoyed illustrious careers and later continued to coach and inspire new generations of winners. These are the best player-managers of today's generation.

8. Jupp Heynkes

Position: Striker
Titles: 8

In a list of the deadliest German strikers in history, Gerd Muller undoubtedly takes the mantle. However, Jupp Heynckes would certainly give his compatriot a run for his money. From the late 1960s to the end of the 1970s, the German Bundesliga witnessed one of the most enthralling rivalries ever witnessed between Muller, Klaus Fischer, and Jupp Heynkes and the three are recognized as the top scorers in Bundesliga history.
Ranking at number three in terms of Bundesliga goals scored with a whopping 220 goals in 369 appearances, Heynckes began his professional career with boyhood club Borussia Monchengladbach in 1964. After helping the club achieve promotion into the Bundesliga, Heynckes moved to Hannover 96 where he spent three years. He then returned to Borussia and helped them become the first German team to retain the League title in 1970. Later on, in the '74-75 season, Heynckes fired 'Gladbach to European glory. During his club career, Heynckes won four Bundesliga titles, the DFB-Pokal, and the UEFA Cup. He is also a World Cup and a UEFA European Championship winner with West Germany.
Get instantly notified of the hottest stories via Google! Click on Follow Us and Tap the Blue Star.

Follow Us
Titles: 12
The German carried forward his killer instinct and tactical acumen which translated into fast-paced, energetic football when he commenced his managerial career. His achievements include winning the Bundesliga thrice with Bayern Munich in three different spells including the famous treble of 2013. He also won the UEFA Champions League with Real Madrid in 1998 and the UEFA Intertoto cup with Schalke 04 in 2003 & 2004. In 2013, Heynckes participated in his 1000th Bundesliga match as player and manager combined, and he became the man with the second-most appearances in Bundesliga history. His final game as manager was against Borussia Monchengladbach and this was the best possible send-off for a true legend of the game.

7. Ernst Happel
Position: Defender
Titles: 8
Ernst Happel started his professional career during the second World War with Rapid Wien in the Austrian 'Ostmark' at the tender age of 17. As a player, Happel was comfortable being fielded in any defensive capacity and stood out amongst his peers for his incredible versatility. In fact, he is recognized as the world's first 'Sweeper'. Happel formed the core of an impenetrable Rapid Wein defence and won six Austrian Football Bundesliga titles, one Austrian Cup, and the international 'Zentropa' Cup with the club. In 1999, he was included in Rapid Wien's team of the century, such was his contribution.
At the international level, Happel earned 51 caps and played a major role in Austria's 3 place finish at the World Cup in Switzerland, 1954.
Titles: 17
There are two kinds of football managers. The first are of the ilk of Sir Alex Ferguson, who create footballing dynasties over time by building clubs from their foundations. The second kind are the Jose Mourinhos, who relocate with a frequency comparable to that of Sir Alex's gum chewing exploits and find success wherever they set up base. Before Mourinho, there was Trapattoni, and before them all was Ernst Happel, the original wanderer.
Ernst Happel won the league title in four different countries and was the first manager to conquer Europe with two different teams. He is most fondly remembered for his successful stints with Feyenoord Rotterdam and Hamburg SV, achieving European success with both clubs. An extremely strict disciplinarian, Happel was a firm believer in the credibility of actions over words. He also guided the Netherlands to 2 place in the 1978 World Cup. In the final against eventual winners Argentina, he delivered one of the most memorable pre-match pep talks which accurately summarizes the man and the manager. It consisted all of three words: 'Gentlemen, two points.'
6. Kenny Dalglish
Positon: Striker
Titles: 24
King Kenny, the man who shook the Kop.
Rarely does a player garner the adulation of fans the way Kenny Dalglish did in his tenures at Celtic and then more famously at Liverpool. Born in the Dalmarnock section of Glasgow, Kenny was raised in the same locality as fellow Scottish footballing icon Sir Alex Ferguson. As remarkable as it may appear for the first footballer to amass 100 goals in Britain and Scotland, Kenny Dalglish began his career as a goal-keeper before choosing to terrorize defences rather than assuring them. Between 1971 and 1977, Dalglish fired Celtic to four First Division titles, four Scottish Cups, and four League Cups before departing for the Merseyside. Here, he entered the most successful phase of his footballing career as Liverpool gained global recognition for their on-field success. Adored by his own, feared by others, King Kenny's prodigious goal-scoring record helped Liverpool win three European Cups, five English League titles, and four League Cups.
Titles: 9

In 1985, Dalglish was appointed the player-manager of the club and rewarded his supporters with the English League title and the League Cup in his first year in charge. He went on to win a further two League titles, two FA Cups, another League Cup, and the European Super Cup. He abruptly left Liverpool in February, 1991 only to return to British football in October with Second Division Blackburn Rovers. After securing promotion to the top flight, Blackburn finished fourth in their first season in the First Division. After bolstering the squad, Kenny won the Premier League with the club in 1995 on the final day of the season, beating Manchester United.
Kenny later spent unsuccessful stints at Newcastle and Liverpool before retiring from management.
5. Mircea Lucescu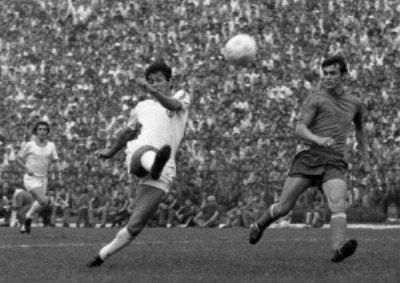 Position: Right wing
Titles: 9
Born in war-torn Bucharest shortly after the second World War, Mircea Lucescu's first memories are of kicking around a garbage filled sock in the city's poverty-stricken streets, a common substitute for a ball for children in the locality. Signed by Dinamo Bucuresti of the Romanian League at the age of 18, Mircea's promising career was briefly halted due to his academic commitments at the University of Bucharest. Subsequently, the youngster was loaned off to a student club plying its trade in the second division. However, such was the unquestionable talent of Lucescu that he received a national call-up despite not having played a game in the Romanian First Division.
Recognizing his talent, Dinamo called him back and the right winger went on to win seven Romanian League titles before moving on to Corvinul Hunedoara where he won another Romanian Cup. Several European clubs desired to secure his services but the policies of the Communist regime of Romania made a move abroad impossible.
In an era when wingers were gaining fame for their flair and explosiveness, Lucescu was famed for his dependability and level-headedness, qualities that would later prove to be essential in making him the manager he is today.
Titles: 21

As an individual, Mircea Lucescu craves the stability he was denied while growing up in post-war Romania. After unsuccessful managerial stints In Italy, Lucescu was signed up by Galatasaray. In his first season in charge, he won the European Super Cup in 2001 defeating the mighty Real Madrid. Despite winning the Turkish Super Lig in his second season, Lucescu was shockingly shown the door. Along similar lines, despite achieving league success with Besiktas, his next club, Lucescu was forced to resign. He then moved to Shakhtar Donetsk.
In Shakhtar, Mircea was the recipient of adulation and respect and he flourished in this environment. He finally found the stability he yearned for throughout his coaching career and went on to lead Shakhtar to win eight Ukrainian League titles, five Ukrainian Cups, six European Super Cups, and the UEFA Cup in 2008-09. The 69-year-old has survived a heart attack and a major auto-mobile accident and is still showing no signs of calling quits on one of the most successful managerial careers in history.
4. Miguel Munoz
Position: Midfield
Titles: 9
Born in Madrid in 1922, Miguel Munoz grew against the backdrop of civil war in Spain. During his formative years, he wandered around Spain, honing his skills. At Celta Vigo in 1946, he perfected his footballing philosophy and caught the eye of Real Madrid for whom he signed up for in 1948. At the time Real Madrid were a club in transition. Alongside the likes of Alfredo di Stefano and Ferenc Puskas, Munoz helped restore Real Madrid to all its glory and can be credited for laying the foundation for the Real Madrid football empire that we know today.
Miguel's finest quality as a player was that for him the team always came first. Displaying unreal altruism on the field, he formed the base upon which Di Stefano and Puskas fired Real Madrid to domestic and European glory. A true leader on the field, Munoz racked up four La Liga titles and three successive European Cups between '55 and '58, amongst other trophies.
Titles: 15

In spite of enjoying a stellar playing career with Real Madrid, Miguel Munoz gained true immortality amongst the Madrid faithful with his managerial accomplishments. Such was his influence on the club during his playing days, he was asked to take up the role of manager within 12 months of his retirement and Miguel duly delivered with the La Liga title in his first year in charge. It is testament to the belief that Real Madrid's president at the time, Santiago Bernabeu, had in Miguel and he was firmly backed by the man even when he chose to drop club legend Alfredo di Stefano from the playing eleven towards the twilight of Di Stefano's career.
Under Miguel Munoz, Real Madrid won its 5 consecutive European Cup titles and were permanently awarded the trophy in 1960.
In the duration of his time at Madrid as manager, Munoz racked up nine La Liga titles, two European Cups, three Copa del Rey trophies, the first ever Intercontinental Cup amongst others in a period of unprecedented dominance.
3. Carlo Ancelotti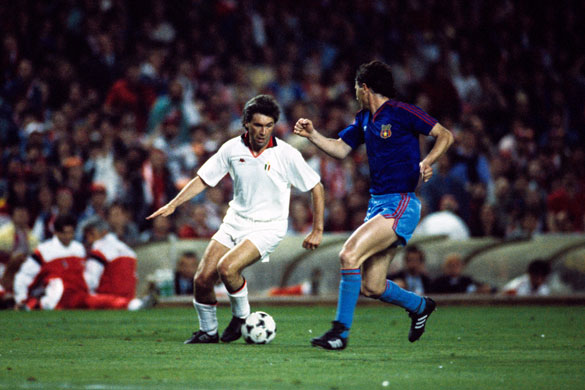 Position: Central Midfield
Titles: 14
Carlo Ancelotti began his club career with Parma in 1974 at the age of 18. His ability while in possession of the ball quickly saw him gain fame and he was signed up by Roma in '79. What Carletto lacked in physicality and athleticism, he more than made up for with his insane technical ability, composure on the ball, and wide range of passing. Extremely versatile in midfield, he was best fielded as a deep-lying playmaker and revolutionized the role while serving as inspiration for the likes of Andrea Pirlo and Albertini. His time at the capital saw him win the Italian Championship and four Coppa Italia titles before he was signed by AC Milan. What followed was unprecedented domestic and continental success.
With Milan, Ancelotti was a part of an extraordinarily talented group of individuals which included Franco Baresi, Paolo Maldini and the Dutch axis of Marco van Basten, Ruud Gullit, and Frank Rijkaard. Carlo added balance and poise to this fearful line-up and Milan consecutive European Cup titles, two UEFA Super Cups, two Serie A titles, and two Intercontinental Italian Cups.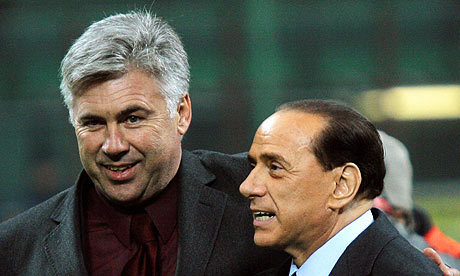 Titles: 16
Carlo Ancelotti belongs to a couple of very select groups. He is one of six to have conquered Europe as a player and as a manager. He is also one of five to have gained European glory with two different clubs as manager. These accolades testify to his credence as a manager of the absolute top level.
Ancelotti began his management career with Serie B club Reggiana in 1995. In his first season at the helm, the club gained promotion. Recognizing his managerial talents, he was signed by Parma where he coached and influenced future stars like World Cup winners Gianluigi Buffon and Fabio Cannavaro. He was then signed and later sacked under controversial circumstances by Juventus. He then returned to AC Milan and constructed one of the finest teams of the 21 century thus far.
He displayed extreme tactical acumen by developing Andrea Pirlo as a deep-lying playmaker which laid the foundation for two UEFA Champions League titles, the Serie A title, two UEFA Super Cups amongst others. Ancelotti also won domestic titles with Paris Saint-Germain and Chelsea. In 2014, he also coached Real Madrid to European glory as they attained the evasive La Decima.
2. Pep Guardiola
Position: Defensive Midfield
Titles: 17
Josep Guardiola joined Barcelona's famed youth academy La Masia at the age of thirteen. On his first day at the club, newly appointed Barcelona manager Johan Cruyff visited the academy and spotted Guardiola deployed on the right wing of the field. Cruyff ordered his Barcelona staff to field the teenage Pep as a pivot at the centre. This minor tweak was the beginning of one of the finest footballing legacies in modern football.
Guardiola is credited with revolutionizing the role of the defensive screen and correctly so. In his 11 years playing professional football with Barcelona, Pep formed the pivot of the club's 'Dream Team' of the era that won several accolades, including four consecutive La Liga titles. In an era when natural ball-playing ability was being sacrificed for strength and speed, the tactically astute man from Catalonia dictated play from deep and is said to be the inspiration for several of Barcelona's excellent midfielders in the 21 century.
Guardiola exuded poise and outstanding defensive positioning that laid the groundwork of the likes of Stoichkov, Figo, Rivaldo, and Ronaldo in different eras and went on to win six La Liga titles, two Copa del Rey titles, four Supercope de Espana titles, the UEFA Champions League, the UEFA Cup Winners' Cup, and the UEFA Super Cup twice to amass 16 titles for the club, and one Olympic Gold Medal for Spain in 1992.
Titles: 19 (in just seven years of management)
During his playing career at Barcelona, Pep Guardiola learned from some of the best managers in the world including Johan Cruyff, Bryan Robson, and Louis van Gaal. Ordinarily, playing under such a stellar assortment of managers would provide enough pre-requisite knowledge for a man set to embark upon his managerial career. Such is Pep Guardiola's need for perfection that he spent a couple of years travelling around the globe learning different approaches to the game followed the world over. He studied tactics from the excellent Marcos Biesla, nutrition and conditioning from Juanma Lillo and honed his footballing philosophy under various others.
Pep Guardiola's managerial knowledge transformed into an extremely attractive and effective tactical philosophy. In his first season in charge of Barcelona, Guardiola announced the departures of club stalwarts Ronaldinho and Deco and still won an unprecedented six titles.
Few can compare to the tactical acumen the Spaniard possesses. Even fewer can compare to his undeniable humility coupled with his quest for perfection. Pep Guardiola is a brilliant manager, and an even better person.
Through his spells at Barcelona and now at Bayern Munich, Pep Guardiola has won the three La Liga thrice, two UEFA Champions League titles, two Bundesliga titles among numerous other trophies. He also has the distinction of being one of only six to win the Champion's League as a player and as a manager. If Guardiola maintains this remarkable rate, in the coming years he shall truly take his place as the best in the dug-out.
1. Johan Cruyff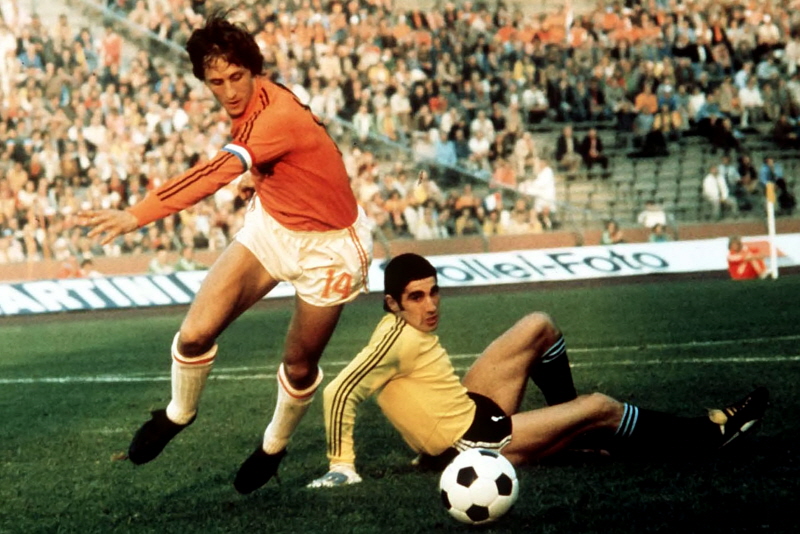 Position: Attacking Midfield
Titles: 24
Rarely will a footballer leave a legacy as endearing as Johan Cruyff's.
The Dutchman began his career with Ajax after being promoted from their reputed youth academy. Under the tutelage of master tactician Rinus Michels, Cruyff developed his own rendition of total football which he perfected during his playing career spanning two decades. The only footballer in this list to have been awarded the Ballon d'Or (that too, thrice), Cruyff terrorized defences throughout with Ajax and won the Eredivisie an incredible eight times in nine years across two spells. He also won the European Cup three times in succession with the club before leaving for Barcelona where his love affair with Catalonia began. Johan won the La Liga and the Copa del Rey with the club before departing for the United States for a brief stint. After a season at Levante in the Spanish Segunda, Johann returned to his beloved Ajax to win the Eredivisie twice before winning more silverware with Feyenoord Rotterdam.
A masterful dribbler, Johan laid great emphasis on the technical intricacies of the game. His passing and vision were second to none and proved pivotal in developing his rendition of 'Total Football' that made Ajax and the Netherlands famous all over the world. Indeed, his performances in the 1974 World Cup, which the Netherlands lost to West Germany, reached out to Dutch hearts in a manner that simply cannot be replicated.
To put it in a nutshell, Johan Cruyff will forever be remembered as one of the best players the world has ever seen.
ADVERTISEMENT
Article continues below this ad
Titles: 14
Over the past decade, Barcelona and Spain have played incredible football and enthralled followers of the beautiful game. It would not be unfair to suggest that everything Barcelona and Spain with its Catalan heart are today, they owe to Johan Cruyff.
As previously mentioned, during his time at Ajax, Cruyff perfected his rendition of 'Total Football'. This footballing philosophy was then incorporated into the Barcelona setup, ingrained into the club's DNA and the result is for all to see. At Barcelona, Johan put together a 'Dream Team', which won four straight La Liga titles, the European Cup, the UEFA Super Cup among several other trophies. In addition to the above, he also won the KNVB Cup and the UEFA Cup Winner's Cup before managing Barcelona.
ADVERTISEMENT
Article continues below this ad
Johan Cruyff's legacy and contribution to football simply cannot be matched. His managerial philosophy can be summarized in his assessment: 'There is only one ball, so you need to have it.' Cruyff is credited with influencing the best central midfielders of our age and proved instrumental in developing the playing and managerial careers of Pep Guardiola, Michael Laudrup, Ronald Koeman amongst others.
Simply put, there will never be another Johan Cruyff.
Providing feedback will help us make your experience better.
Enjoyed Your Read? Let us know how likely you are to recommend EssentiallySports to your friends!