Top Sporting Moments Of 2014 In Alphabetical Order
Published 12/31/2014, 7:27 AM EST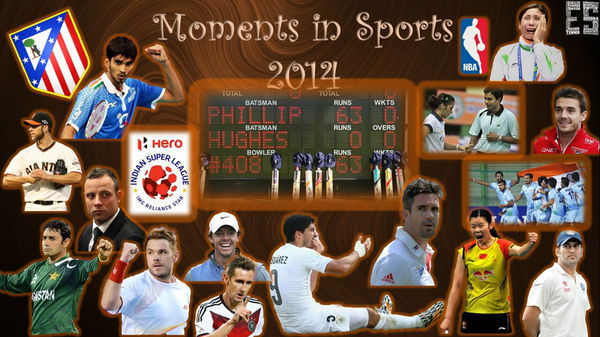 ---
---
Essentially Sports brings you an utterly subjective reappraisal of the sporting highlights of 2014. Select the moments of action that seared themselves until amnesia intrudes your consciousness.
ADVERTISEMENT
Article continues below this ad
Atletico Madrid – the rise of a new force
Under Diego Simeone's leadership, Atletico Madrid bucked the trend by winning the Spanish League, snubbing the domination by Real Madrid and Barcelona. They had an amazing year with dominant performances in Champions League as well.
ADVERTISEMENT
Article continues below this ad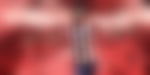 BADMINTON'S next big thing
The top trendsetter of the year has to be up and coming badminton star, Kandambi Srikanth. The 21 year old caused the upset of the year in November when he beat 5- time World Champion and 2-time Olympic Champion Lin Dan in the final of the China Open Super series. He became the first Indian man to win a Super Series title. He and Saina ended the year as No.4 in world rankings in their respective categories.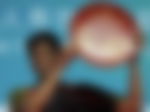 CHUCKING- spinners' nightmare
It hasn't been much fun recently being an international spinner. In this year, many spin bowlers, most of them off-spinners, have been reported by on-field umpires to the International Cricket Council for suspect bowling actions, in which their arm appears to extend by more than the legal limit of 15 degrees.
In other words, they have been accused of chucking.
The spinners in question are from different countries: Sohag Gazi of Bangladesh; Prosper Utseya of Zimbabwe; Kane Williamson of New Zealand, Saeed Ajmal of Pakistan, Sachitra Senanayake of Sri Lanka. Ajmal, unarguably the best spinner in world cricket pulled out from the world cup.
Read More:- Chucking- Are there any remedies?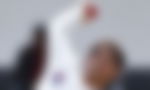 DHONI retires from test cricket
Mahendra Singh Dhoni announced his retirement from test cricket after the third test against Australia. The 33 year old Dhoni led India to the No.1 position in 2009 in tests and is by far the most successful Indian Test captain with a total 27 wins.  Saurav Ganguly the former captain of India called him as the  'all-time greatest captain of India'.
Read More:-MS Dhoni announces retirement from Test Cricket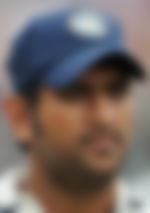 ENGLISH CRICKET- the Hotspot of Controversies
All was not well with the England cricket this year. Having made the scapegoat and ousted from the side after England's whitewash in Australia, Kevin Pietersen hit back with his controversial autobiography revealing the bullying culture in the side. Alastair Cook came under scrutiny due to his lackluster performance with the bat in limited overs cricket with many hues and cries in media for his sacking. He was dropped from the World Cup squad and Eoin Morgan was appointed the new captain.
Read More:- Cook Out, Bring Pietersen In!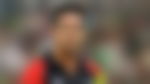 FORMULA 1 racing- Mercedes all the way
The 2014 season marked the end of the dominance of Red Bull racing as Team Mercedes dominated the show, but the rivalry between their two drivers – Lewis Hamilton and Nico Rosberg – really spiced up the season with Hamilton winning the championship in the end.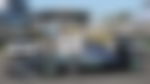 GOPI-SAINA split
Saina Nehwal splitting from her longtime coach made headlines. She turned to former India coach, Vimal Kumar for personal training amid reports that she wasn't getting enough time from Gopichand. The split brought immediate rewards for Saina as she won the China Open in november beating Chinese on their own turf.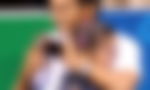 HOCKEY – India reclaimed lost glory
India won the Asian Games Gold medal after a 16 year hiatus in Incheon, South Korea and a direct ticket to Rio Olympic Games 2016 by beating arch-rivals Pakistan in final. Besides the Asian Games gold in Incheon, South Korea, the men's team registered several other memorable victories including a historic Test series win against world champions Australia in their own backyard.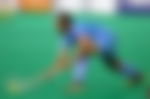 ICE HOCKEY – Favourites Russia Freeze in Sochi
Russia have always been the favourites to win Gold in ice hockey and there was tremendous pressure on the team to deliver as hosts  for the Sochi Winter Olympics. They had an unimpressive outing in the games with their run ended by Finland in quarterfinals.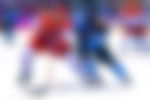 JULES BIANCHI- A Tragic Incident
Formula One endured its most dreadful moment this October when Marussia driver Jules Bianchi suffered severe head injuries and went into coma for more than a month after his car skidded off a wet Suzuka track during Japanese Grand Prix and rammed into a tractor.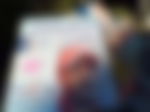 KLOSE in history books
During Germany's 7-1 drubbing of Brazil in the semifinal, Miroslav Klose scored the second goal to set a new all-time record for goals scored in a world cup by a single player with 16 goals– one more than the previous record held by former Brazilian striker, Ronaldo.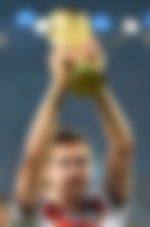 LEAGUES, LEAGUES everywhere
If Indian Premier League (IPL) brought the league culture in India then this year saw this culture multiply manifolds engulfing many sports played in India.
Hockey India League was the second league to promote the national sport. The tournament was successful in generating more viewership for the sport not just in India but also in countries like Canada, Austarila, Pakistan and South Africa. The league gave a huge boost to the sport. This was followed by Indian Badminton League which again attracted good sponsors and made huge signings.  Players like Lee Chong Wei and Saina Nehwal were auctioned for huge amounts. The fortnight long tournament turned out to be richest badminton league of the world.
The greatest surprise came from Pro Kabaddi League which was started from 2014. With the franchises being owned by Bollywood actors and business groups, the sport got a huge resurgence and international recognition. Television coverage and a bit of Bollywood has given India's ancient sport of kabaddi a touch of glamour and the viewership was more than three times that the Fifa World Cup got in its opening week in India. The next big league that the Indians look forward is ISL (Indian Super League). With huge marquee signings like Del Piero, Nicholas Anelka, Juan Capdevilla, Marco Materazzi and many more the event promises to gain reputation from football lovers all over the world.  In December, IPTL(International Premier Tennis League) started it's inaugural season with 4 countries including India hosting it. The Indian team boasted of professionals like Roger Federer, Gael Monfils, Fabrice Santoro, Ana Ivanovic and Pete Samparas along with Sania Mirza and Rohan Bopanna. The league is considered as the brainchild of Mahesh Bhupati which again is planned to execute in an IPL style format.
Read more:- Leagues, Leagues Everywhere!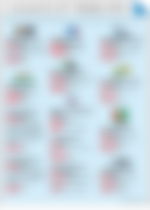 MADISON BUMGARNER (BASEBALL)
San Francisco pitcher Madison Bumgarner saved the day and the World Series for the Giants with a Game Seven effort that capped a record-breaking performance in the Fall Classic. The 25-year-old country boy from North Carolina put a spell over the Kansas City Royals, pitching five shutout innings of relief to preserve a deciding one-run win on two days rest after winning twice as a starting pitcher. The 6-foot-5 lefty was credited with the longest save in Series history and totalled 21 innings, nine hits, one run, 17 strikeouts and one walk in the best-of-seven. In winning a third championship ring he set all-time career World Series marks for lowest ERA (0.25) and fewest hits per nine innings (3.5).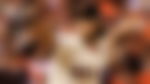 NBA- The highs and Lows
San Antonio Spurs ended Miami Heat's streak of 11 straight playoff series win record to end the latter's two year reign in NBA. Kawhi Leonard was named Finals MVP.
Donald Sterling, the owner of NBA team Los Angeles Clippers, castigated his girlfriend Vanessa Stiviano for posing with LA Lakers legend Magic Johnson, telling her among many things, she should not bring black people to Clippers' games and not post pictures with them in the social media. It caused massive uproar in the media with reactions coming even from the US President Barack Obama. He was banned for life and fined $2.5 million. Clippers team also reacted strongly by wearing team colours inside out during training during their play-off game.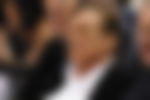 OSCAR PISTORIUS- athlete turned murderer
South Africa's double amputee track star Oscar Pistorius fired through a bathroom door to murder his model girlfriend Reeva Steenkemp on Valentine's Day. The 28 year old was convicted of "culpable homicide" and sentenced to five years in jail.
Phil Hughes – 63 NOT OUT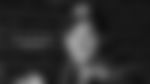 Read More:- The Life of Phil Hughes
Australian opener Philip Hughes lost his life to a rare injury after being struck by a bouncer during a Sheffield Shield game at the Sydney cricket ground. The death brought the cricketing world to a standstill as the entire world mourned the end of a promising career.
QPR star Charlie Austin's daughter receives threats on twitter
Charlie Austin and fiancee Bianca were sickened by Twitter troll threats to their daughter. The couple called the police when a user on the social media site made a vile comment after striker Austin posted a photo of himself and his little girl, Ava Bella.
Read More:- Charlie Austin – National Team Material?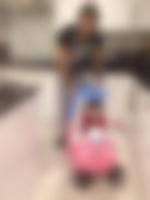 Rory McIlroy- The Celtic Tiger Roars this year
Rory McIlroy was named as the European Tour Golfer of the Year for the second time in three seasons capping an outstanding 2014 for the World No.1.
The Northern Ireland star won the BMW PGA Championship before back-to-back majors success at the Open and US Professional Golfers Association (PGA).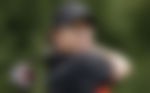 SARITA DEVI – A cry for justice
Incheon Asian Games was marred by a huge controversy involving an Indian boxer's spontaneous outrage against the manipulations in boxing's scoring system. After her semi-final bout, the refree stunned everyone by declaring her South Korean rival as the winner in what was clearly a onesided semifinal bout. Sarita Devi's career went into a spin as world body took objection to her behaviour during the medal presentation ceremony.
TENNIS- not just the big four playing field anymore
Stanislas Wawrinka won the Australian Open by defeating Rafael Nadal to mark the beginning of upsets which followed this year in men's tennis. The US Open witnessed a rare instance in which the finalists didn't feature any of the "big four" with the Croatian Marin Cilic defeating the Japenese Kei Nishikori in straight sets to clinch the title. The year 2015 promises to be an exciting feature in men's tennis with a wide array of players stretching their hand to claim the coveted grand slams.
Read More:- Top 5 Tennis Upsets of 2014
Unsung Heroes of 2014
These are the stars that were lost in the background as others took centrestage.
SAURAV GHOSAL– Won a silver in singles and a gold in the team event of men's squash in the commonwealth games to mark the presence of squash in the indian sporting map.
DIPA KARMAKAR– Dipa Karmakar went where no Indian woman has ever gone. Her bronze in the women's vault event, is the first international gymnastics medal by any Indian woman.
PR SREEJESH– A historic Asian Games gold, that helped India book a berth for the Rio Olympics, maybe the year's highlight for the Indian men's hockey team. And it wouldn't have been possible without goalkeeper Sreejesh and his heroics during a thrilling penalty shoot out in the final of the Asian Games.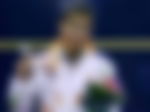 VANESSA MAE- A rare case of cheating at the highest level
Thailand's violinist-turned-skier Vanessa Mae was banned from skiing competitively for four years after being found guilty of manipulating results in order to qualify for the Winter Olympics.
WORLD CUP FIFA 2014- The good, the bad and the ugly
Germany became the champions by beating Argentina in the finals but in the process they humiliated the hosts Brazil 7-1 when they went 5-0 up in a space of 18 minutes.
The world cup also saw an unusual incident when Luis Suarez bit the Italian defender Giorgio Chiellini and was banned for four months no before becoming an internet sensation.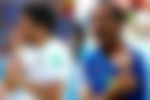 XUERUI ends year as no. 1
While all of her chinese counterparts struggled this year, Li Xuerui managed to end year as World no. 1 after winning a silver in Asian Games, gold in Uber Cup in Delhi and a silver in Copenhagen World Championships.
YUICHI NISHIMURA- Referee shown a yellow card
Referee Yuichi Nishimura was demoted to fourth official after his controversial decisions during the opening game between Brazil and Croatia. Nishimura incurred the wrath of Croations after awarding a soft penalty to the hosts and disallowing a perfectly legitimate Croation goal.
ZIMBABWE beat Australia after 31 years 
ADVERTISEMENT
Article continues below this ad
In the 30th ODI meeting between these sides, Zimbabwe did what they had not for 31 years and beat Australia. The captain Elton Chigumbura engineered the chase that changed 11,406 days of history. After his spinners had applied a stranglehold that kept Australia to their lowest total against Zimbabwe, they achieved only their second win against these opponents.
Zimbabwe 211 for 7 (Chigumbura 52*, Lyon 4-44) beat Australia 209 for 9 (Clarke 68*) by three wickets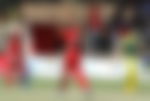 ADVERTISEMENT
Article continues below this ad