Top Order a Concern for Alastair Cook
Published 07/19/2015, 4:14 PM EDT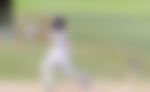 ---
---
After England's heavy defeat in second Test at Lord's on the fourth day, Alastair Cook seemed a concerned man. Just last saturday his team had outplayed the favourites Australia to take 1-0 lead in the Ashes, only to throw it away in the second test.
ADVERTISEMENT
Article continues below this ad
While one has to compliment Australia for the way they played and came hard at Australia, but one cannot deny the lack of fight put forward by the English batsmen, more so by the top order. Speaking after the match, Cook said the loss was frustrating but all's not lost and there was everything to play for in the next three Tests.
According to the England Captain, the failure at the top has been one of the major concerns. "It's a few games now we've been three down for 40-odd and it's hard to always expect the middle order to get us out of trouble," said Cook. "So that's obviously an area of concern."
ADVERTISEMENT
Article continues below this ad
Interestingly, England have been three down with less than fifty on the board in all the four innings they have batted. They were 30 for 4 and 42 for 3 in this one and 43 for 3 and 73 for 3 in the Cardiff win.
"The selectors might have to look at it but it's down to the players. I don't think it's where people are batting, people have got to get stuck in, but you have to remember that, even after a defeat like this it's still 1-1 and there's all to play for," said Cook.
ADVERTISEMENT
Article continues below this ad
He also added that players will have to bounce back from this defeat. "The players have to take this on the chin. That's the nature of sport, when you lose as badly as this, it is to bounce back. We've got some wonderful players in that dressing room with fantastic records, but this why you play sport, to be tested against the best and we came up short this week."
"From the standards we set ourselves in Cardiff to the way we played here for four days, to not back that up here, today wasn't great at all," Cook added. "It's very frustrating and hats off to Australia for the way they bounced back. They put us under pressure all game and we weren't able to deal with it."
Talking about the next test match in Edgbaston, Cook felt that the first two days will be important. "Australia were ahead from pretty much ball one and never let us back in. It shows how important the first couple of days are of the next Test match. The side that gets on top tends to dominate. That's the challenge we have for the first two days [at Edgbaston]."
ADVERTISEMENT
Article continues below this ad