Top 11 innings for a losing cause
Published 09/05/2015, 12:46 PM EDT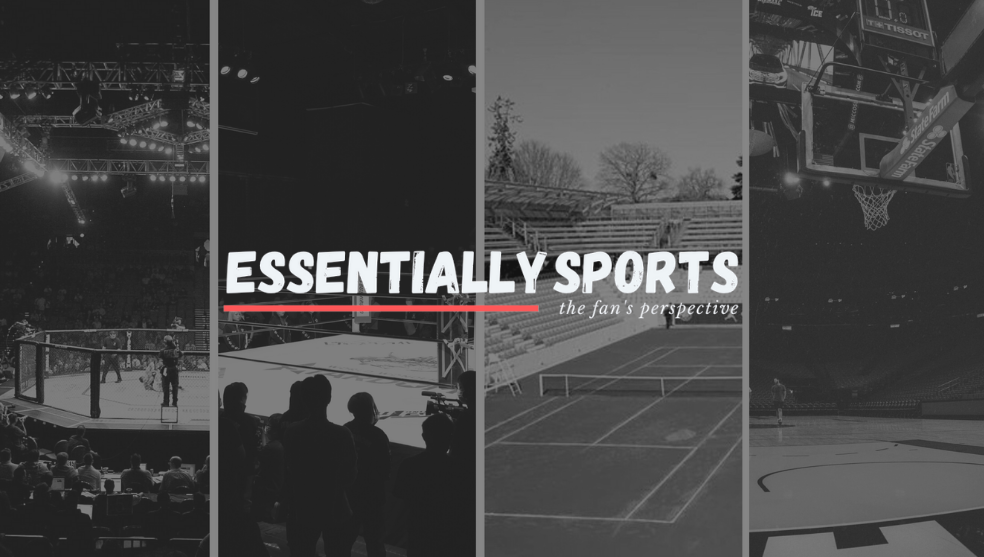 ---
---
Sometimes hard luck trumps hard work. Here are the top 10 innings which are true testimony to the above statement.
ADVERTISEMENT
Article continues below this ad
11. Rohit Sharma vs South Africa, Gandhi-Mandela series Kanpur in 2015.
It was the first ODI of the Gandhi-Mandela series in Kanpur and the men in blue were looking to start off the series on a winning note, having already lost the 3-match T20 series 2-0. At a belter of a pitch in Kanpur, the Proteas smashed the toothless Indian bowling to every part of the ground and with the help of a brilliant hundred by captain AB de Villiers, SA posted 303 on the board.
ADVERTISEMENT
Article continues below this ad
Coming in to bat, Indian openers Rohit Sharma and Shikhar Dhawan provided a good start before Dhawan gave his wicket away. Rohit Sharma shouldered the responsibility of the chase and the strokes he played were as good as it gets. A craftsman's elegant touch and with impeccable timing, Rohit scored a massive 150 off just 133 balls with six sixes. At one point, it looked as if India would achieve the target with a couple of overs to spare. But, once Sharma fell at 269/4 with 23 balls remaining to get 35 runs, our IPL specialists Dhoni and Raina failed to consolidate on the ideal platform that Rohit had set. Eventually, India lost by 5 runs and Rohit's marvelous knock went in vain.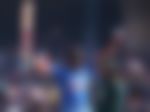 10. Saeed Anwar vs India, Centurion World Cup in 2003
Saeed Anwar's 101 against India in the World Cup at Johannesburg, South Africa is indeed a memorable one. This great innings has been overshadowed by Sachin Tendulkar's 98. Performing in an India-Pakistan is always special and Saeed Anwar's innings is no exception. As has always been the case with Pakistani team of that era, they needed to have some runs on board to give their bowling attack – Wasim Akram, Waqar Younis, Shoaib Akhtar, Shahid Afridi and Abdul Razzak – something to work with. Recognizing this, Saeed Anwar curbed his natural attacking instincts, which is a lot more difficult than going for the attack and rotated the strike to ensure that scoreboard kept ticking. His century was more dogged then filled with expansive fours and sixes. After a bright start, wickets started tumbling and it was the elegant Saeed Anwar who scored his third World Cup century and the 20 one of his career. The next highest score was a paltry 32 from Younis Khan. Pakistan's total of 273 was a highly competitive total. Yet the blinding innings that Tendulkar played along with Yuvraj Singh and Rahul Dravid who supported him ably, were unfortunately too good for one the best bowling attacks in the world.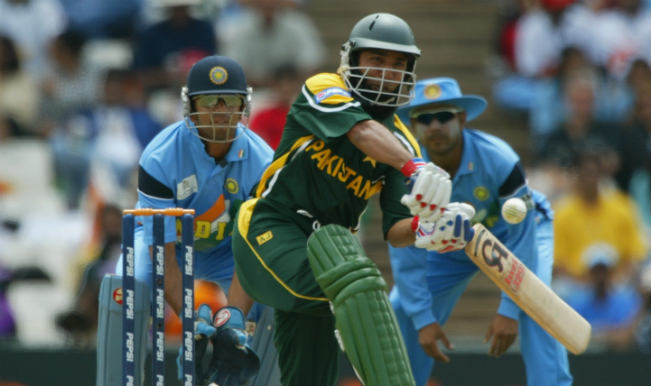 9. Herschelle Gibbs 101 vs Australia, Super Six, 9 Match, Leeds, ICC World Cup 1999
Cricket is a funny game. A player can turn from a to a villain in just one match and, no match has been a better example for this than the Australia-South Africa Super Six tie at Leeds in the 1999 World Cup. With South Africa having already qualified for semi-finals, their last Super Six was a great chance to eliminate the Aussies out of the competition. In a match in which Gibbs is often remembered as the villain who spilled Steve Waugh's wicket whilst celebrating a catch with Steve Waugh going on to score a century and winning the match, very few remember the his century was scored against a belligerent Australian attack comprising of Glenn McGrath and Shane Warne. The manner with which he curtailed the impact that Shane Warne could have on a turning track, to just 2 wickets was a contribution not many players could match. Yet, history remembers just the infamous dropped catch and the apocryphal words that Steve Waugh said to Gibbs, "Son, you just dropped the World Cup."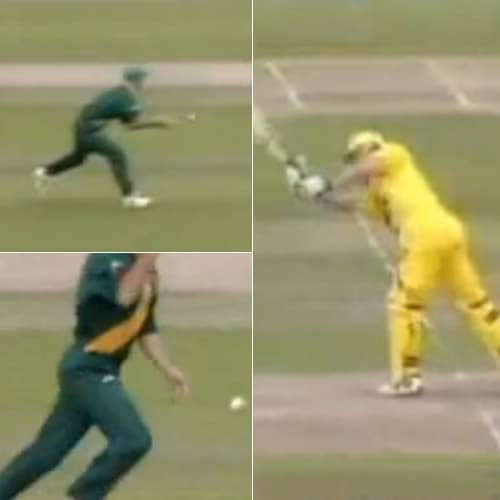 8. Charles Coventry 194* vs Bangladesh,  in Bulawayo, 2009
One would imagine that after scoring 194 odd runs for your team, you have successfully won the match for your team. Sadly, that was not the case for Charles Coventry. His 194*, equaling the great the Saeed Anwar's record, sadly went in vain as the Zimbabwean bowlers were unable to contain Tamim Iqbal. An innings that included 16 fours and 7 sixes,  should have enabled Zimbabwe to score in excess of 350 runs, but, the lack of support from the other end saw them put up only 312 on the board. While this should have sufficed, the Zimbabwean bowlers sadly threw away Coventry's effort with wayward bowling. On the record books, 194* remains the highest individual score for a losing cause till date.
7.  Mahela Jayewardene 103* vs India in 2011, Mumbai, ICC World Cup final
The best innings are those scored when it matters the most. A century in the World Cup final has its worth more than gold. That is what Mahela Jayawardene's 103 against India in the 2013 final was. In the past, whenever a player scored a century in the final, that team invariably won. Walking off the field after scoring his century, Jayewardene would have thought that he has done his bit ensuring a win for his side. His sublime innings scored in just 88 balls was flawless. He rotated the strike with ease and after Sangakkara's dismissal, led the Sri Lankan attack along with support from Nuwan Kulasekara and Thisara Perera. Unfortunately this innings came at the cost of losing. Considering the amount of pressure a player has on his shoulders while batting in a World Cup final, this masterpiece of an innings sadly was in vain.
6. Yuvraj Singh's 139 vs Australia, VB Series in 2004
In a match that lost 16 overs to rain, it was a shame that Yuvraj Singh's brilliant 139 ended up on the losing side. It is extremely hard to stop a player like Yuvraj, especially when he is in form and at Sydney, he seemed to be in sublime touch. Never has Yuvraj Singh been as precise with his strokeplay as he was at Sydney that day. In the penultimate over, he smacked Ian Harvey for 22 runs lifting India to a commanding position by setting a target of 297 for the Aussies only for bad luck to take it all away. Gilchrist's 95 of 72 balls set the tone of the Australian chase. At this point, it's conjecture, but had Australia been given the full 50 overs to bat, then the result of the match would have been quite different.
5. Inzamam ul Haq's 122 vs India, Karachi in 2004
Touring Pakistan after a gap of many years, India, after winning the toss, set up a huge total of 349 runs thanks to Rahul Dravid's 99 and Virender Sehwag's 79. Pakistan's chase of the target hit early hurdles with L. Balaji and Ashish Nehra striking early. Steading the chase along with Yousuf Youhana after 2 early wickets fell, Inzamam ul Haq played a cracker of an innings. His temperament under pressure and the methodical way with which he paced his innings was an indication of what a great batsman he was. Playing the anchor role when wickets were falling around him, he upped the ante after the 40 over when a little under 80 runs were still needed. With the crucial support of the lower order, especially Abdul Razzak, Inzamam looked to take the match away from the Indians. The match went down to the last ball, when 6 runs were needed of 1 ball, reminiscent of the match between India and Pakistan, when it was Javed Miandad ( who was now sitting in the dressing room as the coach of the Pakistan team and wildly gesturing) facing Chetan Sharma at Sharjah in 1986. For the Indian fans, memories were bitter as the Chetan Sharma full toss was hit for a six by Javed Miandad. As Nehra ran to deliver the last and the deciding ball of the match, his attempts at a Yorker failed, as he bowled a full toss. Inzamam ul Haq could only smack it to the fielder at mid off who gladly took the catch bringing an end to a great innings and a great match.
4. Sachin Tendulkar's 143 vs Australia, Sharjah in 1999
Another Tendulkar innings in this list. Chasing a target of 284 for victory, India needed to score 254 to qualify for the final of the tri series cup between India, Australia and New Zealand. The Australian attack included Glenn McGrath, Shane Warne and Damien Fleming who were all at the peak of their careers. Tendulkar, in a fashion reminiscent of Viv Richards, thrashed the Australian attack all around the park. His backfoot punches through the covers of the bowling of McGrath, Fleming and Kasperowicz frustrated the Australians and when the Australian captain decided to have a packed offside field, ( 7-2 field setting) Tendulkar just stepped out of his crease, like he would do to a spinner and  hit the ball over the top of the bowler's head, irritating the Australians even more. When Shane Warne came into the attack, Tendulkar danced down the track, against the spin and thwacked him for a huge six over the midwicket area. After the match got interrupted and the target was revised to 276 in 47 overs for victory with India needing 237 to qualify, Tendulkar showed no intention of slowing down. In fact, at one time, it seemed that India might just win the match but an ambitious attempt to get under a slower bouncer from Damian Fleming dashed all hopes of a victory. A few days later, Tendulkar came up with another great innings of 134 in the final to finally tame the Aussies. Later on, on many occasions, Shane Warne often joked that he still has nightmares of Tendulkar dancing down the track and hitting him for a six.
3. Ricky Ponting's 164 vs South Africa at the Wanderers in 2009
The Australia-South Africa match is forever remembered as perhaps the greatest ODI match ever played. Batting first, Australia set a world record target of 434 for the South Africans only for that world record to be broken in the same match itself. On this day, it was impossible to dismiss Ricky Ponting. His 164 was perhaps one of the greatest ODI innings. After playing the second fiddle to Adam Gilchrist , Ricky Ponting went on to attack. to produce one of the most spectacular innings ever exceeded, perhaps by the one by Herschelle Gibbs later that day. In the mid innings break, it seemed that Ricky Ponting and Australia, by extension, had batted South Africa out of the game. Unfortunately for them, Herschelle Gibbs had some other plans that day as South Africa successfully chased down a mammoth total of 434 in under 50 overs. But in spite of being on the losing side, Ricky Ponting was awarded the Man of the Match along with Gibbs which he duly declined and gave it to Herschelle Gibbs instead.
2. Nasser Hussain's 115 vs India in the NatWest Final in 2002
The NatWest final is remembered for India's young Turks' coming of age. Yuvraj Singh and Mohammad Kaif took India to victory after India was reduced to 132-5 with Rahul Dravid, Sachin Tendulkar, Sourav Ganguly and Virender Sehwag among those dismissed. Yet, former England captain, Nasser Hussain's century is often forgotten. Known more for his captaincy then his batting, Hussain was going through a tough patch of form in the series. In fact, apart from the usual critics and commentators, even respected ex-players were then calling for Hussain to be dropped from the side. In the final match of the series, Hussain showed how mentally tough he was. Weathering a tough spell of seam from Indian bowling attack and playing the anchor role so that Marcus Trescothick and later Andrew Flintoff could go for the attack at the other end, he scored the 2 century of his career at Lord's that day. After the early dismissal of England opener Nick Knight, Hussain batted for nearly 40 overs and in an era when anything above 275 was considered to be a winning total, helped England set a formidable target of 326 runs in front of India. But if it hadn't been for a Yuvi-Kaif special that day, the match was would have been remembered as Nasser Hussain's.
ADVERTISEMENT
Article continues below this ad
1. Sachin Tendulkar's 175 vs Australia at Hyderabad in 2009
ADVERTISEMENT
Article continues below this ad
In the 7 match ODI series, Australia and India were levelled at 2-2. Batting first after winning the toss, Australia scored 350 runs with the help of Ricky Ponting's 112 and Shane Watson's 93. The conditions were friendly for batting, but 350 still seemed an uphill task. From the 1 ball itself, Sachin Tendulkar seemed in fine form. Apart from a couple of close shaves early during the innings, Sachin Tendulkar was timing and middling the ball very well. At the other end, however, wickets were tumbling. Apart from Sehwag early on and later Raina, no Indian middle order batsmen was able to  enter double  digit scores. The kind of innings that Tendulkar played at Hyderabad was one of those, that every Indian fan hopes to witness live. The most notable part of the innings was when Tendulkar danced down the track to smack the terribly out-of-his-depth Nathan Hauritz for two consecutive sixes. The blistering attack that Tendulkar launched on Hauritz was such that, he was taken out of the attack after 5 mere overs. With Raina in tow, it looked as if this was going to be one of the most memorable wins in Indian history. But alas, with just 19 runs needed of 18 balls and 4 wickets in hand, Tendulkar attempted to hoike a slower delivery from Clint McKay over the fine leg only to be caught by Nathan Hauritz and dashing the hopes of an Indian win with it.