Top Trick Shots of Roger Federer
Published 08/08/2018, 6:27 AM EDT
By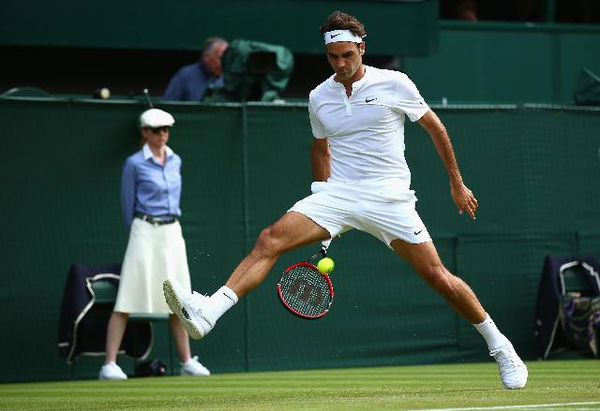 In an era where tennis is becoming more intense and physical with serving bots and baseline defense experts making the game monotonous, Roger Federer is one who can do almost everything that is there in tennis books and more. He has constantly experimented and innovated his style to suit his age, abilities, and the generation. And to do this year after year, week after week for such a long time is exceptional, to say the least.
ADVERTISEMENT
Article continues below this ad
He never ceases to amaze the crowd with his unique and innovative shots time and again. He is an inspiration for all the present and future sports-persons. Let us look at some of his crazy and innovative shots:
SABR (Sneak Attack By Roger)                                                                                   Leave it to Roger Federer to do something on a tennis court that no one has seen before. Roger Federer calls the shot the SABR- the Sneak Attack by Roger- and that sums it up perfectly.
ADVERTISEMENT
Article continues below this ad
While executing the SABR return, he jumps into the service box once his opponent has served, hits a half volley and, if everything goes well, sends the ball flying out of the reach of his opponent for a winner or rushes them into error.
Federer says he started using it when having a hit with Benoit Paire in Cincinnati. The two of them were both tired and decided to play a quick few points. Federer took on a Benoit serve with the SABR return and hit a winner which was, in his own words, 'ridiculous'. The Swiss said he enjoyed it so much he and his coach Severin Luthi decided to make it a feature of his return game.
See the video below to see the Sabr return in action against Leonardo Mayer in the first     round of US Open 2015. Federer used the shot three times in the game and broke Mayer's serve.
2. Tweener
The tweener tennis shot is by and far one of the most entertaining in tennis. If you're unfamiliar, a tweener is a tennis shot that is hit between the legs. The most exciting tweeners are typically hit on the run after you've been lobed, facing away from the court and between the legs… yeah, it's as crazy as it sounds.
Federer not only reaches these shots and hits them solidly between his legs, he adds another element by aiming such shots, which is nearly impossible. He used a "tweener" to get to match point against Novak Djokovic in the semifinals of the 2009 U.S. Open. Imagine the discouragement of hitting a lob that you think is a winner, only to see it zing by you as a tweener, aimed so well that it passes you at the net. Stunning, just like Federer's overall game.
Federer refers the shot as very special and called it the best shot he has hit in his life. If the maestro says so, that is what it is.
3. The Fake Shot
Federer is a master of disguise. Combine that with his extra-ordinary racket head control and you get some unbelievably clever fake shots which leave opponents clueless, often laughing at their own helplessness.
Sit back and enjoy his genius-
https://www.youtube.com/watch?v=1yYVkpZ_Fus
4. Walking drop shot
The drop shot has become a weapon of choice for Roger.
Federer disdained it early in his career but changed his mind after it helped him finally win the French Open in 2009 when opponents were playing deep to negate his forehand. As with most other shots, once he started using it, the shot seemed to become more popular up and down the tour.
ADVERTISEMENT
Article continues below this ad
5. Backhand smash
It is considered as one of the most difficult shots in tennis, but certainly not for the Swiss maestro. The combination of strength, balance, and movement proves challenging even for the best on the Tour. Federer has used this shot on several occasions, even during big, high-pressure points which made it's execution even more special.
Look how Roger executes it with an uncanny ease-
ADVERTISEMENT
Article continues below this ad