Top Unorthodox bowling styles
Published 02/15/2016, 10:07 AM EST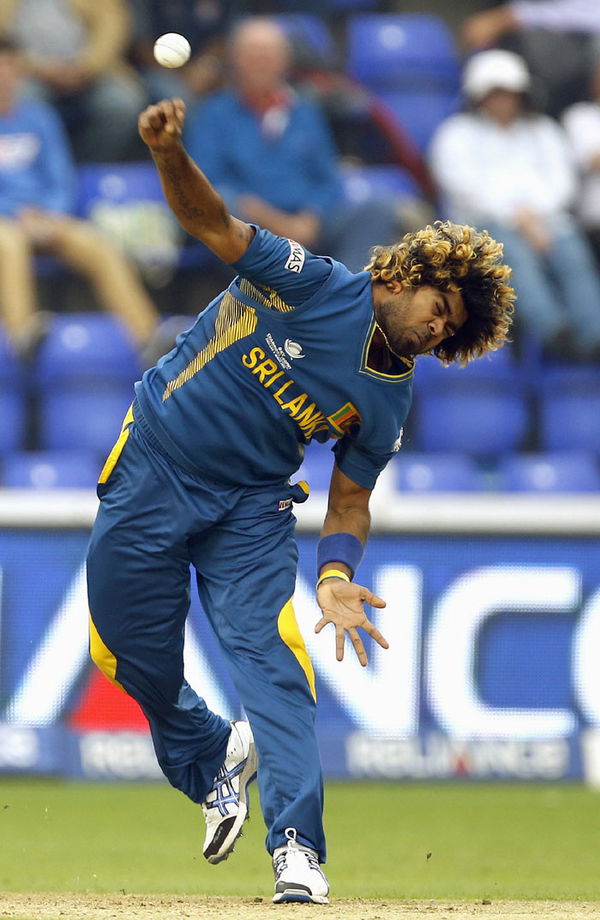 ---
---
The art of bowling was always a  huge part of  the gentleman's game even though the traditional gentlemen are indeed the batsmen. However, the ever hardworking  'Professionals' who bowl tirelessly has only become wittier and wily enough to find a way through in this game which traditionally belongs to the batsmen. With spin coming in handy over the course of limited overs cricket history, some variations in the same have brought about what we call unorthodox bowling actions. From the canniness in the action of a traditional Pakistani spinner to the wily sling of Lasith Malinga, here's a look at some of the Unorthodox bowling styles over the years on the game.
ADVERTISEMENT
Article continues below this ad
5. Jeff Thomson (Australia)
Fast and fiery seems to be the norm of today's Australian bowling, but before the likes of Brett Lee and even Craig McDermont, was the slinger in Jeff Thomson. Watching Thomson bowl was like battle with fire. Thomson used an unusual and never seen before sling action into his delivery stride. Extracting an extra bit of bounce each time he bowled, Thomson was deadly at his prime and accounted for the best in the world time and again in Test cricket. His record is phenomenal for an individual plagued by injuries. His 200 test wickets came as quickly as in 50 tests, he has 55 ODI wickets from 50 games as well. However Thomson's action was invariably the talking as the big lad from Sydney ran in breathing fire.
ADVERTISEMENT
Article continues below this ad
4. Muttiah Muralitharan (Sri Lanka)
The Wily Muralitharan who will always remain as one of the legends of the game indeed had an action contorted to his strength and conditions in the sub-continent. Being immensely successful since making his debut in 1993, Muralitharan spun a web around the best of the batsmen, with his clever variations, which at times were criticized, for being illegal. However, Murali continued for long in the game, almost long enough to pick 800 test wickets, becoming the highest wicket taker ever in test match history. His action however, was indeed under heavy scrutiny, and with his doosra even being banned for over a period of a year by the ICC.
3. Saeed Ajmal (Pakistan)
In the mold of his predecessors, Abdul Quadir, and  Saqlain Mushtaq, Saeed Ajmal emerged onto the international scene a novice, but soon rose to become the best spinner in the world. Racing towards 50 test wickets in just 19 tests, Ajmal consistently provided the Pakistan which an option to fall back on, whenever his side was under pressure. Bowling with utmost precision , a variety of variations and with a tilted elbow, Ajmal's glory did not last long enough to his liking though. After being reported for a suspect action in late 2014, Ajmal failed to play for his country in the 2015 World Cup and saw his spot subsequently taken over by Yasir Shah at the test level at least. Facing a long rehab, Ajmal faces a challenge of  playing  international cricket again, but his ever tough looking character might tell another story.
2. Lasith Malinga (Sri Lanka)
The Asians almost make a habit of producing bowlers with an uncanny action, but the least likely source of a slinger, did produce one in Lasith Malinga. His recent T20 exploits have overshadowed his overwhelmimgly slingy action, but the man from Galle, was never short of speculation in the early part of his career. But Malinga's biggest asset was his control, and with his action that was a boon. With as many as three hatricks in ODIs, including a four in four deliveries against South Africa, Malinga is widely considered the best limited overs fast bowler in the world today, more so in the death. His ex-ordinary ability to bowl yorkers and slower bouncers at will, makes for a nightmarish scenario for the batsmen, as they look onslaught in the end overs. However, Malinga got his nickname (slinga) mainly due to his unorthodox but effective slingy action.
https://www.youtube.com/watch?v=xCPGacmzVuo
1. Paul Adams (South Africa)
Paul Adams made headlines in the year 1995/96, when he became the youngest South African to play at the test level. However, his peculiar action made even more news, with the former England skipper Mike Gatting calling it like a ' frog in a blender'. Adams burst onto the scene against England and initially had the batsmen in his web, however his stature diminished with lack of consistency and effectiveness. His career later became plagued with injuries and eventually made him hang up his boots in 2008. Adams had 134 wickets from his 45 tests for the Proteas.
ADVERTISEMENT
Article continues below this ad
ADVERTISEMENT
Article continues below this ad