Toto Wolff Reveals their Actual Intention Behind Max Verstappen F1 Complaint as Horner Also Chimes in
Published 11/19/2021, 12:09 PM EST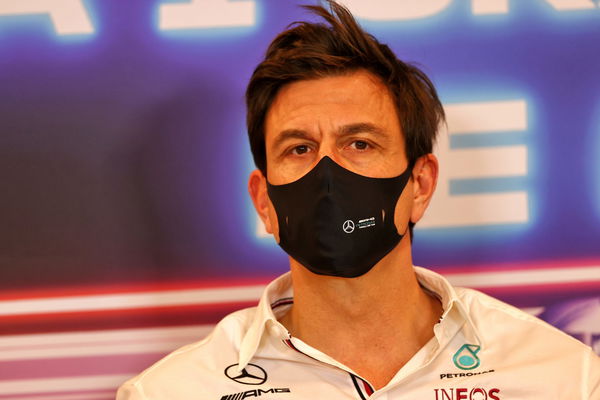 ---
---
The track temperatures were quite high during the free practice at Losaile Circuit in Qatar. But they couldn't have been higher than those in the press conference of Christian Horner and Toto Wolff.
ADVERTISEMENT
Article continues below this ad
One of the biggest stories heading into Qatar was Mercedes exercising their Right to review over the incident between Max Verstappen and Lewis Hamilton in Brazil. In the eyes of the German team, the Dutchman had pushed the Briton off track and walked away 'unpunished'. The stewards, however, rejected this appeal, and the news came during the press conference.
Even though the result was 'expected', Toto Wolff clarified why Mercedes appealed.
ADVERTISEMENT
Article continues below this ad
"We wanted to trigger discussion around it because it probably will be a theme," Wolff said as reported in AP.
"We didn't think it would go any further."
Sitting a pandemic-resulted-but-nevertheless-apt-in-the-light-of-current-situation-distance away, Christian Horner said it was the 'right decision' by the stewards on both occasions.
"Otherwise, it would have opened a Pandora's box regarding a whole bunch of other incidents that happened in that race."
#F1: Christian Horner just said "I don't need to go to dinner with Toto. I don't need to kiss his ass. A few other team principles might." Sitting right next to Wolff. pic.twitter.com/vgI3lrVYur

— Jenna Fryer (@JennaFryer) November 19, 2021
As the season and the championship battle are ending, the filter on words and the patience is also reaching its peak in what's clearly now, a personal rivalry between the two bosses.
A war of words between Christian Horner and Toto Wolff
Christian Horner and Toto Wolff are both delivering equal, if not more, levels of action from what fans see on the track.
Reasoning that the level of competition is 'too high', Wolff admitted that he and Horner will not get along regardless of their personalities or behaviour. The Red Bull boss also emphasised that the two of them are 'very different characters' anyway, so what's the point of pretending to be otherwise?
"You cannot expect that you're going to dinner with your rival or with a rival team or your enemy in sporting competition, irrespective of personalities and the characters," Wolff said.
The press conference was full of exchanges that must make those at Drive To Survive sweat with excitement. What could they possibly cut out of this? How will this fit into the season which has already been full of moments? How?!
ADVERTISEMENT
Article continues below this ad
But perhaps, they can take Toto Wolff's analogy of the season to have some ideas.
"What started as Olympic boxing went to pro boxing and is now MMA. Elbows are allowed now because the rules say so, and the gloves are off. Nothing else is to be expected."
ADVERTISEMENT
Article continues below this ad
Question is, who will be KO'd at the end of the season, Mercedes or Red Bull?
Enjoyed reading this article? Download our exclusive app to get 24x7 coverage, latest memes and social media banter. Click here to download.