Tottenham V/S Manchester City: As It Happened
Published 10/02/2016, 12:56 PM EDT
By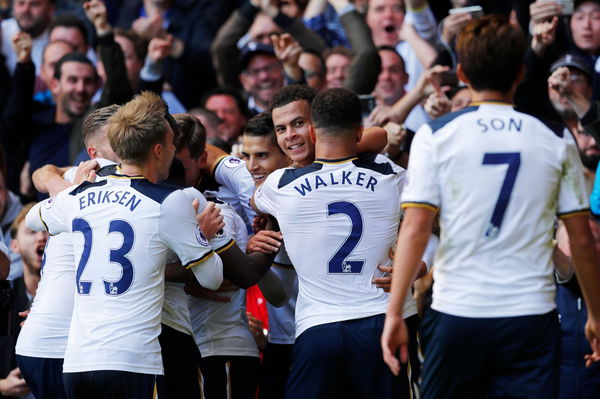 The world looked in anticipation as Tottenham hosted Manchester City at White Hart Lane.This top of the table clash was much awaited by many football fans. The last match-day before the international break, this fixture was much awaited as 10 match undefeated Manchester City took on another undefeated team in Tottenham Hotspurs.
ADVERTISEMENT
Article continues below this ad
The match turned out to be a significant one as Pep Guardiola suffered his first ever defeat in an English competition. Now, only Tottenham() remain as they only undefeated side in the competition. Read on as we discuss the talking points from the match!
ADVERTISEMENT
Article continues below this ad
From The Word Go
Both sides have had previous fixtures with no lack of goals. From the kick-off, Tottenham wasted no time in getting forward as their first shot on goal came in the very first 5 minutes of the match. Manchester City were pretty held back initially as Spurs showed no signs of backing off from the challenge. Many would've expected Spurs to be a bit more cautious as they took on the champions. On the contrary, the Spurs showed no lack of enthusiasm as they pushed forward with Son-Heung Mun (man of the match worthy performance) and Christian Erikson's blistering pace. It was not long before even City got to the ball and sent David Silva and Sergio Aguero forward. However, Tottenham dominated the early part of the first half, resulting in constant forced errors by City's back 4.
Manchester City's Defensive Failures
The famous defense of Manchester City didn't seem to be on their best day today. Due to the constant pressure by Spurs, it wasn't long before Alexandre Kolarov put the ball back in his own net. The cross from Danny Rose met Kolarov's feet, who juggled the ball back of the net. Tottenham's constant pressure and determination to go forward had much to do with City's defensive mistakes. Both Kolarov and Pablo Zabaleta couldn't cope with blistering pace of Tottenham's side.  John Stones and Nicolás Otamendi seemed too interested in keeping a high line, resulting in sacrificing possesion to their opponents. No doubt Mauricio Pochettino had done his homework as he completely exploited Manchester City's defense.
Unstoppable Spurs
Spurs were absolutely brilliant as they constantly pushed forward on City's back 4. Their midfield was absolutely in sync as they gave no possession to their opposition. The second goal seemed inevitable as Dele Alli and Son weaved towards City's goal. First half was completely dominated by Spurs, and Pep Guardiola had many things to reconsider as his team was heading towards their first defeat under their new manager. The second half kicked off with Manchester City seeing more off the ball. However, Sergio Aguero remained invisible through the second period and Raheem Sterling seemed to been pushed back by the excellent Dany Rose. Rose didn't let Sterling display his magic on what turned out to be a glorious day for Spurs.
Claudio Bravo's Hesitations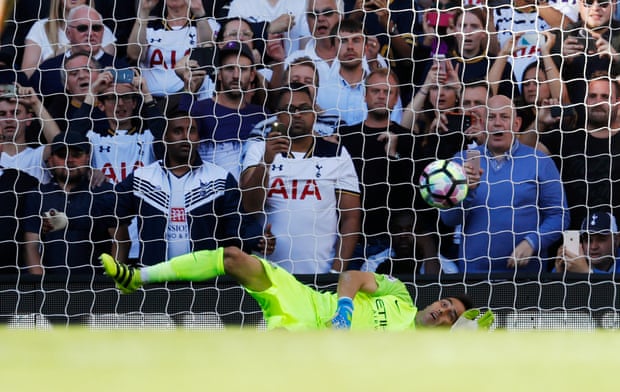 Bravo was definitely not on his best today. He showed signs of weakness when in possession of the ball and let too many chances being created, when they could've been simply avoided. Pep's "Sweeper Keeper" style of play should agree more with him, however, today his performance was below par. The only positive for him to take from the match was the penalty he saved when Fernando made an unnecessary challenge on Dele Alli. arguably, it was an easy penalty to save as Erik Lamela put up a poor kick in the absence of their regular penalty taker, Harry Kane. The White Hart Lane seemed to enjoy themselves every time the Chilean goal keeper had the ball. His performance from today's match is a major concern for Manchester City as they can't afford a man who's not confident of his abilities with the gloves.
Totthenhem Hotspurs: Genuine Title Contenders
ADVERTISEMENT
Article continues below this ad
The runners-up from last season have never really been considered as a team who could "go all the way" the season. However, their dominant display against an inform Manchester City might just be enough for pundits to reconsider. Even defensively, they put up a great show with the defensive's exemplary performance. Jan Vertonghen and Toby Alderweireld gave no breathing space to City's attacking  style of play. Hugo Lloris's  defense made sure the goal keeper was never under pressure from the opposition, and took care of the ball whenever need be. The old' man to man marking seemed to agree with this Spurs side.
Even at the end, when Guardiola pushed all his soldiers to the front, the defense remained solid at the back. Overall, it was almost a perfect display of how the game should be played. Perhaps after Chelsea and Arsenal, Spurs might be the third London side to win the title. With Harry Kane yet to arrive, one can only hope that they get better from here. As for Manchester City, they are still the favorites and perhaps can be excused for a bad day. With Vincent Kompany soon returning, it'll be interesting to see how the teams improves as the season moves on.
ADVERTISEMENT
Article continues below this ad
And that wraps up tonight's fixture! Thanking You for joining us at Essentially Sports!
Stay tuned for more!