Trainwrecks Calls Out EA's Hypocrisy After Being Banned From Nickmercs' Apex Tournament
Published 11/02/2021, 11:24 AM EDT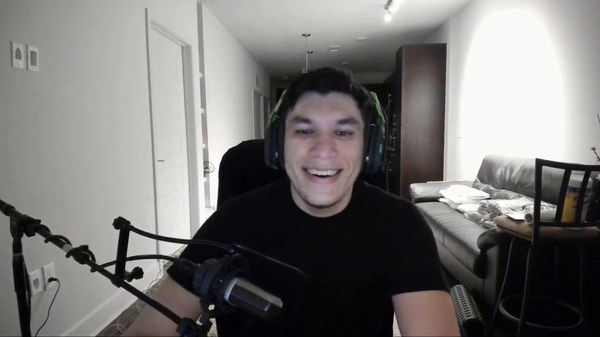 ---
---
Popular streamer Nickmercs recently announced a massive tournament for the popular EA title, Apex Legends. The $50,000 tournament on the Battle Royale game will involve several top streamers and content creators taking part in it. However, it seems like the developers have specifically forbidden one streamer from participating in it.
ADVERTISEMENT
Article continues below this ad
Yesterday on Twitter, Twitch streamer Trainwrecks unleashed on the developers after he explained that he couldn't take part in Nickmercs' tournament. Along with that, he berated them for holding double standards regarding gambling on games and streams.
EA has restricted Trainwrecks from playing in Nickmercs Apex tournament due to his gambling streams on Twitch

I have to imagine this is the reason (EA) why TSM member Daltoosh is also blacklisted from the event

— Jake Lucky (@JakeSucky) November 1, 2021
ADVERTISEMENT
Article continues below this ad
EA bans Trainwrecks from participating in Nickmercs' tournament
Nickmercs' Apex Legends tournament recently came under a massive controversy when the game's developers prohibited Trainwrecks from competing in it. In a series of tweets, the popular Twitch streamer stated that he can't play because EA has urged Nickmercs to not allow him to play. This is because the company has an issue regarding Trainwrecks' content, which involved a lot of gambling streams.
Trainwrecks was one of the few streamers whose content earlier this year revolved around gambling. These streams had come under a lot of scrutiny as they promoted gambling to the younger generation. Many content creators and viewers had requested with Twitch to ban them, along with other controversial content like Hot Tub streams. Even then, Trainwrecks has talked a lot about it, and while gambling he has repeatedly told viewers about playing responsibly.
… @EA just told nickmercs i can't play in his EA sponsored apex tournament because of my gambling streams

— Trainwreck (@Trainwreckstv) November 1, 2021
Trainwrecks calls out the double standard from the developers
ADVERTISEMENT
Article continues below this ad
However, it seems like Trainwrecks has more of an issue with the hypocrisy shown by EA. Many of the popular EA titles has micro-transactions. Along with that, franchises like FIFA and Madden NFL have come under heavy fire for promoting "gambling" with packs. Trainwrecks even alleged that the company sponsored him $150,000 to play Apex Legends. He even threatened to sponsor Nickmercs' tournament for double the amount EA has funded it with.
hey @EA you corrupt shady fucks, the real gamble was done by you when you paid me 150K for 4 hours of apex, a game no one gives a fuck about me playing, I'll sponsor nicks tourney for double what you offer you virtue signaling fifa pack gambling fucks

— Trainwreck (@Trainwreckstv) November 1, 2021
ADVERTISEMENT
Article continues below this ad
In the end, it seems like Trainwrecks isn't happy at all regarding the decision from EA. For now, it seems like the celebrated Twitch streamer won't be making an appearance during the tournament. Even with the controversy surrounding gambling streams, many content creators have come in support of Trainwrecks because of the company promoting "gambling" through its games. However, the likelihood of the company overturning its decision regarding the ban is almost zero even with all the support.
WATCH THIS STORY: Toughest Video Game Bosses of All Time