Transfer Round Up: FC Barcelona
Published 09/05/2016, 5:14 AM EDT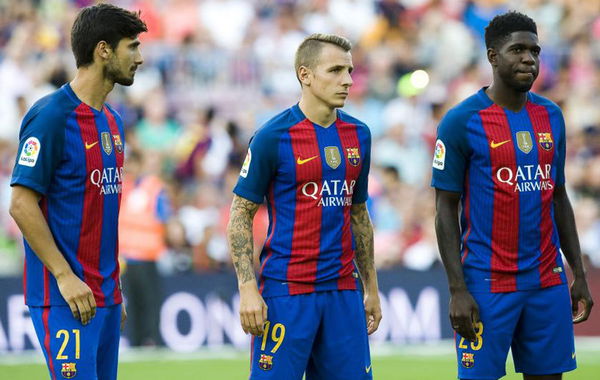 ---
---
The transfer window is finally over. FC Barcelona has been a central figure in this transfer window. With huge transfers happening, this year the Blaugrana have made sure they go all guns blazing. Luis Enrique has made drastic changes in the whole team, except his attacking front. With Lionel Messi, Luis Suarez and Neymar working like a well-oiled machine, some of the pundits might agree that this was the change the team was . So let's analyse the transfer season for the Spanish giants.
ADVERTISEMENT
Article continues below this ad
The Players That Joined
ADVERTISEMENT
Article continues below this ad
This transfer season FCB's primary objective was to take care of their defense. Many pundits believe Luis Enrique did a pretty decent job with that. Let's look at the addition of the players he made:
Jasper Cillessean(GK):
Price: €13M + €2m .
After the departure of Claudio Bravo, Luis Enrique needed someone with a firm hand to guard the net. The young Dutch goalkeeper came with a great reputation and a fantastic 2015-16 behind him. Enrique had been eyeing him for a long time. Jasper would now be seen in FCB's colors guarding their goal from the enemies. The question remains whether he is worth the  €13 million plus another €2m in add-ons, the club just spent on him.
Lucas Digne(LB):
Price:€16.5M+€4M add ons.
His role will be very clear to him. He'll be the backup to Jordi Alba for FCB. Many teams were initially attracted to him when he was on his loan in Lyon. With Adriano gone, the team knew they needed a backup left back. Perhaps he chose Barcelona so that his career can get a big boost which it so desperately needs.
Samuel Umtiti(CB):
Price:€25M
Undoubtedly the best buy for Barcelona this transfer window. The club bought him even before his star-studded performance in the Euros. His strength to hold the attackers approaching was appreciated by many pundits throughout the tournament. Also, his performances in Barcelona's colors has earned him a lot of appreciation from all over the world.
Andre Gomez(MF):
Price: €35M+€20M
The big transfer many Barcelona fans were looking forward to. Valencia's player of the season 2015-16 has a lot of competition ahead of him in FCB's rooster. He has a lot to learn from the likes of Andres Iniesta and Ivan Rakitic. His role will still be questionable as he has taken a huge gamble with his career to come to Camp Nou.
Paco Alcacer(FW):
Price:€30M+€2M
Perhaps this is the only transfer the pundits are unsure about. The forward will know that most of his time will be as a substitute for the formidable MSN. With Munir now gone, perhaps he'll play the role the Luis Enrique could never get Munir to agree upon. His cost for a backup option also questions the need of his arrival to the club. We'll soon find out as the season progresses.
Amount of Money Spent: €122.75M
The Players That Left
Claudio Bravo(GK):
Price:€18M+€2M
The 32-year-old Chilean was the FCB's main goalkeeper the previous season. He put up a splendid performance, but perhaps with Enrique's ambition to put a "young side", he just didn't add up. His move to Manchester City, where Pep Guardiola really needed him, would perhaps be best for everyone. He leaves Barcelona on good terms and will be looking forward to a great time in England. As for the club, the team will use the money top a better use as their main GK departs.
Dani Alves(RB):
Price:FREE
The inevitable transfer of Dani Alves to Juventus. With a great performance throughout his time at Camp Nou, the Brazilian has been a loyal servant to the club. His achievements and classic forward dashes will be missed in La Liga dearly. Luis Enrique sure did take a huge gamble by letting Dani Alves go. He will now depend on Aleix Vidal to fill in his shoes. It won;t be easy for the youngster as Alves was a very important member to the team. He will surely be missed at the club.
Thomas Vermaelen(CB):
Price:Loan With Option-to-Buy
The Ex-Arsenal skipper never really got going in Barcelona. His injuries have been a constant hurdle to earn him and cement a place at Barca. On his loan to Roma, he'll be looking froward to play perhaps a more comfortable styled football. With an option to buy, Roma would like to invest more in the player and hope he passes with flying colors in his new venture.
Marc Batra(CB):
Price: €8M
The promising youngster who many in the Camp Nou adored. He was a fan favorite, only to find himself in the side when either Javier Mascherano or Gerard Pique were resting or injured. Batra would miss his time at the club, but his decision to move to Borussia Dortmund has been applauded by many pundits. Why should a player never be selfish and think about his career?
Munir El Hadidi(FW):
Price: Loan With Option-to-Buy
Munir was a substitute for the MSN. He had shown glimpses of potential greatness with his ability to strike the ball in the net. Moreover, he suited both FCB and Enrique's game very well. Perhaps to earn himself more time on the field, his manager decided to loan him to Valencia. Many Catalans will be still rooting for him as he joins one of their Spanish rivals.
Amount of Money Earned: €31.6 million
ADVERTISEMENT
Article continues below this ad
Overview:
This was a very active transfer window for FC Barcelona. Never previously have the officials from Camp Nou made so many changes all at once. With great signings and big releases of dead weight players, the fans have never been happier with their team. Perhaps missing out on last year's UEFA Champions League has really gotten to Luis Enrique. No doubt, there's a fresh start to this season that many of the fans, including us at Essentially Sports will be looking forward to. Until then, stay tuned!
ADVERTISEMENT
Article continues below this ad
Overall Grade:9/10