Twitch Streamer Adin Ross Under Fire for Lying About His Involvement in the Cryptocurrency Scandal
Published 07/03/2021, 11:48 AM EDT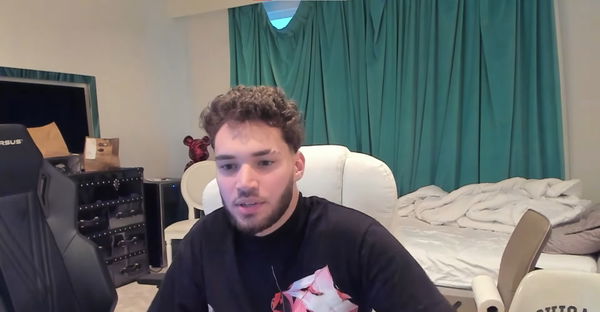 ---
---
The recent cryptocurrency scandal involving some of the most popular internet personalities in the world sent shock waves around the industry. Following the debacle involving the members from the gaming group Faze Clan, many controversies are coming out of it. One name that has popped up in this concoction of disaster is Twitch streaming star Adin Ross.
ADVERTISEMENT
Article continues below this ad
The 20-year-old faced a lot of flak after many fans also targeted him for being part of this scandal. Adin Ross has stated in a tweet that he didn't take part in any of these controversies. But Twitter users have receipts to prove that he also might have a stake in it.
ADVERTISEMENT
Article continues below this ad
Adin Ross embroiled in cryptocurrency scandal
After hell broke loose yesterday, Adin Ross chimed in on fans going after him for being part of the scam. The cryptocurrency scandal involved popular Faze Clan members like Kay, Jarvis, Teeqo and Nikan. The 'Pump and Dump' scam with the Save The Kids token recently came to light, and fans were outraged about it. This led to the exit of Jarvis from the group, and suspensions for the other members involved in the scandal.
Fans also went after LA Clout House members like Ricegum who also received mention in the scam. Along with that, his former roommate Adin Ross also received a lot of flak, although he didn't back down from all the hate. He tweeted about the situation and claimed that he wasn't part of any scams, including the one that got the Faze members into trouble. But eagle-eyed Twitter users caught him for blatantly lying about not taking part in cryptocurrency scams.
ADVERTISEMENT
Article continues below this ad
Twitter users caught him lying
In the replies to Ross' tweets about not being involved in scams, Twitter users have posted screenshots of an old deleted tweet from him. The tweet posted on late May showcased him giving away $10,000 worth of MILF tokens. The token later underwent a massive drop-off in value which made it quite worthless.
Many fans have berated him for lying and also getting involved in such scams. It's quite possible that he might be linked with the Faze Clan scandal as the Clout House has connections to various members fromt the group like Banks. Adin Ross has talked little about this issue, and it remains to be seen if he might find himself in trouble as well.
ADVERTISEMENT
Article continues below this ad
WATCH THIS STORY- Best Rage Moments of Ninja, Shroud, Tyler1, xQc, Dr Disrespect, and Nickmercs
Trending Stories