Twitter Ecstatic as Alexandria Ocasio-Cortez's Among Us Stream Makes Twitch Record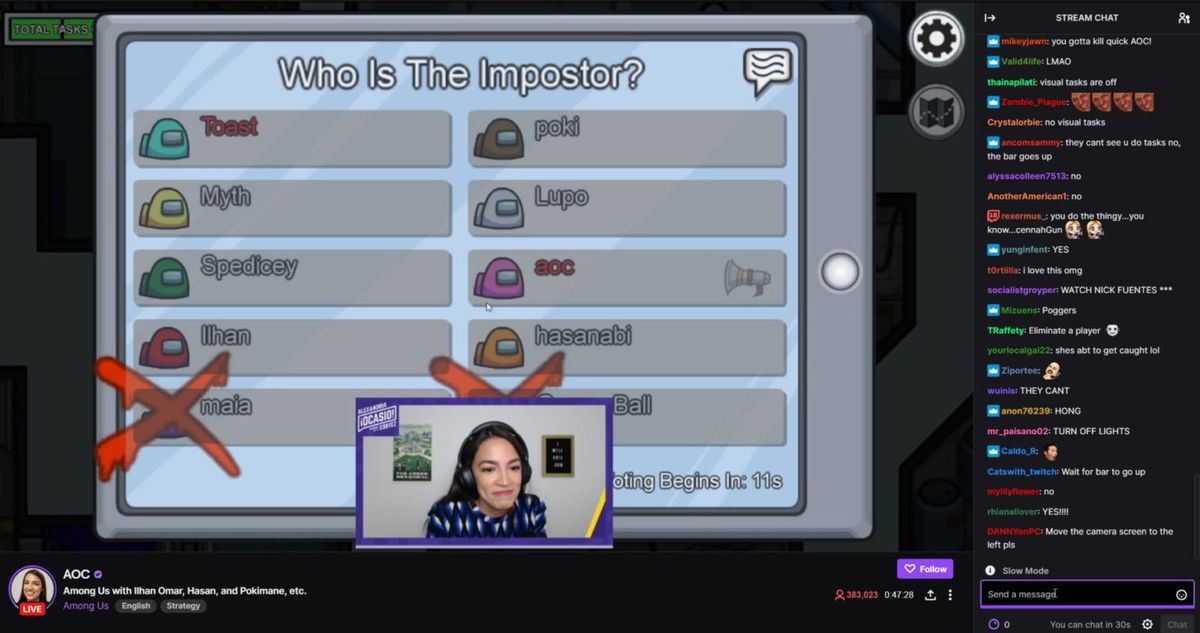 Alexandria Ocasio-Cortez, more popularly known as AOC, is the Democrat White House Representative. She recently joined the long list of famous personalities to play Among Us. AOC had announced her plans on Twitter to which various streamers, such as Pokimaine, responded. What followed was a blast of a game that AOC streamed on her Twitch channel.
The stream was successful as AOC amassed close to 600K followers on her channel. Moreover, her stream gained close to 5 million views in around 14 hours. Her stream broke many Twitch records that no one expected. With around 440,000 peak concurrent viewers, the stream claimed a top 5 spot of streams with the highest peak viewers.
The list is topped by Ninja's Fortnite stream featuring Drake, Travis Scott, and JuJu Smith-Schuster. Shroud's return to twitch stands second in the list with around 500K concurrent viewers at its peak.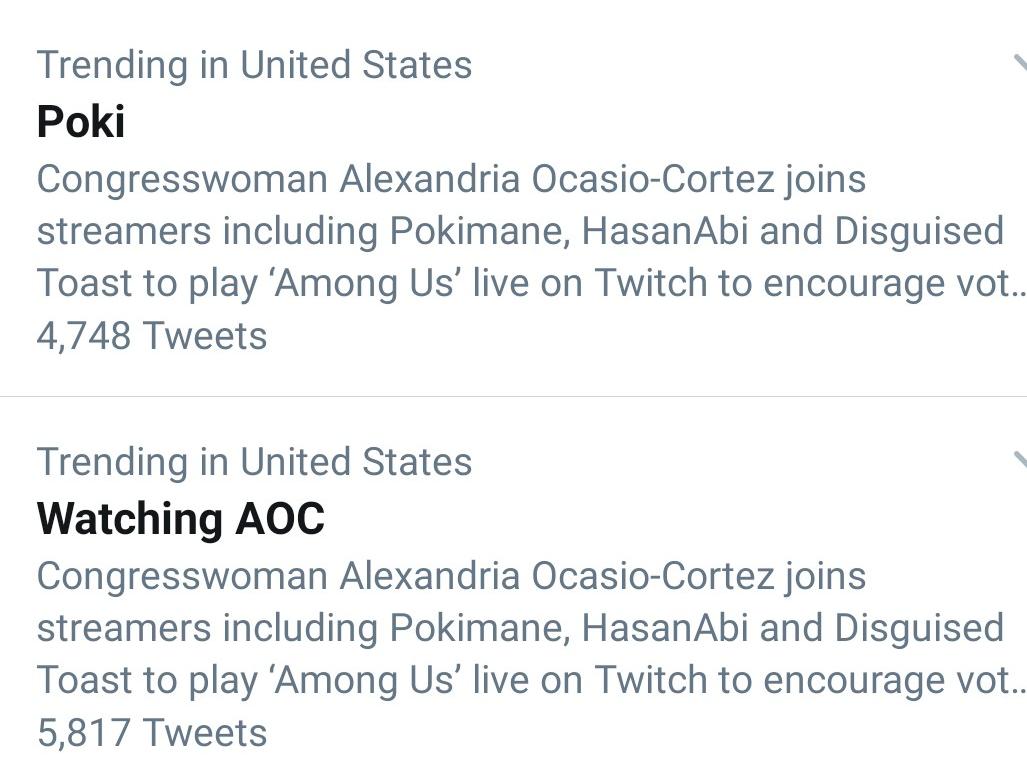 As AOC made her Twitch debut, Twitter users had a field day reacting to her stream. The reactions included support from her followers as well as criticism from her opposition.
AOC makes headlines and trends on Twitter for playing Among Us
As the Congresswoman broke records and topped Twitch charts, people around the world were reacting to her indulgence in pop culture. The reactions included people cheering for her success. Analyst Rod Breslau shared an interesting observation about her stream.
AOC already at double the peak viewership of Overwatch League

— Rod Breslau (@Slasher) October 21, 2020
Amanda Litman, co-founder of Run For Something, also shared interesting statistics. Her data suggests that apart from her stream, there are various clips across video sharing platforms such as YouTube and TikTok which have amassed over millions of views as well.
The afterlife of this is wild — my entire FYP on TikTok today is clips of this stream, many of which have 1million+ views. The joy of it all — from AOC, from the other gamers, from people watching a politician they can 100% relate to — is so contagious.

— Amanda Litman (@amandalitman) October 21, 2020
Another user shared AOC's reaction as her stream crossed 160,000 views. It was indeed a very wholesome moment where a parliamentarian was among the youth of the world and many found the stream relatable.
The moment AOC realized 163,000 people were watching pic.twitter.com/VirKYV5glQ

— Brennan Murphy (@brenonade) October 21, 2020
Reacting to her game with AOC, Pokimaine describes the day as the best day of her life.
best day ever

— pokimane (@pokimanelol) October 21, 2020
Disguised Toast joined Poki in thanking the politician for including him in the game. Most of the other participants in-game also thanked AOC for letting them play with her.
Had an amazing time today on stream playing w/ @AOC and @IlhanMN – Among Us really are creating the most unexpected crossovers ever!

Big shoutout to @pokimanelol and @hasanthehun for putting it together so quickly.

— Disguised Toast (@DisguisedToast) October 21, 2020
what an incredible night. more than half a million people tuned into watch a record breaking #gotv effort we put together in less than 24 hours which started with a single tweet by @AOC – i hope you boomers are paying attention.

— hasanabi (@hasanthehun) October 21, 2020
It was such a blast.

Super grateful to @AOC @hasanthehun and all the amazing gamers for a fun night. Poggers (am I using that right?). S/o to @isaiah_kb for my set up.

Follow us on twitch, I will be back 😉 https://t.co/ASv7E8V7vp

— Ilhan Omar (@IlhanMN) October 21, 2020
Apart from popular personalities, a lot of fans joined in to celebrate this moment as well as share memes on the subject.
A queen let's do it pic.twitter.com/bqc7GY5n00

— there it is kayla ❤️ (@WKatyclowns) October 21, 2020
Remember to Vote Orange out first for faking tasks and being sus! pic.twitter.com/hp1ZzQXKJy

— Bobz (@BobzGaming) October 21, 2020
AOC is the MLK of this generation.

— Demorants (@demorants) October 21, 2020
Not bad first round imposter 😂 Omg I would love to track down ghosts with you on Phasmophobia! 🙈

— Nati Casanova 🇨🇺 VOTE! Ⓥ (@TheZombiUnicorn) October 21, 2020
However, there was definitely a part of the crowd that shamed and criticized AOC for her decision.
Not interested. After all I'm going to die one day and the thought of watching/listening to anything you have to say is time I'll have wasted and never get back!

— TenMileMilitia (@TenMileMilitia) October 21, 2020
How about instead of doing social media games. You do something productive. The people you "serve" could benefit from it.

— Nhmedman22 (@Nhmedman221) October 21, 2020
this chick playing among us on twitch thinking she can be president 💀💀

— edp14860717 (@edp14860717) October 21, 2020
Although people tried to give AOC a bad rep for playing games, she has followers all around the world who support her and her cause.
I know it is very difficult for a British man to comprehend that politician can be young.
Half of your politicians are at their graves

— 🎃Ride on Time🎃 (@TeainAMug123) October 21, 2020
Imagine being one of these people who bash her for no reason. She's playing a game in her time off…get over it what the hell do you do when you're not working…work more?

— Paul Thibault V (@Paullyt5) October 21, 2020
You know, the only reason these men are here complaining about you is because they know you would pwn them. They can't stand it when a woman is better than them. At anything. KEEP IT UP!😉

— Beansidhe Fae🇺🇸🏳️‍🌈😷 (@beansidhe_fae) October 21, 2020
AOC's motive behind the stream to urge people to go out and vote. Additionally, her efforts at spreading awareness among the youth to make an informed choice attracted a lot of support. While this was definitely an unexpected surprise for a lot of people, with the elections coming up, fans can probably expect more streams.