Twitter Reacts: Lewis Hamilton Wins the 2018 Spanish GP
Published 05/13/2018, 2:20 PM EDT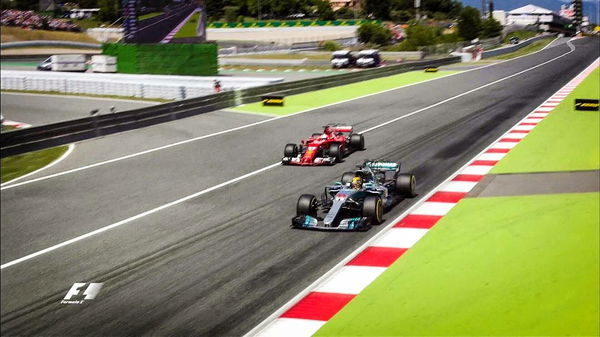 ---
---
Mercedes driver Lewis Hamilton led from start to finish in the 2018 Spanish Grand Prix ahead of teammate Valtteri Bottas and Red Bull's Max Verstappen. To tell you the truth, It wasn't the most nail-biting race except for the first lap. At the start, Hamilton got a good start and teammate Bottas was slower away. Ferrari's Sebastian Vettel was soon past the second Mercedes and Kimi Raikkonen in the second Ferrari, just about held of both Red Bulls.
Meanwhile, in the midfield, Romain Grosjean lost the rear end of his car at Turn 3 and spun. While recovering, he failed to realise that there were still cars around him. Unfortunately, Renault's Nico Hulkenberg and Toro Rosso's Pierre Gasly were the innocent victims. Following a safety car appearance, Hamilton got the whole shot on the restart and rabbited away. Vettel was left to fend off Bottas.
It was mostly status quo for the rest of the race, save for a few battles in the midfield. McLaren's Fernando Alonso provided some mid-race entertainment with a duel with Sauber rookie Charles Leclerc. During the pitstop phase, Bottas was able to leapfrog Vettel and secure a 1-2 for Mercedes.
Ferrari's day went from bad to worse when Kimi Raikkonen suffered an issue with the car and pulled over. Also suffering mechanical issues were Stoffel Vandoorne and Esteban Ocon for McLaren and Force India respectively.
It was a fairly straightforward win for Mercedes and Lewis Hamilton. Meanwhile, Max Verstappen was able to hold off Vettel until the end. Speaking of Verstappen, once again, he got too close for comfort with another driver, this time, Lance Stroll. Fortunately, the end result was just a piece of front wing flying off into the gravel trap. The team contemplated changing the wing but Verstappen reported no major issues. While all this was going on, Fernando Alonso had one eye on the sky but was reassured that there was no risk of rain. Here is how Twitter reacted to the race.
https://twitter.com/mikesmuse/status/995724004471304192
https://twitter.com/pra_ma_/status/995725335961354240
https://twitter.com/lucadambrosio97/status/995725079207206912
https://twitter.com/giorgiocogoma/status/995724647089033216
https://twitter.com/mgiacomini/status/995726048053682177
https://twitter.com/Hannah_MSC/status/995726303176339457
https://twitter.com/beckyastbury/status/995726267013128192
https://twitter.com/jainishkothary/status/995727301945028608