Twitter reacts as India pull of a heist against Bangladesh
Published 03/23/2016, 2:47 PM EDT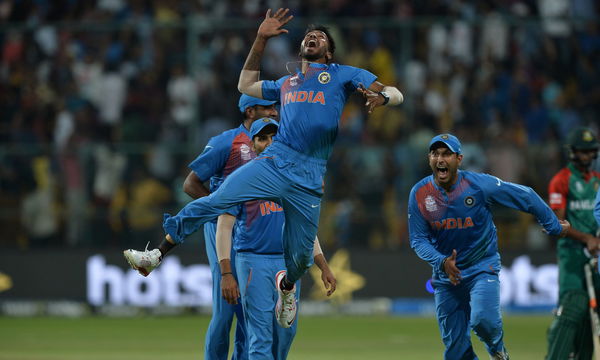 ---
---
Drama, emotions and what not. India pulled off a dramatic one run victory to stay alive in the World T20.
It was more of a self destruction by Bangladesh as they lost the match after needing 2 runs from 3 balls. Pandya got two wickets from two full tosses in the last over and Dhoni affected a Jonty Rhodes style run out on the final ball to send the crowd into frenzy.
The range of emotions the crowd have gone through, phew! From an atmosphere resembling a fighting pit, it turned into a cemetery and then back. India held their nerves and those of a billion others, and scraped through. Defending an at-best fighting total, Dhoni faced plenty of problems in the field which included a bevy of catches being dropped, the pitch getting slightly better, but the most prominent of all was that he didn't have 5 Ashwins. He tried his best, effected a couple of brilliant stumpings, spaced out the overs of his two major spinners as he thought appropriate, but still Bangladesh were ahead right through. That is, till the final 3 balls.
Take a look at the tweets as they speak more than just mere words here.
https://twitter.com/hankypanty/status/712702322636238848
https://twitter.com/breathesport/status/712700666104381441
https://twitter.com/itsssr/status/712698948687888384
https://twitter.com/aggerscricket/status/712697961709330433
https://twitter.com/hankypanty/status/712687991806758912