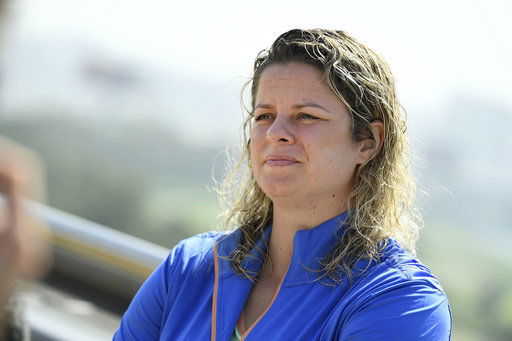 Kim Clijsters announced her comeback to tennis in 2019 after a gap of 7 years from the sport. While she was to make her comeback in 2019 itself, injuries delayed it to this weeks Dubai Open. The former World No. 1 faced Garbine Muguruza in her comeback match.
Debut at Dubai at age 36. 😱😱😱😱 https://t.co/HEKznPn9iK

— Kosturi (@55tension) February 17, 2020
Lots of her magic is still there, but @Clijsterskim loses 6-2 7-6 (6) to @GarbiMuguruza @DDFTennis in her first WTA match in more than seven years.

— Dubai Tennis Champs (@DDFTennis) February 17, 2020
Twitter reacts to Kim Clijsters comeback match
The Belgian, now aged 36, made her second return from retirement this week. She faced an in form player in the shape of Muguruza who was a finalist at the 2020 Australian Open. It was always going to be a tough ask of Clijsters to beat Garbine after being away for so long.
Seeing Kim back again is like one of those dreams you really wanted to happen but didn't believe it can actually be true…

— Agnieszka (@agnieszka1424) February 17, 2020
Muguruza took the first set relatively comfortably 6-2. But Clijsters was never going to roll over quite so easily. She played a good second set, and forced a tie break despite having gone down a break.
Because Garbine is playing great! And still, Kim is somehow now playing better. 6-5 up, from 3-0 down. Goodness gracious, the natural skills. https://t.co/bXIXHCxdyj

— Carole Bouchard 💜💛 (@carole_bouchard) February 17, 2020
She could not force a deciding set though as Muguruza took the tie break and won the match 6-2, 7-6(6).
Take a look at how Twitter reacted to Kim Clijster's loss.
Many fans appreciated the level and quality of Clijsters' tennis despite her straight sets loss.
As you know and all former players notice the small details! the ball striking and ability to raise her level in het first match back is astonishing! https://t.co/LTChDebo32

— Sven Groeneveld 🍊 (@sventennis) February 17, 2020
That did not disappoint https://t.co/SCTZ5Fm3Nw

— Matthew Willis (@MattRacquet) February 17, 2020
Welcome back, Kim Clijsters! That was impressive for her first professional match in almost eight years. Surpassed my expectations, and played so well in the second set. Can't wait to see more of it.

— Nikhila (@kokudum) February 17, 2020
While some were already dreaming up their favorite match-ups of Kim.
My tennis wishlist for 2020:

Serena vs Clijsters.

— Ben Rothenberg (@BenRothenberg) February 17, 2020
A legend of women's tennis, Chris Evert too expressed herself on twitter.
Win or lose, a VERY impressive performance from @Clijsterskim clean ball striking and astonishing little nerves! 👏👏👏👍👍💪💪

— Chris Evert (@ChrissieEvert) February 17, 2020
Garbine Muguruza too understood the significance of Kim's return for tennis fans as she applauded her opponent.
Lovely gesture from Garbiñe Muguruza, who applauds Kim Clijsters as she salutes the crowd. #DDFTennis

— WTA Insider (@WTA_insider) February 17, 2020
Cute pic.twitter.com/bo91Tp96NS

— LorenaPopa 🕵️‍♀️🎾 (@popalorena) February 17, 2020
She also had some kind words for her.
"A player that played incredible can play incredible again." – Garbiñe Muguruza. Not much else to say.

— Tumaini Carayol (@tumcarayol) February 17, 2020
She may have lost her first match on comeback, but fans are already hungry for more.
Welcome back, Kim.

Next tournament? Monterrey in two weeks.

pic.twitter.com/tfNfb9CXb6

— José Morgado (@josemorgado) February 17, 2020
Kim may have lost the match, but she showed enough promise and confidence to get her belief going again. The quality of her tennis was no laughing matter either.
The Belgian was a warrior on the tennis court in her prime years; it is safe to say she is still a warrior alright. Fans will now have to wait until the Monterrey Open on March 2.