Twitter reacts as Pakistan thrash Bangladesh in WT20
Published 03/16/2016, 10:05 AM EDT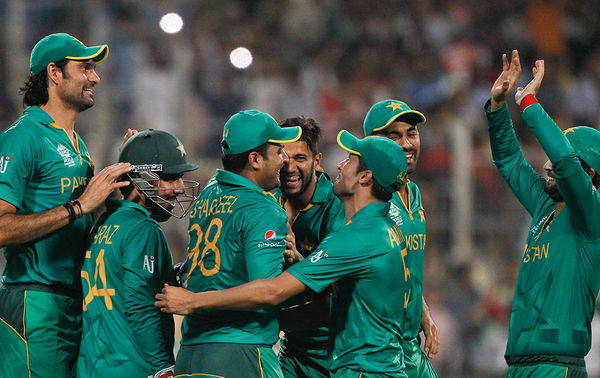 Pakistan(201/5) sounded a warning when they thrashed Bangladesh (146/6) by 55 runs in their Super 10 opener at the Eden Gardens in Kolkata.
After Afridi won the toss and with the return of Ahmed Shehzad, Pakistani batsmen came out all guns blazing as they opted to bat first.  Shehzad chipped in with a fifty which included 20 singles. Then Hafeez came in and hit his stride straight away and finally Afridi the batsman made one of his rare appearances. He struck at 336 v Shakib, 300 v Al-Amin, 266 v Mashrafe, 200 v Sunny and 175 v Taskin. Bangladeshi bowlers were put away with utter disdain by all Pakistani batsmen on a belter of a pitch at Eden Gardens.
With 200 on the board, it was always going to be difficult for the chasing team. After their batting clicked, it was time for Pakistan's good bowling attack to restrict the in-form Bangladeshi batsmen. Amir took a wicket in his first over for the seventh time in his T20 career, opening up the stage for Afridi to come in with his variety of leggies, offies, seam-up and googlies – 2 for 27 and 49 off 19 balls. Cramped up and crumbled up, Bangladesh were out of it by the halfway stage. Only Sabbir looked like threatening the total, but Shakib's fifty may work for them leading into the tournament.
Here are the best twitter reactions from the match
https://twitter.com/altcricket/status/710060881909047296
https://twitter.com/altcricket/status/710055497269956608
https://twitter.com/raaaafay/status/710090427815346176