Twitter Reacts as Sebastian Vettel and Lewis Hamilton Almost Collide
Published 06/09/2019, 2:56 PM CDT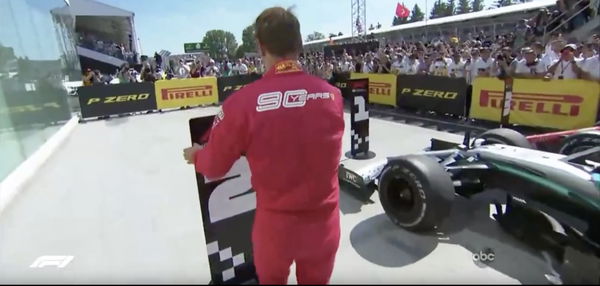 ---
---
There was drama during the Canadian Grand Prix 2019 as race leader Sebastian Vettel almost collided with championship leader Lewis Hamilton. Vettel was seriously struggling with poor brakes when he suddenly went wide across the grass.
Lewis Hamilton attempted to pass the recovering Ferrari but found himself cut off by the German and almost forced into the wall. Needless to say, Hamilton was unimpressed and radioed his team to complain. Following an FIA investigation, Vettel was slapped with a 5-second time penalty. A number of fans, and Vettel himself were extremely unhappy about it.
Sebastian Vettel would later cross the finish line first, but in reality, Lewis Hamilton won the race. Fortunately, Vettel was able to keep 2nd as teammate, Charles LeClerc was too far behind
The scene was almost reminiscent of the 2011 Canadian Grand Prix, when Sebastian Vettel slid wide from the lead, to allow Jenson Button to snatch a last gasp win. The only difference was that the heavens stayed dry for the 2019 edition.
As a result of the penalty, a number of fans vented their frustration on social media.
https://twitter.com/Grems_Place/status/1137806203701092352