Twitter reacts as Federer hands it to Raonic in a 5 set thriller
Published 07/08/2016, 12:06 PM EDT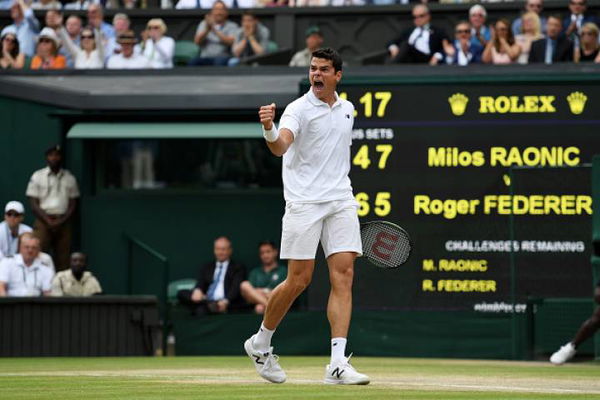 Milos Raonic managed to hold off tennis great Roger Federer in a five-set thriller 6-3, 6-7, 4-6, 7-5, 6-3 to become the first Canadian man ever to reach the Wimbledon finals on Friday.
Federer, bidding for a record eighth title, has never lost a Wimbledon semifinal until today.
The momentum swung towards Raonic when Federer double faulted at 40-15, 5-6 in the 4th set. It proved costly as Raonic won the 4th set 7-5 and later broke Federer in the final set to claim a memorable victory.
Raonic now faces the winner of the other semifinals match between Andy Murray and Tomas Berdych.
See how fans from across the world expressed their disappointment over Federer's exit and happiness on Raonic's incredible feat.
https://twitter.com/symondsl/status/751442358630223872
https://twitter.com/pavan2911/status/751442351378210816
https://twitter.com/chex_mitz/status/751442278783168512
https://twitter.com/punterslounge/status/751442263893417984