Malaysian Qualifying: Read how the Twitter reacted
Published 09/30/2017, 7:10 AM EDT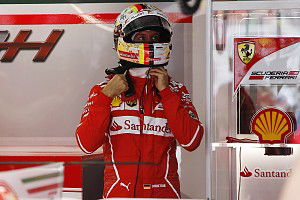 So this is it. The last Malaysian Qualifying and tomorrow will be the last race the country will hold. 19 years of throwing crazy races at us and the streak continued this year as well.
ADVERTISEMENT
Article continues below this ad
2015 Vettel took the win and signaled his and Ferrari's resurgence after an annus horriblis.
Last year Hamilton's engine blew in a spectacular fashion becoming the pivotal point in the championship.
This year too the trend sort of continued as Vettel's turbo gave away in Q1 and Ferrari couldn't get it ready before the end of the session relegating the German to the back of the grid.
If Singapore did not put an end to his Championship chase, today almost certainly did.
ADVERTISEMENT
Article continues below this ad
Let's see what the twitterati had to say on qualifying:
A good gesture by the German after a disappointing Malaysian Qualifying:
Once Vettel was eliminated, it was upto Kimi to stop the Merc from taking the top spot and it was pretty close between the Finn and Hamilton but the Brit prevailed by mere 0.045 seconds!
Lauda certainly agree:
So Kimi will start P2 and those who expected a cheeky Kimi comment weren't disappointed.
The two Red Bulls battled each other and their battle grew closer as the sessions went on. Verstappen maintained his edge though but Ricciardo is chill as always.
God I fucking love Daniel Ricciardo.
"I strategically qualified 4th because that's where I won from last year" 😂😂👌#MalaysiaGP

— Emma Sheridan 🏎💨 (@EmmaGB90) September 30, 2017
The other Merc of Bottas, on the other hand, struggled to even beat the Red Bulls pointing out how much the German car was suffering in comparison to its rivals and that it was Hamilton's brilliance that took the other German car atop the step.
Behind him is Ocon who qualified best of the rest, an impressive position in P6 outpacing Perez who ended up P9 as the momentum continues to Yo-Yo within the Force India garage.
Similarly, Vandoorne took his McLaren-Honda to P7 and Fernando Alonso had no reply to the Belgian's pace. Is the real Stoffel Vandoorne beginning to shine? I think so.
Fantastic efforts from Ocon and Vandoorne, always great to see the next generation ruffling feathers. #F1 #MalaysiaGP

— Graham Keilloh (@TalkingaboutF1) September 30, 2017
P8 was Nico Hulkenberg continuing to mop the floor with Palmer as the out of a 2018 drive Brit was knocked out of Q2 and ended up P12.
#MalaysiaGP: 1 Hamilton; 2 Raikkonen; 3 Verstappen; 4 Ricciardo; 5 Bottas; 6 Ocon; 7 Vandoorne; 8 Hulkenberg; 9 Perez; 10 Alonso #F1PP

— F1 Paddock Pass (@F1PaddockPass) September 30, 2017
Williams' downturn continued as the team despite Mercedes engine were out of Q2 with Massa and Stroll only managing P11 and P13 respectively.
The star of Q2 was the newcomer Gasly who lapped faster than Sainz in Q1 and was only a tenth slower than the vastly experienced Spaniard. He has definitely impressive today and a similar performance tomorrow can hugely boost his case for 2018. The Toro Rosso duo ended P14 and P15 though.
For Haas, the Malaysian Qualifying is going to be a race to forget. Last year too they had woes and this year too right from yesterday when Romain's car was destroyed due to an open drain. Today both were off the pace ending up P16- Grosjean and P17- K-Mag.
ADVERTISEMENT
Article continues below this ad
The Sauber duo will start P18 and P19 with Pascal leading the way for Sauber.
The complete grid will line up as follows:
ADVERTISEMENT
Article continues below this ad