Twitter reacts to Diego Costa's Bust-Up
Published 09/19/2015, 10:12 AM EDT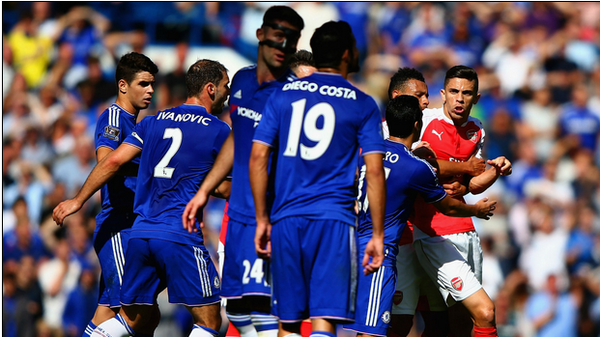 ---
---
Diego Costa has always been considered as an "Evil Mastermind" when it comes to instigating fights with the opposition. Earlier today, the former Atletico Madrid Striker was involved in an incident with Laurent Koscielny, which included the Frenchman receiving several slaps to the face, for which the striker was shown a yellow card.
ADVERTISEMENT
Article continues below this ad
Gabriel Paulista came to the defense of his team-mate, which led to a lengthy argument between Costa & Paulista. The Referee showed yellow to both for the same.
The chaos didn't end there. Gabriel, walking backward, bumped into Costa directly in front of the referee, and the referee without any hesitation showed the second yellow for Paulista resulting in his dismissal from the Game.
ADVERTISEMENT
Article continues below this ad
Here are the best Twitter reactions :
https://twitter.com/troll__football/status/645217428469714944
Atomic microscopes would be hard-pressed to detect the width of Diego Costa's disciplinary tightrope in the second half.

— Adam Hurrey (@FootballCliches) September 19, 2015
https://twitter.com/uberfootbali/status/645216940705849344
https://twitter.com/troll__football/status/645219798566072320
https://twitter.com/footballfunnys/status/645221448328548352
BREAKING NEWS from Stamford Bridge. Diego Costa has just taken a dump in the disabled toilet! What a rotter.

— Paddy Power (@paddypower) September 19, 2015
Diego Costa is a disgrace to the game of football.

— Football Videos (@FootballVideos) September 19, 2015
https://twitter.com/footyhumour/status/645218842482987008
Diego Costa is kind of person who puts his own hair in the food after eating most of it, then complains about it to get a new dish for free.

— Deesha (@Frau_Boateng) September 19, 2015
https://twitter.com/TransferRelated/status/645229328771493888
Always felt Diego Costa is a little like Snape. Much maligned, misunderstood but performing Dumbledore's orders.

— Tim Stannard (@LaLigaLoca) September 19, 2015
The fact that Diego Costa is still on the field just makes Mike Dean look more and more foolish with each passing minute.

— Alecko Eskandarian (@alecko11) September 19, 2015
ADVERTISEMENT
Article continues below this ad
https://twitter.com/footyhumour/status/645219145613709312
Going to church now for my cousin's wedding.
Will pray for Diego Costa's sins, the filthy cheat.

— Piers Morgan (@piersmorgan) September 19, 2015
ADVERTISEMENT
Article continues below this ad