Google
Joe Rogan has been trending a lot lately. While it may hit you as a surprise, Rogan isn't a part of UFC 4. His statement, on his show, claiming that video games are a 'waste of time' has sparked off a heated debate on social media. Before working for UFC as a color commentator, Joe was a comedian, also working on TV shows. He has worked as a commentator alongside many other co-hosts but the charisma he brings to the fold when a fighter is on the verge of a knockdown or submission is beyond parallel.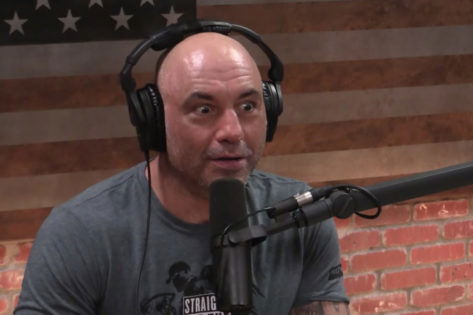 ALSO READ– UFC 4 Creative Director promises a more 'Fluid' Gameplay 
What really happened
During an episode of his renowned podcast, 'Joe Rogan Experience', he was conversing with Joe De Sena on how it's important for kids to be challenged with sports. He described video games as "a real problem." 
He went on to say, "You do them, and they're really exciting, but you don't get anywhere. You [could be] doing something exciting and fun, or you could just be playing f***ing video games."
These comments sparked a controversy on social media, with many over the world expressing their anger and dejection.
Twitter users react to the Joe Rogan comment
Responding to Joe Rogan's comments, Twitter users went berserk.
joe rogan is a clown for his comments on gaming 🤡

— mike (@MikeMAACC) July 27, 2020
Video games somehow landed me a TV show on NBC with Dwayne Johnson.

So @joerogan AMA 😉

— 𝙂𝙊𝙇𝘿𝙀𝙉𝘽𝙊𝙔 (@GoldenboyFTW) July 26, 2020
If I didn't play a video game I would have never discovered this career. That's just a fact.

Hell, I wasn't even a very sociable person but meeting people through gaming actually brought that out in me.

Not meant to be defensive but the facts of my life.

— 𝙂𝙊𝙇𝘿𝙀𝙉𝘽𝙊𝙔 (@GoldenboyFTW) July 26, 2020
People are getting upset over this Joe Rogan video like he isn't right, if you're just playing video games constantly without advancing yourself in other aspects of your life, you need to re-evaluate your time management, which is one of the most important skills you can have

— snip3down (@Snip3down) July 26, 2020
Joe Rogan is WRONG! pic.twitter.com/wwdLaxdGBf

— KEEM 🍿 (@KEEMSTAR) July 27, 2020
I see a lot of people on my timeline talking about Joe Rogan's comments on gaming/esports! I just wanted to tell all the young gamers out there that passion is something rare in life. If you love playing games, that's something special! Trust yourself & do what makes you happy 🙏🏻

— Blaze (@FaZeBlaze) July 27, 2020
from as recent as last year: "i've rekindled my Quake addiction. Quake is free to play and it might as well be sugar coated heroin mixed with cocaine and meth". about as reaffirming of an analogy as you can get from joe rogan pic.twitter.com/4g32RI3X4X

— Rod Breslau (@Slasher) July 26, 2020
Joe Rogan video game take is blowing up. His comments are taken out of context. He is a parent discussing children spending all day every day playing video games. He says its not healthy. He is right. Indulging in entertainment to the exclusion of all else is not healthy.

— Alexander Conserva (@AlexConserva) July 26, 2020
@joerogan One thing you dont do is mess with the gaming community. You're about to get canceled. #gaming #JoeRogan #CancelJoe

— H (@PrimetimeFlores) July 27, 2020
Wow @joerogan take on eSports and gaming just alienated millions of dedicated fans to reconsider him. Yikes. Dude clearly doesn't get how legit the industry is and how much money is involved. Talk about shooting yourself in the foot!

— @RedOnTour6 (@redontour6) July 27, 2020
also about what joe rogan said about gaming just shows that the system is so fucked up that we are DISCOURAGED from pursuing a hobby or leisure activity if they are not considered productive in some way or contributing to future career opportunities

— ✿ (@sshiirogane) July 26, 2020
1 minute snidbit clip of Joe Rogan commenting on video games posted.

The online gaming community: pic.twitter.com/GYHiR7k2iJ

— Viss (@TSMViss) July 27, 2020
Joe Rogan thinks videogames are a waste of time. I saved all sentient life in the galaxy from Reaper extinction in Mass Effect.

He should get his damn priorities straight.

— Brianna Wu (@BriannaWu) July 26, 2020
Cannot bring myself to get upset about like the 356th dumbest thing Joe Rogan has said

— Paul Tassi (@PaulTassi) July 26, 2020
Amidst all this drama, Ninja took to Twitter to share his views on the same.
Joe Rogan gaming comment thoughts video.

Mind was kinda everywhere but wanted to get a little vid out to explain it sooner rather than later.

ALSO! Enjoy the full emo hair Ninj right now 🤪 pic.twitter.com/fgb92vUVtF

— Ninja (@Ninja) July 26, 2020
While Joe Rogan's comments did spark off a huge debate, we don't know to what extent he meant them. We will have to wait for further explanation to derive any possible outcome from what he said. Till then, let's just wait.
And keep in mind, no hobby is a waste of time. Just make sure that you give your best, that's all.
Continue the conversation on the app, join other MMA fans on MMA Fans App