Twitter salutes The Flying Fish
Published 08/10/2016, 1:35 AM EDT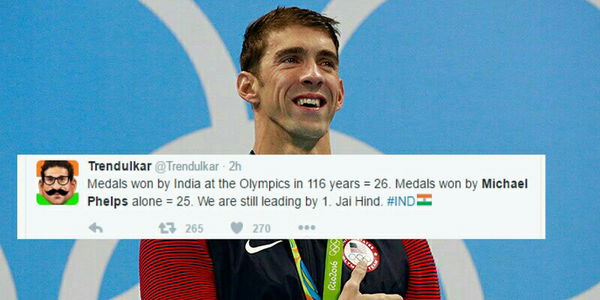 ---
---
Four years back, the greatest swimmer ever, made a rookie mistake to slip out on a gold, just by 5/100th of a second. Today, as Michael Phelps dived in with 2012 Gold Medalist Chad le Clos of South Africa, the tension was quite evident. But it was not a repeat of that painful defeat that Phelps suffered in London. The Baltimore Bullet won his third Olympic Gold in his signature 200m butterfly event, by a narrow margin of 0.04 seconds.
ADVERTISEMENT
Article continues below this ad
It was probably one of his greatest triumph ever! He was a couple seconds shy of his own world record, but that hardly mattered. What mattered was how this legendary American had made his way back to the top of the game, after retiring and going through rehabilitation, fighting addictions.
Finishing second in the semi finals yesterday, Phelps knew he had to extract every last ounce from his gigantic 6'4″ structure and he did just that. Leading all the way, Phelps roared silently to his 14th gold in an individual event, his 20th gold overall. And yes, we did witness him shedding a tear at the podium.
ADVERTISEMENT
Article continues below this ad
Later, he went on to win number 21, with his teammates during the 4×200 Freestyle relay. He anchored the relay and received a thunderous applause from the crowd after the playing of US national anthem.
…add another one…# 21!! The determination. Writing history every time he jumps into the water. What an athlete!!! #inspiring #Phelps wow

— Sabine Lisicki (@sabinelisicki) August 10, 2016
https://twitter.com/AlexDiLalla/status/763193317408387073
How lucky are we that we're watching the greatest Olympian of all time continue to dominate. #Phelps

— Ashley Mayo (@AshleyKMayo) August 10, 2016
Michael Phelps has the same number of gold medals as India has ever won in the Olympics. There are presently 1.3 billion people in India.

— Clay Travis (@ClayTravis) August 10, 2016
@MichaelPhelps utmost admiration and respect for you. I'm in such awe. I'm speechless. From one Olympian to another, congratulations!!!! 🏅🏅🏅

— JulieZetlin (@JulieZetlin) August 10, 2016
ADVERTISEMENT
Article continues below this ad
Let's hear it for @MichaelPhelps Better than ever..👏👏🇺🇸🇺🇸👍👍👊👊🏊🏊🎖🎖thank you for your touching story/path… You are loved and admired…

— Chris Evert (@ChrissieEvert) August 10, 2016
ADVERTISEMENT
Article continues below this ad