Twitterati Ridicules Destiny 2 After Announcement of Major Feature Missing From Multiplayer
Published 08/22/2021, 7:25 AM EDT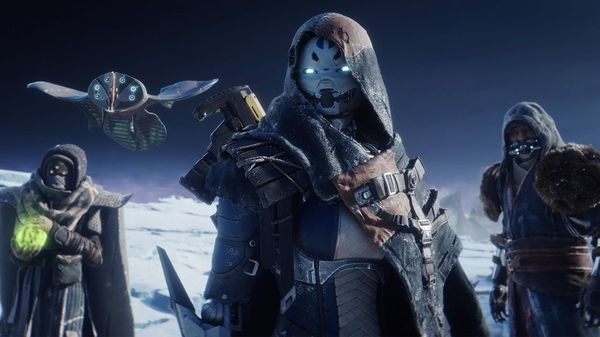 ---
---
Bungie has some major plans for the company's revolutionary MMORPG title in Destiny 2. Over the past few weeks, the developers have teased big things for the game that will be announced during its upcoming event. The Destiny 2 Showcase on August 24 will reveal some of the massive plans the developers have in store for the fans.
ADVERTISEMENT
Article continues below this ad
The event will showcase many things including the game's next season in Season 15. Developers have already revealed some of the the tweaks and changes that will arrive in Season of the Lost. Along with that, fans will also know more about the game's next expansion in the Witch Queen which arrives in the year 2022. However, Bungie has already disclosed the arrival of a massive new feature, and fans can't stop joking about its arrival four years after the game's release.
ADVERTISEMENT
Article continues below this ad
Destiny 2 to receive BattlEye anti-cheat in Season 15
Earlier this week, Bungie announced in a tweet about an anti-cheat for Destiny 2. The developers revealed that they have been working with BattlEye and the feature will receive a soft launch in Season 15. The tweet also revealed that fans will also learn more about this partnership and the feature during the Destiny 2 Showcase event. BattlEye is probably the world's most popular anti-cheat software. These software currently run on titles like Fortnite, Rainbow Six: Siege, The Crew 2 and many more. Most games use this system along to prevent cheaters and hackers from the ruining the multiplayer experience for others.
Fans can't help but laugh at the feature's delay
Many fans took to Twitter to voice their happiness at the arrival of anti-cheat in Destiny 2. However, some community members couldn't help but joke about the late release of an important feature like this. Destiny 2 released almost four years ago, and it took Bungie a long time to finally add a feature to prevent rampant cheating. The game has been plagued by cheaters and hackers in PvP modes like Trials, Crucible, and many more. Following the game's shift to a Free to Play model, the situation worsened with fans finding hackers in many lobbies.
Did you hear about the IP defining game called Destiny 2 which is finally getting 1 new crucible map and an anti cheat after 3 years! https://t.co/Cxu078s3Ss

— Diego (@MordredEmpire) August 19, 2021
ADVERTISEMENT
Article continues below this ad
Along with that, many of them complained that they chose the wrong software for an anti-cheat. BattlEye works in a lot of popular games like Rainbow Six: Siege where there's a lot of cheating as well. Fortnite has also partnered with BattlEye, but they also use other techniques to keep the hackers at bay. Other than that, players will have to wait a long time before this feature becomes fully integrated with Destiny 2.
Destiny 2 got anti cheat before cod lol

— Jared | VISIONS (@PharaohVisions) August 19, 2021
ADVERTISEMENT
Article continues below this ad
Bungie has definitely taken a step in the right direction by adding an anti-cheat software like BattlEye. Many fans have condemned the selection of this software, and Bungie has also received some criticism for the feature's late release. However, fans will feel better if it helps remove a massive amount of cheaters and hackers from Destiny 2.
WATCH THIS STORY: Longest Running Video Game Series of All Time
Trending Stories