Tyron Woodley Claims He Will Win The Fight Against Georges St Pierre
Published 09/13/2019, 10:46 PM EDT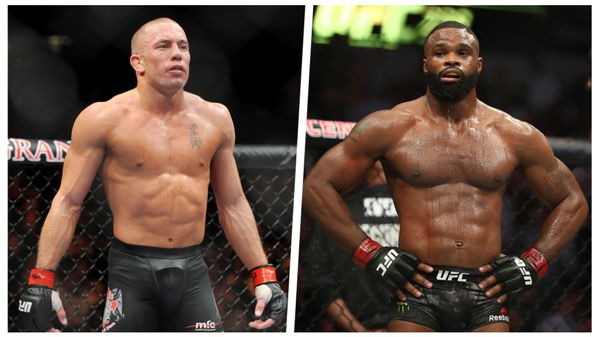 ---
---
George St Pierre and Tyron Woodley are two of the very best fighters to ever compete in the octagon. When Tyron Woodley was the reigning champion he called out GSP many times for a fight to decide who the best welterweight of all time is. However, GSP was never going to come back unless there was a fight he wanted to cement his legacy as the greatest to ever do it. He was adamant about that decision and the fight between Woodley and GSP never happened.
ADVERTISEMENT
Article continues below this ad
ADVERTISEMENT
Article continues below this ad
However, fans have always wondered what would have happened if George St Pierre at his prime would have fought prime Tyron Woodley. Well, we are never going to find that out. However, when asked the same thing by a fan at the meet and greet before UFC Vancouver, Tyron Woodley had an answer which won't be appreciated by a lot of GSP fans.
ADVERTISEMENT
Article continues below this ad
We all know Woodley is a respectable fighter in the game and he has a ton of respect for the former champion, George St Pierre. Woodley showed respect to George by saying:
" GSP did the same thing but in the way, he trained for a fight. He trained with the best wrestler. He took his time and money and invested in him"
However, when it comes to competing in the octagon Woodley thinks he can beat arguably the best fighter of all generations, Geroge St Pierre. Woodley claimed:
"I think naturally I am faster. I think I punch harder, I kick harder, I think I wrestler better, I think we both mentally tough. And I think if you match us at our prime I win that fight"
ADVERTISEMENT
Article continues below this ad
Woodley has wanted that fight for a long time. However, even he recognizes that the train for that fight has left and he is going to train with GSP and his coach Firas Zahabi in Montreal now. Yet, Woodley wishes to have that fight to prove himself that he is the best to ever do it:
"He(GSP) was the king of the throne for a very long time. You can't ever walk around and say you are the greatest to ever do it knowing that this guy is living and willing and competitive enough to still compete"
Tyron Woodley lost his welterweight title against Kamaru Usman and he is yet to return to the octagon again. However, Woodley seemed confident that he would get his title back from Usman in a rematch.