Tyron Woodley Gives Shocking Verdict on Georges St Pierre vs Khabib Nurmagomedov
Published 10/01/2019, 2:00 PM EDT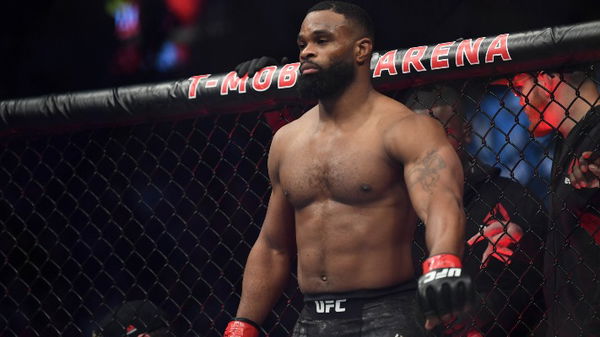 ---
---
Khabib Nurmagomedov is undoubtedly the most dominant figure in modern UFC. A record of 27 wins and 0 losses in a division that is stacked with some of the biggest names in MMA is unheard of. The reigning lightweight champion has some impressive names in his resume such as Conor McGregor, Dustin Poirier, and Al Iaquinta. However, with such dominance comes one question. Who can dethrone the Russian wrecking machine? Well, Former welterweight champion, Tyron Woodley thinks George St Pierre would give a tough challenge to Nurmagomedov.
ADVERTISEMENT
Article continues below this ad
There has been a lot of speculations in the super fight between George St Pierre and Khabib Nurmagomedov. GSP is arguably the greatest mixed martial artists of all time who has competed against multiple generations of fighters. Starting from Matt Hughes to Michael Bisping, St Pierre has fought the very bests this sport had to offer. However, how would he do against an elite grappler such as Khabib Nurmagomedov?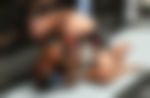 ADVERTISEMENT
Article continues below this ad
Answering that Tyron Woodley draws a comparison between the wrestling skills of both GSP and Nurmagomedov and said:
"George has a great balance. Matt Hughes found it the hard way, Johny Hendricks even had a tough time, he even took Hendricks down. Khabib is a pressure fighter that's gonna take 20 takedowns and he (GSP) only needs one or two to get the job done."
Though wrestling was George St Pierre's bread and butter he was an efficient striker too. He has competed against some elite strikers in his career and has come out victorious. "GSP is a distance keeper, he has a long-range and a long distance, a great jab he can keep you off of him. He is gonna have the reach advantage," commented Tyron Woodley on striking of GSP.
Till now no opponents of Nurmagomedov had an answer to the chain wrestling Nurmagomedov brings into the octagon. However, it's very much possible that in a fight between GSP and Nurmagomedov, GSP will not only defend the takedowns but he can also take Khabib down. Explaining that Tyron Woodley said:
ADVERTISEMENT
Article continues below this ad
"The thing about Khabib is the way he takes you down, he locks you up, he occupies your upper body. He will foot sweep you and he will trip you. That forces you on a half guard or mount most of the times so he is never playing in someone's guard. I think if he(GSP) takes him down, he has more dangerous guard than some of the guys(Khabib has fought)."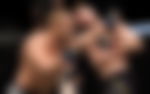 Though Nurmagomedov has dominated all his opponents to this point, he has never been inside the octagon with an elite wrestler such as George St Pierre. So it would not be wise to assume that Nurmagomedov will do the same thing to GSP that he does to all of his opponents.
ADVERTISEMENT
Article continues below this ad
The super-fight between George St Pierre and Khabib Nurmagomedov is unlikely since GSP has retired and Nurmagomedov wants to fight him at lightweight. However, UFC president, Dana White has shown some interest to make this fight recently. So we might see GSP and Nurmagomedov competing inside the octagon. Although we can not predict what will happen in that super fight, it's safe to assume that former champion, Tyron Woodley will be leaning towards GSP to win that fight.