UFC 241 Full Results and Detailed Analysis: Stipe knocks out DC, Nate Diaz dominates Pettis
Published 08/18/2019, 2:59 AM EDT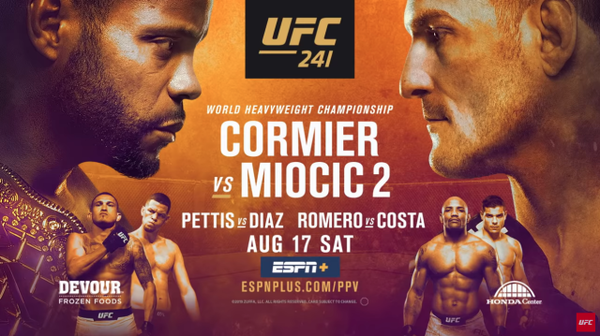 ---
---
On the biggest PPV of the year, UFC 241, Daniel Cormier and Stipe Miocic were to fight each other to cement their legacies as the greatest heavyweight of all time. While Stipe wanted to get his title back, DC wanted to prove Stipe that the first time knockout was no fluke. In addition to that, We also had Nate Diaz returning to the UFC octagon to fight Anthony Pettis. And UFC fans couldn't have asked for a better night.
Main Card Results:
Stipe Miocic vs Daniel Cormier: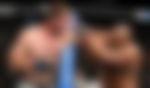 And we have the new heavyweight champion in UFC 241. Stipe Miocic knocks out Daniel Cormier in the 4th round to regain his heavyweight throne. Daniel Cormier won most of the fight with his strikes but Stipe's body shots in the 4th round changed the whole complexion of the match and won Stipe his title back. Post-fight Daniel Cormier didn't confirm anything about his retirements or third fight with Jon Jones.
Detailed Analysis: Here
Nate Diaz vs Anthony Pettis: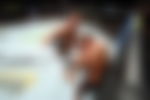 The favorite son of Stockton, Nate Diaz made his successful return against Anthony Pettis by beating him for three straight rounds before winning the fight via unanimous decision. Nate Diaz dominated Pettis on the ground and on the feet for most of the fight. Post-fight Nate Diaz called out Jorge Masvidal to a fight which got a huge cheer from the crowd.
Detailed Analysis: Here
Yoel Romero vs Paulo Costa: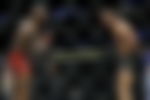 In the fight of the night in UFC 241, Yoel Romero went into a war with Paulo Costa. This fight left the crowd on their edge as these two fighters were throwing haymakers throughout the three rounds. In the end, Paulo Costa did enough to impress the judges to get the victory. However, the crowd didn't seem to agree with the results and drowned Costa with boos when he was announced as the winner.
Detailed Analysis and result: Here
Sodiq Yusuff vs Benitez:
It was a short fight. There was some hype behind Benitez who came out of AKA gym. But in the end, Yusuff knocked Benitez out in the first round.
This middleweight bout started with Heinisch coming up with a strong punch that almost knocked Brunson out. But the battle-tested Brunson came back into the fight and somehow survived the early storm by Heinisch. As the fight goes into later rounds and Heinisch gets a bit exhausted Brunson uses his experience and did enough to win the fight by unanimous decision. It was a great back and forth between two skilled middleweights and it was just the start UFC 241 needed.
Prelims Results:
Early Prelims results