UFC 241 results: Paulo Costa beats Yoel Romero in a dog fight
Published 08/17/2019, 11:54 PM EDT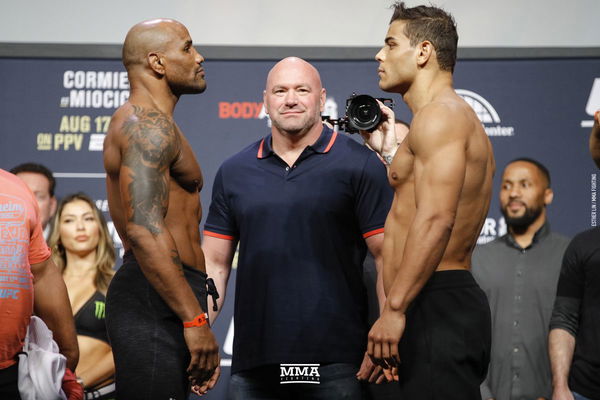 ---
---
It was a fight between two of the strongest fighters in UFC. Paulo Costa and Yoel Romero went into war in UFC 241. there were a lot of questions on Paulo Costa's skillsets and all those questions have been answered.
ADVERTISEMENT
Article continues below this ad
The fight was full of countless explosive offenses. Elbows, knees, punches, in short, it was a dog fight between these two giants. There was one unfortunate moment when Costa hit Romero with a low blow when he was going for a knee. But Romero being the fighter he is, resumed fighting after a short break.
For the most part of the fight, Costa was pressuring Romero and was always moving forward. Costa was also more successful than Romero in striking in the first half of the round. There were questions regarding Costa's cardio which has never been tested before. However, Costa seemed to do really well throughout the fight. In fact, it was Yoel Romero who as starting to gas out as the fight went on.
ADVERTISEMENT
Article continues below this ad
But considering Romero has 6 third-round finishes in UFC, we knew that he can knock his opponent out at any time. Unfortunately, we did not see any explosive knock out from Romero this time. He did hurt Costa badly in the final round but he was not able to knock Costa out. In the third round, the two fighters started to taunt each other by putting their hands on their backs and inviting their opponents to take a shot.
In the end, it was Paulo Costa who did enough damage to win the match via unanimous decision. The crowd didn't seem to like it but the result can't be any different since Costa controlled and pressured the first two rounds with more strikes. This was Romero's consecutive third loss. Before this, he has lost two fights against Robbert Whittaker.
ADVERTISEMENT
Article continues below this ad
Undoubtedly we have a serious contender for the welterweight belt as Paulo Costa in UFC 241.
ADVERTISEMENT
Article continues below this ad
One shocking thing about this fight was Romero not trying to take Costa down. Remoero being one of the best wrestlers in UFC could have tried to take the fight to the ground to do some damage. However, we know that's not how Romero likes to fight. He wants to stand there and bang.