UFC 241 results: Nate Diaz makes Pettis eat his won words and calls out Jorge Masvidal
Published 08/18/2019, 12:54 AM EDT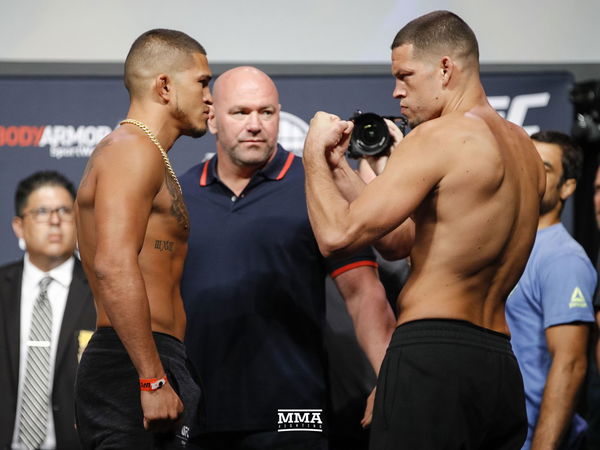 ---
---
Nate Diaz is back. And he is back with a bang. In the co-main event of UFC 241, Nate Diaz made his return after 3 long years. And he also gave an explanation for that in his post-fight in-ring interview. It was because everyone sucked.
ADVERTISEMENT
Article continues below this ad
ADVERTISEMENT
Article continues below this ad
Going into the fight in UFC 241, Anthony Pettis and Nate Diaz have beef from the past and Pettis wanted to knock Diaz out for all the trash talk Diaz did when Pettis was the champion. However, it's easier said than done when you are fighting the Diaz brothers since both of them have a chin as strong as a rock.
Ironically, the fight started with Nate throwing a leg kick. Nate pressured Pettis for the better part of the first round and hurt him with his punches and jabs. Pettis tried to make a comeback with some good leg kicks and elbows. But it was in the final minute of the first round, Pettis realized he was in for a tough ride when Nate Diaz was on top of him on the ground looking to hurt him. The first round went to Diaz who looked better than ever. Nate's movement was fluid and he was connecting with his punches.
In the second round, Pettis did hurt Diaz in the first minute and Diaz had some trouble with his right eye. But it was not going to stop Diaz to keep fighting. He came back and took Pettis to the ground and controlled him there. The third round was very interesting since we saw both Pettis and Nate getting into positions on the ground. However, it was Nate who dominated for most of the exchanges on the ground.
Nate did more than enough to win the fight via unanimous decision, and he made the arena erupt with his post-fight interview. We still remember when Nate called out Conor after his fight against Michael Johnson. This time it was Jorge Masvidal in UFC 241.
ADVERTISEMENT
Article continues below this ad
Nate said that Masvidal had a great last night and he is a gangster. But he is no west coast gangster. And now we have a match between Nate Diaz and Jorge Masvidal.
Two of the gangsters of UFC will for sure step into the octagon to fight it out. Jorge Masvidal beat Ben Askren in UFC 239 and currently doesn't have any opponent ahead of him. Well, not anymore.
ADVERTISEMENT
Article continues below this ad