UFC 241: Stipe Miocic stuns Daniel Cormier, becomes the new heavyweight champion
Published 08/18/2019, 1:32 AM EDT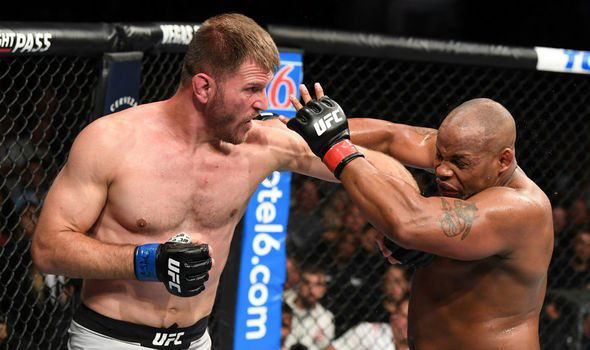 ---
---
It was just as advertised. A fight for legacy at the heavyweight division at UFC 241. And the two men involved Daniel Cormier and Stipe Miocic fought to cement their legacies as the greatest heavyweight of all time.
ADVERTISEMENT
Article continues below this ad
The fight started with both DC and Stipe throwing bunch load of punches and kicks at each other. Cormier was having more success with his strikes than Stipe for the first half of the fight. There was a moment when Cormier picked Stipe up in the air and slammed him on the ground. Cormier dominated Stipe on the ground too, though Stipe did have a takedown of his own.
ADVERTISEMENT
Article continues below this ad
But both the fighters started getting tired as the fight progresses. In the third round, DC was walking towards Stipe with his hands down and connecting Stipe with punches. However, Cormier was also taking strong straight hands from the Stipe in the process. It was pretty even on the scorecards up until the fourth round. Cormier might have a slight edge on Stipe since he threw a lot of volume of punches than Stipe did.
But everything changed in the fourth round. It was not the same Stipe who fought the first three rounds. He changed his gameplan and was moving much better on his feet connecting with punches. He connected DC with brutal and crucial body shots and changed the whole complexion of the match. Those body shots were one too many for Daniel Cormier.
Stipe then finished things off with some powerful blows and put Cormier unconscious on the ground. Thus we have our new heavyweight champion as the baddest man on the planet gets back what was his, the prestigious heavyweight title.
ADVERTISEMENT
Article continues below this ad
After the fight, Stipe mentioned that DC is a tough fighter and he kept coming at him all the time. He also said that those body shots were hurting Cormier, hence he kept working on it.
But the most important question related to this fight was what's next for Daniel Cormier. Does he have one more fight left in him at the age of 40? or Is he at a point where retirement seems more appropriate?
ADVERTISEMENT
Article continues below this ad
Well, we didn't get out answers as Cormier said that he won't make the decision based on emotions. He also said that he will decide what's ahead of him after having a conversation with his wife and closed ones.