UFC 241:Nate Diaz vs Anthony Pettis. Analyses and Prediction
Published 08/14/2019, 10:13 AM EDT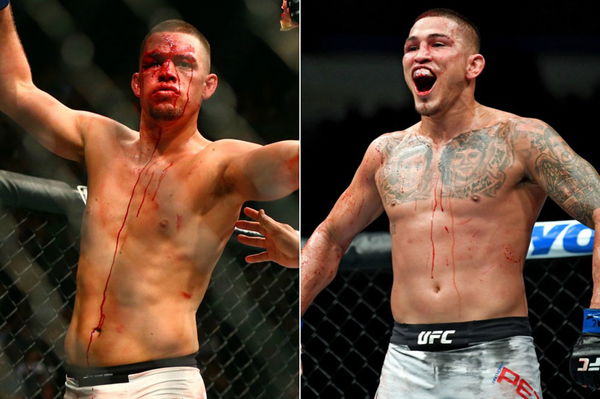 ---
---
The wait is over. The favorite son of Stockton, Nate Diaz is going to step into the UFC octagon again to face a rival from the past Anthony Pettis in the co-main event of UFC 241. Undoubtedly one of the biggest box office draws of UFC, Nate Diaz is going to compete for the first time since his rematch against Conor Mcgregor.
But there has been a lot of speculations around this fight. Anthony Pettis moved up to welterweight in his last fight to face Stephen Thompson. And he knocked Wonderboy out, shocking the world.
But Nate has been inactive since his last fight in 2016. So can Nate still fight at the elite level against one of the finest strikers of MMA, Anthony Pettis?
Before we predict who is going to win let's do a brief review of both the fighters.
ADVERTISEMENT
Article continues below this ad
Anthony Pettis: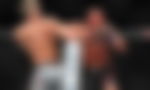 ADVERTISEMENT
Article continues below this ad
The former lightweight champion, Anthony Pettis is one of the most dynamic and creative strikers in UFC. There is a reason Pettis has the nickname "Showtime". Pettis has many wars with fighters like Dustin Poirier, Tony Ferguson, RDA, Donald Cerrone, and the list goes on. Pettis brings chaos every time he enters the octagon.
One thing Nate has to be very cautious about is Pettis's leg kicks. Pettis can get creative with his kicks which makes it, even more, harder to deal with. His last knockout against Wonderboy indicates that he is packing more power in his strikes since he has moved up to welterweight. Other than striking, he has a solid ground game too. With such weapons in the arsenal, for sure Pettis is a handful for any fighter on the roaster.
Nate Diaz: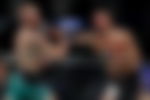 Both the Diaz brothers are known for basically similar skillsets. An elite level of boxing, overwhelming pressure, accumulation of punches, high-level Brazillian Jiujitsu and the Stockton slap.
Nate Diaz can submit his opponent on the ground and he can also stand in the range and box. He is highly technical in both departments. Nate never over commits in a punch to knock someone out but his timing is so precise his punches do damage to his opponents. Nate had many wins in the past because of the high accumulation of punches.
Fight Analyses:
Pettis and Nate do have some similarities in their game. Both the fighters like to keep the fight standing.
Nate Diaz likes to move forward and throw punches with precision. Faint, Faint, and then a punch to the face or the body. That's what we can expect from Diaz. Pettis is a dynamic striker and he can knock his opponent out. Pettis knocked Stephen Thompson out with a superman punch, a fighter who has never been knocked down before. That just goes to show how much power Pettis has in welterweight. Nate is going to have a small reach advantage but that is unlikely to play a big role in this fight.
But Nate's ground game can come to play if the fight goes to the ground since he is a better grappler than Pettis. Nate can outbox Pettis in a boxing match. But Pettis will have the power advantage.
But can Pettis knock Diaz out?
One thing we have learned about Nate Diaz over the period is that Nate can eat an opponent's best shot and still move forward. He has only been knocked out by Josh Thompson and it took three perfect head kick for Thompson to knock Nate out. So it's very unlikely Pettis is going to knock Nate out. But Pettis will get ample opportunities to land his strikes for sure.
Nate is very susceptible to leg kicks and we have seen Conor implementing that in the second fight with Nate. If Conor can do that, then Pettis can do some serious damage too. But Nate will have the advantage in the clinches and if these two decide to brawl in a phonebooth range.
Nate's cardio is on another level and he can keep the pressure on for the whole three rounds. How many times have we seen fighter running away from Nate because Nate just keeps coming with his punches?
Whether Pettis can stay off the fence and keep his offenses going is questionable since we have seen him getting overwhelmed when his opponents keep pushing forward. His fight against Tony Ferguson and Dustin does nothing but prove the above argument. And Nate can hurt you if he backs you up on the fence as we have seen in the Conor's rematch.
it's still questionable whether Nate Diaz will be able to fight as he used to after such a long layoff.
ADVERTISEMENT
Article continues below this ad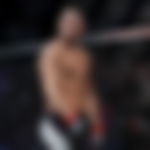 Again, you can never be too sure in a fight. It won't be surprising if Pettis knocks Nate out with some crazy and innovative strikes. But if we match skills to skills then Nate should win this fight against Anthony Pettis.
Prediction- Nate Diaz
ADVERTISEMENT
Article continues below this ad
Related: Daniel Cormier VS Stipe Miocic