UFC 243: Al Iaquinta vs Dan Hooker Prediction and Fight Analysis
Published 10/03/2019, 8:14 AM EDT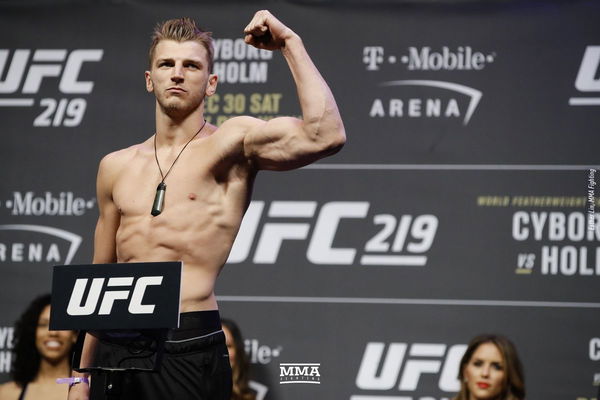 ---
---
UFC 243 features a lightweight bout between Al Iaquinta and Dan Hooker in the co-main event. This fight has "Fight of the Night " written all over it. Both the fighters are tough as nail. Al Iaquinta is arguably the toughest fight Khabib Nurmagomedov has had in his career and that is a pretty big thing to have in your resume. On the other hand, Dan Hooker has been on an impressive run in the lightweight division. Stylistically both the fighters are very different, but one thing is assured that this will be a phenomenal fight. Here is UFC 243: Al Iaquinta vs Dan Hooker Prediction.
ADVERTISEMENT
Article continues below this ad
Stats:
Reach: Arm= 70 inch, leg reach=40 inch

Wins over Jorge Masvidal, Kevin Lee, and Diego Sanchez in last 5 fights and went to distance with Khabib Nurmagomedov.

Lost to Donald Cerrone via decision in his last fight
ADVERTISEMENT
Article continues below this ad
Al Iaquinta became a well-known name in the UFC after he fought Khabib Nurmagomedov for the lightweight title. He not only went five rounds with the Russian in days of notice, he gave Nurmagomedov the toughest fight of his career. The Raging Al was even successful at defending Nurmagomedov's takedowns in the later rounds. Considering what Nurmagomedov has done to McGregor, Poirier and pretty much all his opponents, Al Iqaunita's performance seems even more impressive.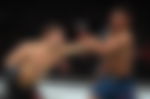 Al is a boxer. He is a shorter opponent usually against guys like Cerrone and Hooker. Hence he depends on closing the gap and landing the right hand. His movements are predictable but very effective. He is very durable and the longer the fight goes the more it favors Al as we saw in the Kevin Lee's fight. Al is a counter wrestler something that can be very handy against an opponent like Dan Hooker.
Stats:
Reach: Arm= 75 inch, leg reach=42.5 inch

Wins over Gilbert Burns, James Vick and Jim Miller in last five fights.

Lost to Edson Barboza before the fight with James Vick
Dan Hooker was piling up wins since he moved up to lightweight division until he fought Edson Barboza. To be fair, Barboza was a bad matchup for Dan hooker. Both fighters are exceptional kicker and Hooker played the game in which Barboza was pretty comfortable.
However, his knock out against James Vick was impressive. He certainly does very well against shorter opponents. Because of his reach advantage, he can maintain the distance and pick his opponents apart with the leg kicks. Against Al Iaquinta, the reach difference will play a big factor.
On paper, Dan Hooker is a bad matchup for Al Iaquinta. Let's look at the last fight of Al against Donald Cerrone. Very similar to Dan Hooker when you consider reach and Cerrone picked Al apart for five straight rounds.
Being the shorter guy, Al Iaquinta will have close the distance and land his right hands frequently. he can not afford to fight at the range of Hooker. Because Hooker will pick him apart with the leg kicks if he does so.
Al Iaquinta always moves forward and puts pressure on his opponents. But it will be very difficult to do against Dan Hooker who not only has the reach advantage but also can hurt Al moving backward. Also, the knee from the center is always there to land when you are fighting Dan hooker.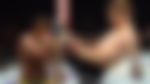 ADVERTISEMENT
Article continues below this ad
However, keeping striking aside, if Al decides to take the fight to the ground then it would be pretty interesting to see how Hooker deals with Al's ground game. Al is not an elite wrestler like Khabib Nurmagomedov, but he is certainly a better wrestler than Hooker.
Also, Al Iaquinta is a five-round fighter. He performs his best when the fight goes deep. When Kevin Lee slowed down in the later rounds, Al pressured him on the fence and hurt with his strikes. I believe because it's a three-round fight Al will have to show a little urgency in the early minutes.
Watch This Story
Yet, Hooker seems to be the guy to get the job done in the co-main event. He is more skilled when it comes to striking and has more tools than Al to get a knockout win. Even if the fight goes to decision Hooker can outpoint Al with his leg kicks and long-range striking. Irrespective of the result, this is going to be a battle. The winner of this fight may fight Paul Felder next since Felder is coming from that close decision win against Barboza.
ADVERTISEMENT
Article continues below this ad
Winner- Dan Hooker
Related: Whittaker vs Adesanya Fight Analysis and Prediction