UFC 243: Robert Whittaker vs Israel Adesanya Sets the Record for Highest Attendance In an UFC Event
Published 10/05/2019, 10:43 PM EDT
By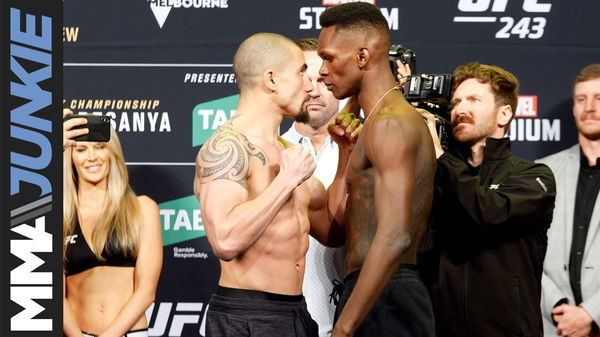 UFC 243 features the biggest fight in Australia and New Zealand combat sports history. A super fight between The Reaper, Robert Whittaker and the Last Style Blender, Israel Adesanya. Well, this fight sold out the entire Marvel Stadium in Melbourne, making UFC 243 officially the biggest event in UFC history.
ADVERTISEMENT
Article continues below this ad
Before UFC 243, UFC 190 featuring Ronda Rousey vs Holly Holm held the record for the highest attendance(56,214) in UFC history. It was an historical event in Australia when the biggest star at the moment, Ronda Rousey defended his title against Holly Holm. Holm knocked out Rousey and became the champion in one of the biggest upset in UFC history. Well, now we may witness another upset if Israel Adesanya gets past the undisputed champion, Robert Whittaker.
Here are the list of UFC cards with highest attendance:
ADVERTISEMENT
Article continues below this ad
UFC 243– Robert Whittaker vs Israel Adesanya (57,000+)
UFC middleweight champion, Robert Whittaker is scheduled to defend his title against the interim champion, Israel Adesanya. This fight will add another rivalry to the history book of Australia vs New Zealand rivalry.
UFC 193- Ronda Rousey vs Holly Holm(56,214)
Ronda Rousey was tearing through the entire women's division at the moment until she puts her title on the line in front of an entire stadium. Fans witnessed the biggest upset that night when Holm knocked out Ronda Rousey to be the champion.
UFC 129- George St Pierre vs Jake Shields(55,724)
Arguably the greatest mixed martial artists we have ever seen, George St Pierre defended his title against Jake Shields in Rogers Center. Though Shields was believed to be the toughest opponent in GSP's career, the former welterweight champion won that fight in a quite dominant fashion.
UFC 198- Stipe Miocic vs Fabricio Werdum (45,207)
ADVERTISEMENT
Article continues below this ad
An entire arena full of Brazilian MMA fans became silent when Stipe Miocic knocked out the reigning champion, Fabricio Werdum. Werdum was considered the greatest heavyweight in UFC at the moment. However, Miocic created history that night and went on to become the most successful UFC heavyweight champion of all time.
UFC on FOX 14- Alexander Gustafsson vs Anthony Johnson(30,000)
Alexander Gustafsson took on Anthony "Rumble" Johnson on his home soil at tele2 Arena. It was heart breaking night for the swede fans as Johnson knocked out Gustafsson in only 2 minutes and 15 seconds of round 1.
ADVERTISEMENT
Article continues below this ad
With all these huge UFC cards around, UFC 243 is now officially the biggest card in history of the sport.