UFC 243: UFC Heavyweight Goes to Sleep Inside the Octagon, Sergey Spivak Shocks the World
Published 10/05/2019, 11:43 PM EDT
By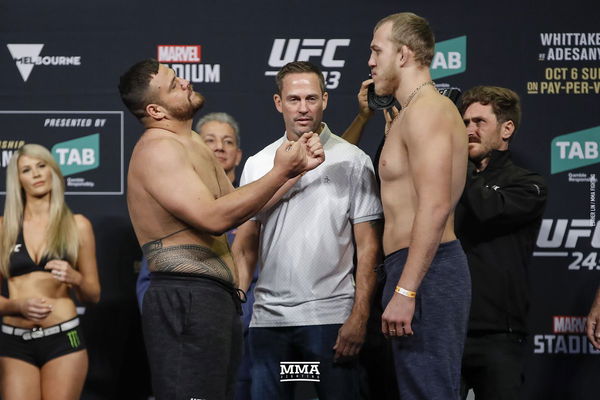 UFC 243 has exceeded all the expectations. More than 57,000 fans were present to witness this spectacle and they were not disappointed. UFC 243 featured two heavyweight fights and both of them finished in impressive fashion. Sergey Spivak defeated the crowd favorite, Tai Tuivasa in UFC 243.
To start the main card Yorgan De Castro knocked out Justin tafa with one vicious punch. Well, the next heavyweight fight was equally impressive as Sergey Spivak choked out Tai Tuivasa in an arm triangle.
The fight started with Tai Tuivasa landing some good shots against Spivak. However, Spivak weathered the storm and used his wrestling and grappling skills to dominate Tuivasa until he choked him out in 3 minutes and 14 seconds of round 2.
Spivak almost broke the record for highest takedown in a heavyweight fight with 3 rounds. The record number of takedowns in a heavyweight fight is 10, while Spivak landed 7 takedowns against Tuivasa. The lack of ground game in Tuivasa was clearly exposed against Spivak in UFC 243.
In his post fight interview, Sergey Spivak acknowledged the entire crowd in the arena and his opponent Tai Tuivasa for the opportunity to fight in such a huge event.