Corey Anderson Puts an End to Johnny Walker Hype at MSG, Jon Jones Reacts
Published 11/02/2019, 10:09 PM EDT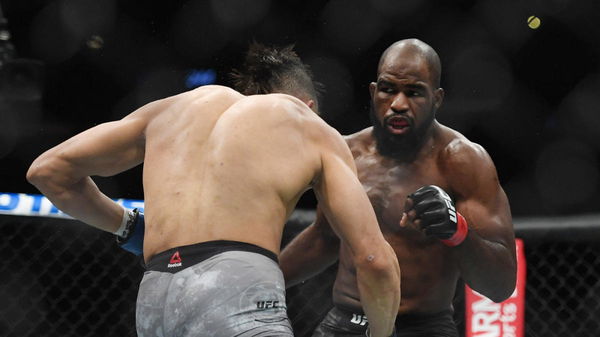 ---
---
Well, it was fun while it lasted. Ever since Johnny Walker made his UFC debut he has been generating nuclear heat with his spectacular knockouts. He is dynamic, wild and has vicious striking. However, he has not faced any ranked opponent until he stepped into the ring with ranked no 7, Corey Anderson.
ADVERTISEMENT
Article continues below this ad
Corey Anderson is a wrestler who is not known for knocking his opponent out. That apart he was also coming from a long lay off after his last win. However, he still gets the job done against Johnny Walker via knock out.
The fight started with Walker going wild all over the octagon as he usually does. Anderson was throwing some jabs while Walker was throwing a few kicks at him.
ADVERTISEMENT
Article continues below this ad
Anderson would then shoot for a single leg, but Walker was stronger than Anderson and was able to stop the takedown and back Anderson up against the cage. However, Anderson would get himself out of there and got Walker in a clinch. It was the beginning of the end. Anderson hit him with a few strong hooks in the clinch and as Walker was wobbly on his feet he connected a couple of powerful right hands. The referee stopped the fight at 2.07 minutes of round 1.
Corey Anderson was angry after the knock out win as he went wild inside the octagon. The crowd booed him since he just knocked out the most exciting guy in the division and Anderson responded by flicking the middle finger at the crowd in MSG.
With this win, Corey Anderson is on a 4 fight win streak in the light heavyweight division and certainly deserves a higher-ranked opponent this time.
ADVERTISEMENT
Article continues below this ad
The majority of fans believed that Johnny Walker would be the guy to give the toughest challenge to the champion, Jon Jones. Well, after the loss to Corey Anderson it's safe to assume that the hype train is derailed. Jon Jones reacted to the loss of Walker and said:
"So much for the early Christmas present. this is exactly why I just let them light heavyweight do all the talking"
Jones also said:
ADVERTISEMENT
Article continues below this ad
"Yeah just like Izzy, I don't get impressed too quickly. I've been around way too long, I've seen a lot of people come and go"