Floyd Mayweather Causes Confusion as He Calls Out Conor McGregor and Khabib Nurmagomedov
Published 01/19/2020, 2:32 AM EST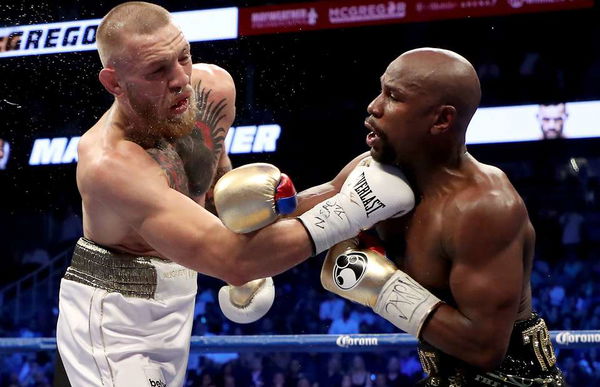 ---
---
The Notorious is back. Conor McGregor made his long-awaited return in the main event of UFC 246. And what a night it was. As Conor promised fans witnessed magic inside the octagon when Conor squared off against Donald Cerrone.
ADVERTISEMENT
Article continues below this ad
The fight lasted only for 40 seconds as Conor won the fight by a TKO. Conor got Cowboy into a clinch and battered him with a few peculiar yet lethal shoulders. Conor then ironically dropped Cowboy with a head kick and finished the fight with some ground and pound.
Read: Twitter explodes as Conor finishes Cowboy in 40 seconds
ADVERTISEMENT
Article continues below this ad
With this knockout win, Conor is back in the game and he looks stronger than ever. Now the questions remain who shall he fight next?
UFC president, Dana White has already made it clear that Khabib Nurmagomedov is the fight to make. He believes with the lightweight title on the line, the rematch between Khabib and Conor will be the biggest fight yet.
Apart from the fight against Khabib Nurmagomedov, the BMF title fight against Masvidal is also on the table. Besides that, the title fight against Kamaru Usman is something that Conor has on his wish list. With all these potential match-ups ahead of him, Conor McGregor gets even a bigger one.
Floyd Mayweather Calls Out Conor McGregor After UFC 246
Floyd Mayweather teases a rematch with Conor Mcgregor in 2020 after the emphatic return of Conor at UFC 246. After the fight, Floyd posted a poster of him and Conor that indicated he wants a rematch in 2020.
Floyd Mayweather Teases a Fight With Khabib Nurmagomedov
ADVERTISEMENT
Article continues below this ad
ADVERTISEMENT
Article continues below this ad
Conor McGregor was not the only one who got called out by Floyd Mayweather. The Money machine, Mayweather called out the UFC lightweight champion, Khabib Nurmagomedov too. Not so long ago it was rumored that Khabib and Floyd will fight each other in a boxing match. Dana White interest in boxing will open up some potential crossovers between two different worlds.