UFC 247: Jon Jones vs Dominick Reyes: Fight Card, Predictions, How to Watch, Start Time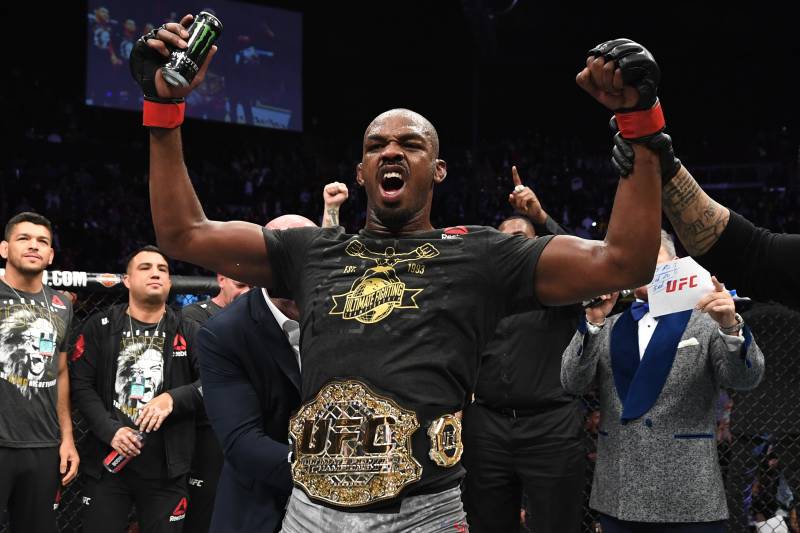 UFC 247: Jon Jones meets Dominick Reyes (Main Event)
UFC 247 promises the fans every bit of the nail-biting expectations it is known to give out. With two of the best fighters if the light heavyweight category, both undefeated in the octagon in their careers as yet, the showdown between Jon Jones and Dominick Reyes promises to be a completely fresh, new, and exhilarating experience. While the two-time undisputed champion's scorecard does show a loss by disqualification and another No Contest, the pound-for-pound king, Jon has to date not been defeated inside the octagon. Similarly, The Devastator, Reyes has not yet been beaten in the octagon. To add to the sheer excitement caused by unpredictability due to similarity, both fighters display familiar results based on the nature of the outcome, i.e., ratios of wins by KOs to submissions to decisions.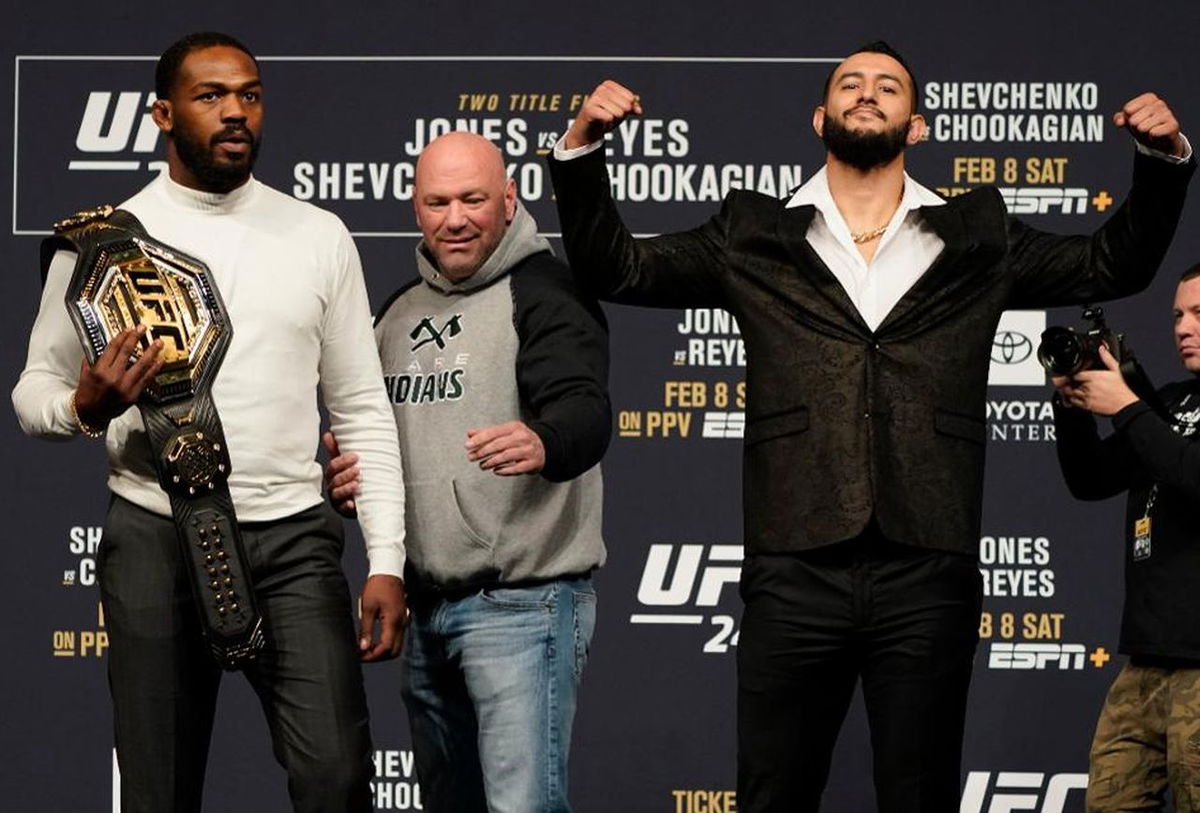 Read: Jon Jones gets a special message ahead of UFC 247
Valentina Shevchenko vs. Katlyn Chookagian (Co-Main Event)
The co-main event of UFC 247 brings to brawl one of the most disturbingly balanced out pairs of fighters of the UFC. While Chookagian bags the advantage in reach, Valentina shows much more promising statistics as far as successful strikes, damage delivered and variety of fighting are concerned. Along with being a more experienced fighter, Valentina's grappling game is far better than that of Chookagian, wherein the latter bags minimal credibility, thus leading to the inevitable prediction of Valentina emerging victorious.
Regardless of whether it's her pinpoint exact striking, which she's utilized to mercilessly complete Jessica Eye and against some of the finest in the division. Also her immeasurably improved ground game, flyweight champion ought to just be a lot for Katlyn Chookagian on fight night at UFC 247.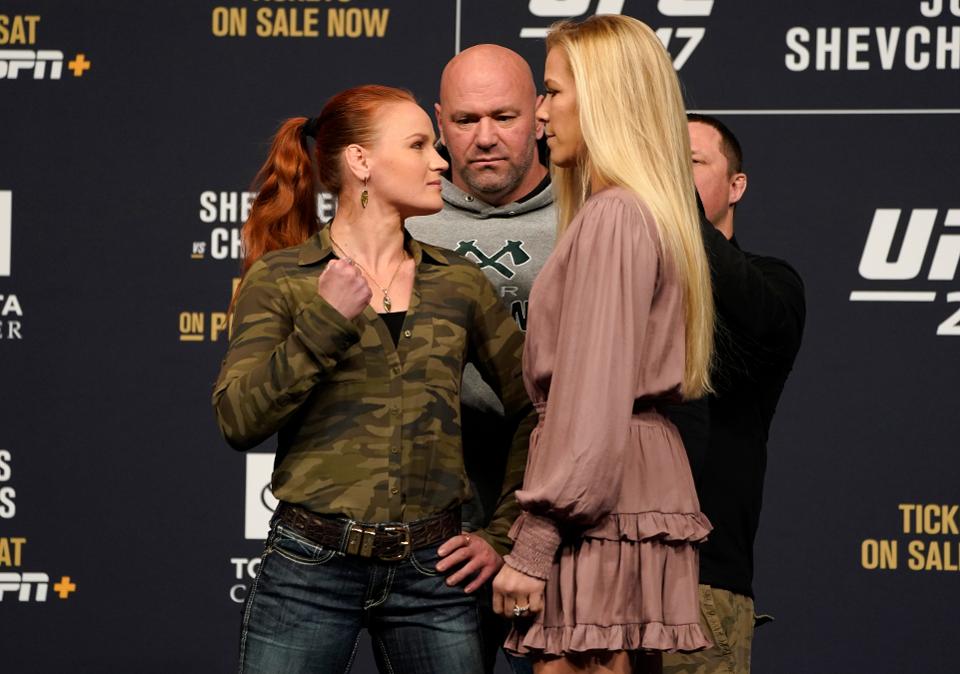 Prediction: Valentina Shevchenko
Derrick Lewis vs Ilir Latifi
While UFC 247 may be somewhat light on the kind of energizing match-ups we've gotten used to, there are still some great matches on the main card, with the heavyweight fight between Derrick Lewis and Ilir Latifi being on top on that rundown.
Latifi has competed inside the UFC contending at light heavyweight since the very start, yet has chosen to climb a weight class and take on the huge men. At five-foot-ten, the Swede is one of the quickest, if not the most efficient and tall heavyweight right now. however, he has demonstrated that he has some exceptionally powerful hands. He'll require all of the intensity he has against somebody as strong as Lewis.
The Black Beast will overshadow Latifi and has shown on various occasions during his UFC run that he just needs one shot to complete the battle. Additionally, he also has a unan9imous decision win over title contender Francis Ngannou. In spite of the fact that he won his last fight through a split decision in the judges' scorecards, the 35-year old gave some improvement and adaptability in his game that makes him significantly more alarming than previously.
Despite the fact that Latifi's jump to heavyweight may be a decent move for his UFC journey, in the long run, somebody as incredible as Lewis ought to be a lot for him in this much-anticipated matchup at UFC 247.
Prediction: Derrick Lewis
Mirsad Bektik vs Dan Ige
The UFC's featherweight division has such a large number of extraordinary contenders contending in their weight class, that it's gotten particularly hard to break into the best 10. Be that as it may, the match-up between Mirsad Bektic and Dan Ige should offer them both a chance to establish that they have the right to be there.
Bektic has been touted as a future prospect for many years now, because of his excellent wrestling, physicality and improved striking game. He's an ideal case of a mauler and you'd trust that under the tutelage of unbelievable Tristar Gym lead trainer, Firas Zahabi, that he'd have the option to apply it inside the octagon to grab a victory.
Ige is a gradually developing steam at featherweight. The Hawaiian previously grabbed our eye when he submitted gifted Scottish contender, Danny Henry, at UFC Fight Night 147. Bektic might pick up the victory in this one, and it could well be a knockout win.
Prediction: Mirsad Bektic
Juan Adams vs Justin Tafa
On the off chance that you're thinking that all the matches are going to hold any value in the top 10, you're wrong. Notwithstanding, in the event that you need to see two heavyweight possibilities toss down inside the Octagon till their last breath, at that point you should give a great deal of consideration to this battle that will take place inside the octagon at UFC 247.
Juan Adams and Justin Tafa probably aren't highly ranked fighters that the top two fights of the main card suggest. Even then, they do have explosive power.
Neither one of the fighters looked extraordinary in their last fight. Adams got wrapped up by Greg Hardy and Tafa endured a loss in his UFC debut against Yorgan De Castro. Adams is the more experienced with regards to fighting inside the Octagon, yet both have a lot of blemishes that give them a 50/50 possibility. It's actually a coin-hurl between the two, yet we'll go with Adams as he's really got a triumph inside the Octagon.
PRELIMINARY CARD:
Trevin Giles (11 – 2- 0) vs. Antonio Arroyo (9 – 3 – 0)
Lauren Murphy (11 – 4 – 0) vs. Andrea Lee (11 – 3 – 0)
Alex Moronco (17 – 6 – 0) vs. Kalinn Williams (8 – 1 – 0)
Miles Johns (10 – 0 – 0) vs. Mario Bautista (7 – 1 – 0)
EARLY PRELIMS:
Domingo Pilarte (8 – 2 – 0) vs. Journey Newson (8 – 2 – 0)
Andre Ewell (15 – 6 – 0) vs. Jonathan Martinez (11 – 2 – 0)
Austin Lingo (7 – 0 – 0) vs. Youssef Zalal (7 – 2 – 0)
VENUE
Home of the Houston Rockets, Houston's Toyota Center will be the venue of UFC 247. What's more, both Derrick Lewis and Juan Tafa get to step into the Octagon on their home ground. Let's see how being around their home crowd pans out for them.
WHERE TO WATCH
Since the UFC entered a partnership with ESPN, there has been one-stop for all the UFC PPV. It is ESPN Plus. You can watch the entire PPV on ESPN Plus app. You can get more details about the entire event here.
In the United States, you can watch the entire PPV on ESPN plus.
For UK fans, the entire event will be available on BT Sports.
The PPV will also be broadcasted on Sony Ten 2.
UFC 247: Start Time
United States
The Main Card starts at 10 p.m. (ET)
The Prelims start at 8 p.m. (ET)
The Early Prelims start at 6:15 p.m. (ET)
United Kingdom
(Note in the UK UFC 247 runs through into Sunday Feb. 9.)
The Main Card starts at 3 a.m. (GMT)
The Prelims start at 1 a.m. (GMT)
The Early Prelims start at 11:15 p.m. (GMT)
Australia
(Note in Australia UFC 247 starts on Sunday, Feb. 9.)
The Main Card starts at 2 p.m. (AEDT)
The Prelims start at 12 p.m. (AEDT)
The Early Prelims start at 10:15 a.m. (AEDT)
Continue the conversation on the app, join other MMA fans on MMA Fans App
Nikhil Chauhan
I low-key like Dana White and his decisions, but that doesn't mean I am not a fan of super fights. Always up for a chat related to UFC, I am a passionate filmmaker.