WATCH: Paulo Costa Tries To Attack Yoel Romero At UFC 248
Published 03/10/2020, 12:17 PM EDT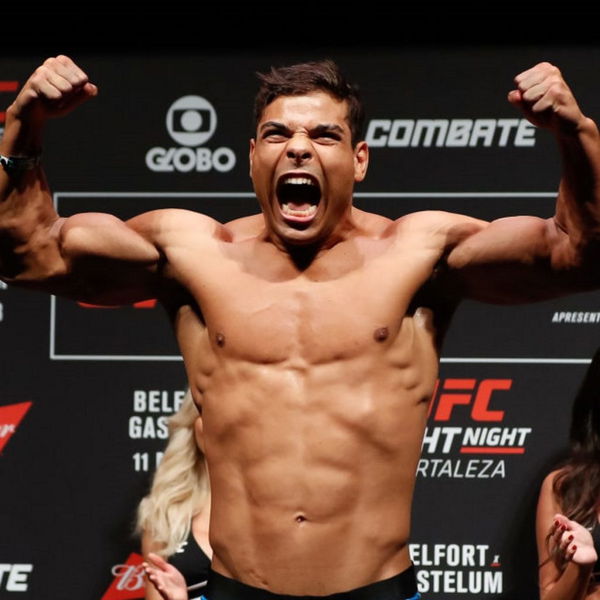 ---
---
The main event of UFC 248 saw more action in the sidelines than the match. Brazilian MMA star Paulo Costa let his emotions get the better of him during the match, before security escorted him out of the arena.
ADVERTISEMENT
Article continues below this ad
Reportedly, Costa jumped over the fence in an attempt to get at Yoel Romero after the declaration of the final results of the match.
Luke Thomas, in conversation with Israel Adesanya, said, "He(Paulo Costa) and Romero actually had a moment and he jumped over the fence wanting to get at Romero and then that's why he was escorted out." 
ADVERTISEMENT
Article continues below this ad
A rather underwhelming clash between Israel Adesanya and Yoel Romero saw the UFC middleweight champion retain his title. The fans making their displeasure apparent by booing the fighters throughout the match. Similary, Costa tried to voice his displeasure, but his antics earned him the disapproval of Arena officials.
'Paulo Borrachinha' said, "It was a shame to watch that fight. Adesanya is nothing. Adesanya is the most shameful champion I have seen ever. He just runs. He's nothing. He's scared."
UFC President Dana White voiced his displeasure, saying, "He went crazy tonight, jumped over the gate and was going crazy. We threw him out. I just had to calm those guys down in the back. He wants this fight so bad." 
Paulo Costa Forced To Pull Out of Title Fight
The initial line-up for the fight featured Paulo Costa instead of Yoel Romero. However, the former was forced to pull out of the fight due to an injury.
According to White, the Brazilian had a friend call him posing as a doctor, so that he could play in the match.
"When he's healthy – and a doctor calls me, not like his friend from Brazil, and tells me he's healthy, we will make the fight. This is the fight to make, the fight that I want to see. I guarantee you when that fight is made, you'll hear me going crazy about that one. That fight is going to be ridiculous."
ADVERTISEMENT
Article continues below this ad
After the match, Adesanya had only one name on his mind. The upcoming match between the two rivals will end with someone on the floor, as Costo will search for technical knockouts while the New Zealander will play him on the front foot.
ADVERTISEMENT
Article continues below this ad