Fans Worried About Khabib Nurmagomedov vs Tony Ferguson Amidst Coronavirus Outbreak
Published 03/12/2020, 2:33 PM EDT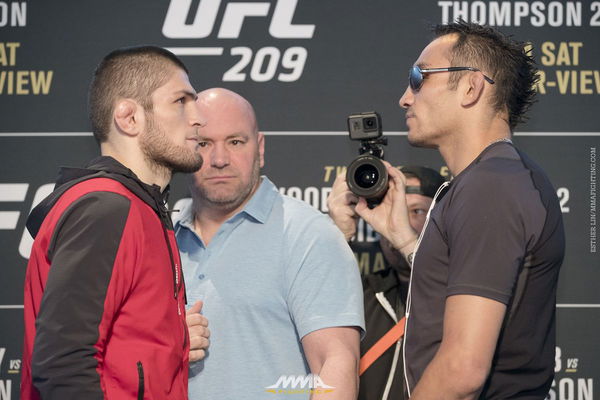 ---
---
On four previous occasions, a scheduled fight between Khabib Nurmagomedov and Tony Ferguson did not take place. The two are currently scheduled to fight next month at UFC 249. But with the outbreak of Coronavirus, the upcoming fight might end up with the same destiny as that of the previously scheduled fights. At least, that is what a few fans are speculating.
ADVERTISEMENT
Article continues below this ad
Only a few days ago, UFC president Dana White said the fight will be on schedule although the UFC was considering safety matters.
"When it comes to safety of the athletes and the fans and everything else, no matter where we go or what we do, we're always concerned," White said. "We've been thinking about this for weeks. [UFC] Dr [Jeffrey] Davidson has been involved. I don't know what else to say other than that."
ADVERTISEMENT
Article continues below this ad
"We're not cancelling the event," White added.
But the outbreak of the virus worsened in the days following White's comments. Many major sporting events across the world have come to a temporary stop. This led many fans into speculating if the Khabib vs Ferguson fight was in danger.
The speculations grew with a meme around the fight's cancellation that featured on White's Instagram story.
Fans on Twitter worrying about the Khabib Nurmagomedov vs Tony Ferguson fight
I guess we'll never get khabib vs tony

— oracio chavira (@chavo7740) March 12, 2020
I'd Love To See Khabib Nurmagamedov vs Tony Ferguson In An Empty Arena/Room/Whatever. I'd Actually Happily Pay For It. #ufc #khabib #tony

— RAJ (@whosraj) March 12, 2020
Honestly they can't cancel tony vs khabib for the 5th time …. let them both fight in hazmat suits do anything possible to get that right to happen… please 😂😂😂😂 #ufc #khabib #KhabibVsTony

— Aaron O'leary (@oleary222) March 12, 2020
I hope this fight Tony vs Khabib, takes place, with arena audience preferably. This would definitely be a record hard to break. A fight that's this anticipated being canceled so many times.

— Simy Mend (@Alex_Simy_Mend) March 12, 2020
Don't cancel Dana ! Don't cave !

— Septimus Severus (@kenedisco) March 12, 2020
It should happen even if there's no spectator allowed in the arena. I am sure the pay per view will be off the roof to support the cause. Let's do it! #UFC249 #KhabibVsTony #khabib

— NavySeal (@NavySea81119362) March 12, 2020
ADVERTISEMENT
Article continues below this ad
We all hope that #Ferguson vs #Khabib is unaffected by #COVID19 but can we agree that if it is cancelled, we should send Khabib location (Big Bear), and then all watch the fight from our cosy quarantines via UFC drone footage. This fight must happen at all costs!!

— HeadlineMMA.com (@HeadlineMMA_) March 11, 2020
ADVERTISEMENT
Article continues below this ad