The top UFC lightweight contender Tony Ferguson was looking to take on Khabib Nurmagomedov at UFC 249. However, the UFC lightweight champion recently released a statement on social media saying he will not be fighting Ferguson.
Tony Ferguson has responded furiously to the news of Khabib pulling out, in an interview with ESPN's Ariel Helwani. El Cucuy claims that Khabib is afraid of taking him on.
Initially, the pair were due to face off in New York on the 18th of April. However, Khabib aground in his home nation of Russia is unable to travel to the United States because of the restrictions on travel.
Ferguson claims that Khabib is running away. He accuses Khabib of being afraid. He feels there were a lot of alternatives that Khabib could have taken in order to make it to the fight. However, he chose not to take any risks. Ferguson claims that the UFC should strip Khabib of his title.
"He was in Abu Dhabi, he had the chance to come back here before the borders were closed in Russia. He decided to go back to Dagestan, didn't finish his camp. The guy does not want to fight. He's scared. He's running. He should be stripped of his title."- Tony Ferguson
Ferguson then recalls his experience at UFC 209. Ferguson feels Khabib is doing the same thing yet again as he is unable to cut weight fast enough. He claims the Coronavirus epidemic is a great excuse for The Eagle to hide behind.
"He did the exact same thing at UFC 209. Khabib knew he wasn't cutting weight very quick. He said already he was having a hard time cutting weight, doing everything else. Everybody's taking risks but he bailed out. It's pretty hard to explain but he bailed out."- Tony Ferguson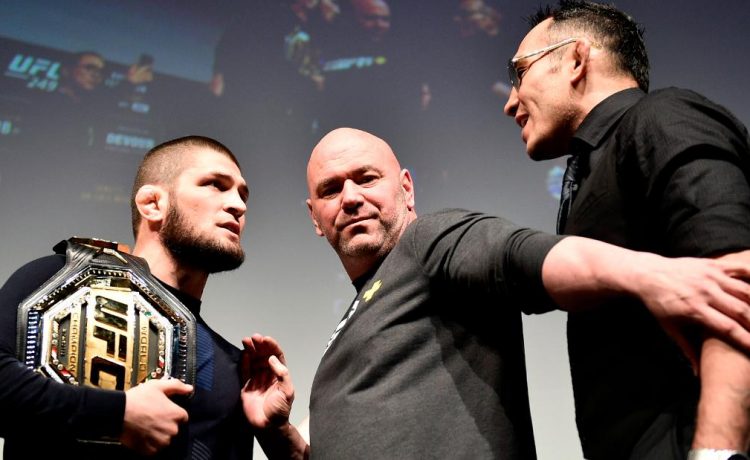 "Even this morning they said they were gonna allow flights out. As far as Khabib goes, he has the opportunities and he has the power to be able to take a private plane. He doesn't want to fight, I guarantee this dude is gonna try to retire without fighting me."- Tony Ferguson
Ferguson claims that Khabib can easily get out of Russia if he wants to. El Cucuy feels Khabib has an obligation to represent his country. He signed on the dotted line, says Ferguson. However, he feels that Khabib is doing everything he can to  "avoid that ass whooping,".
Do you think Khabib should risk the health of his family and himself to come out and fight?
Continue the conversation on Telegram, join other MMA fans on MMA Fans Group