"I'll Watch Him Over Khabib Any Day of the Week"- Eddie Alvarez on Justin Gaethje
Published 04/28/2020, 4:26 PM EDT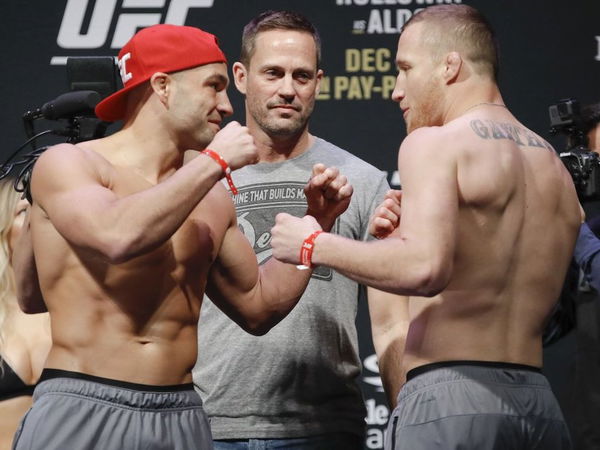 ---
---
Many fans have been left heartbroken after news about UFC 249 getting scrapped was revealed. However, Eddie Alvarez in conversation with James Lynch from theScoreMMA, reveals that he has a unique thought about the same.
ADVERTISEMENT
Article continues below this ad
At first, UFC 249 was looking to set Tony Ferguson and Khabib Nurmagomedov against each other. However, the Coronavirus epidemic made traveling to the United States impossible after the imposition of travel restrictions.
The Underground King reveals that Khabib pulling out of the fight does not bother him a lot. He claims that Justin Gaethje is one of his favorite fighters.
ADVERTISEMENT
Article continues below this ad
"Justin Gaethje is one of my favorite fighters to watch, so I'm never ever going to say that he shouldn't fight somebody. I'll watch him over Khabib any day of the week. He's just fun to watch," says Eddie Alvarez.
The 36-year-old fighter likes Gaethje so much that he feels the odds are in his favor to win against Tony Ferguson.
"I think Justin can knock Tony out.  Like I really do. I think he has the style to put Tony away. I really would love to see that fight before the Khabib fight happens or anything like that. That would be really fun to watch," claims Alvarez as he makes bold claims in favor of his favorite fighter.
ADVERTISEMENT
Article continues below this ad
Eddie Alvarez on Tony Ferguson vs Khabib Nurmagomedov
Initially, Alvarez admits that just like any other MMA fan, watching these two fighters take on each other is something he hopes for. However, Alvarez goes on to share a rather fresh opinion about the much-elusive Tony vs Khabib fight.
"Think about how much money was spent marketing that and how much money was lost. Even if they do make the fight happen. They're at a break-even considering how much they lost," says Alvarez looking at it from a financial perspective. Something that most fans rarely consider.
ADVERTISEMENT
Article continues below this ad
A series of injuries and other health issues have previously caused this fight to fall through. Both fighters are equally responsible for pulling out of the fight two times each. However, as this cancellation marks the fifth time, the scales tip in favor of the Dagestani fighter, who seems to be in the lead for canceling this fight, with 3 times under his belt. 
Do you think Alvarez is right?