WATCH: Ben Askren Taunts Sam Alvey as He Smashes Watermelons With His Bare Hands
Published 05/10/2020, 12:04 AM EDT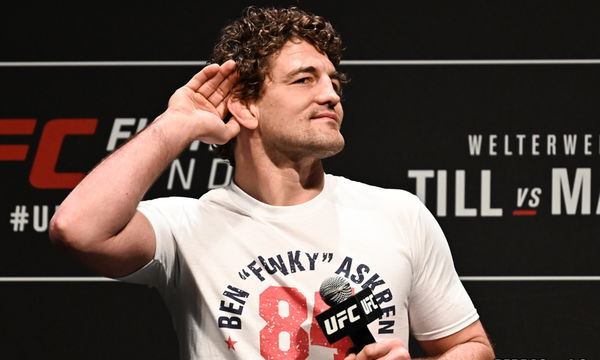 ---
---
UFC Light heavyweight fighter Ryan Spann survived a late scare against Sam Alvey to secure the win via split decision. Alvey's experience didn't prove to be much of an advantage, with 'The Superman' piecing together excellent shots and ground game to secure the victory. However, the main talking point of the fight was Alvey miraculously surviving a tight choke. Ryan Spann went for 'Ben Askren- Esque' choke, with Alvey almost passing out. However, Alvey pulled out and continued playing his shots.
ADVERTISEMENT
Article continues below this ad
It's highly unlikely that Alvey would've survived had it been Ben Askren choking him out. Askren's 'Fruit-bursting' choking skills would've certainly ended Alvey's night early.
Would Sam Alvey have survived a Ben Askren Choke?
ADVERTISEMENT
Article continues below this ad
ADVERTISEMENT
Article continues below this ad
READ : Joe Rogan Addresses "No One in the Audience"- Twitter Erupts as UFC Returns
Ryan Spann went on the offensive and tried to implement his grappling 30 seconds into the fight. Spann went for a takedown, but Alvey resisted the shot against the fence. Spann then attempted a daring, standing arm-triangle choke, but couldn't complete the submission. The rest of the round saw some good striking exchanges between the two. Alvey landed some good shots, but Spann answered with a few of his own and spent the rest of the round working Alvey against the fence.
Spann started the second round aggressively, pressuring Sam Alvey. He partially connected with a right high kick and connected with some punches. Because of the constant pressure, both men were clearly fatigued at the end of the round.
ADVERTISEMENT
Article continues below this ad
Ryan Spann came out looking to end the fight. He threw a series of kicks and entered the pocket, delivering some serious blows. However, his confidence almost got the best of him. Alvey pulled off a choke of his own towards the end of the fight, but Spann kept his cool and made it to the end of the bell.