"What Will Happen Next No One Knows"- Khabib Nurmagomedov Skeptical About UFC 249
Published 03/14/2020, 12:26 PM EDT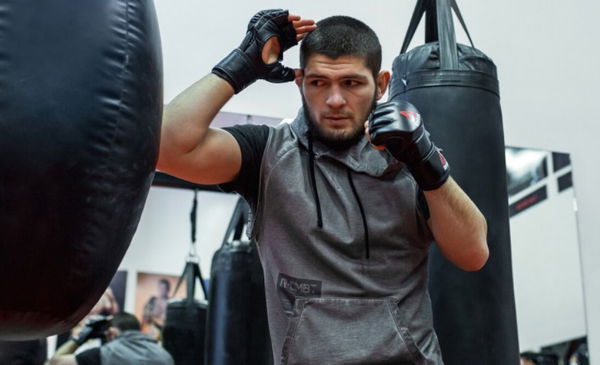 ---
---
The curse that has plagued the fight between Khabib Nurmagomedov and Tony Ferguson may strike, yet again. The Coronavirus pandemic has been a huge cause of concern for officials.
ADVERTISEMENT
Article continues below this ad
Khabib came out on social media claiming that he is only concerned with what goes on inside his gym. In addition, he says he has been working hard.
"I don't understand what is going on outside the gym. I am in the gym and I am working hard. What will happen next no one knows."- Khabib Nurmagomedov
ADVERTISEMENT
Article continues below this ad
UFC 249 will be taking place at Brooklyn Centre, New York and as a result of the declaration of a national emergency, the event may go down behind closed doors, moved to a different location or postponed.
The Dagestani fighter's manager, Ali Abdelaziz assures fans that the fight between Khabib and El Cucuy will definitely take place and the UFC will manage accordingly.
"Guys, Khabib Nurmagomedov vs Sunglasses (Tony Ferguson) is happening April 18th. UFC always find a way with or without fans. This fight is going down, people at home need entertainment."- Ali Abdelaziz
UFC Brasilia will be taking place behind closed doors. The organization agreed on canceling various pre-fight rituals so as to ensure the health and safety of all parties involved. The Ultimate Media Day and Friday's ceremonial weigh-ins for UFC Fight Night 170 fell victim to these cancellations.
On the other hand, Fight Night 171 will be taking place as planned. Welterweights Tyron Woodley and Leon Edwards will be headlining the event in London.
ADVERTISEMENT
Article continues below this ad
The Rough History Of Khabib Nurmagomedov v Tony Ferguson
In terms of the fight between Khabib and Ferguson, MMA fans have been let down on numerous occasions in the past. In other words, several complications like injuries and health issues have resulted in multiple cancellations of this fight.
The fight has been booked four times however it fails to materialize every single time. Fights have been arranged every year following the first attempt in 2015 till the year, 2018. Both the fighters were forced to pull out of the fights on two different occasions each due to injuries and health issues.
ADVERTISEMENT
Article continues below this ad