"When I Chase the Knockout It Doesn't Work"- Francis Ngannou
Published 05/10/2020, 11:31 AM EDT
By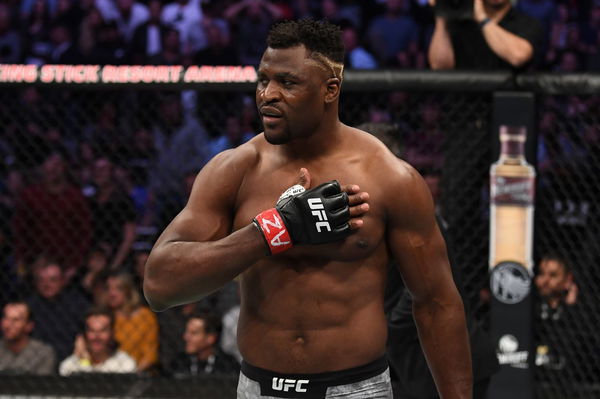 As UFC 249 comes to an end, several fighters find themselves celebrating their achievements and some not so much. Francis Ngannou falls in the former category, having outworked Jairzinho Rozenstruik rather easily.
ADVERTISEMENT
Article continues below this ad
Bigi Boy spent more time recovering from his fight against Ngannou awkwardly propped up against the cage, compared to the time he spent fighting him.
The UFC promoted the fight as a battle between two of the hardest hitters the promotion has to offer. Both fighters had a lot on the line during the fight. An unbeaten run for Rozenstruik and the reputation of being the most lethal heavyweight for Ngannou.
ADVERTISEMENT
Article continues below this ad
"I had fun out there, it wasn't something I was chasing. When I chase the knockout, it doesn't work, so I don't chase anymore. When I heard him call me out I knew he didn't know what he was doing. He has a lot of potential but he needs to take a step back and get ready for someone like me," Francis Ngannou on Jairzinho Rozenstruik.
The fight turned out to shatter the glass ceiling that the UFC set for it. So much so that the fight was over within 20 seconds. Ngannou managed to knock Rozenstruik off his feet with a thundering left hand before following up with 6 equally lethal shots. Undoubtedly one of the best fights UFC 249 brought to us.
However, the quality of the fight came at the expense of Rozenstruik's spotless record. The punches were so brutal that you could hear the loud cracks, further exacerbated by the lack of an audience.
Francis Ngannou hopes for a shot at the title
Fighters often yearn for a shot at the title after reaching the top of their respective divisions. And it would be unfair to say that Ngannou is not the top dog in his division.
"I don't know what it takes to have a title shot in the UFC. I've made my peace with that. It's not that I don't care, but I don't want to feel like something is controlling me. With or without a title shot, I'm still a fighter and still have what I have and can make a statement," said Ngannou following his emphatic win over Rozenstruik.
ADVERTISEMENT
Article continues below this ad
For Ngannou a shot at the title is not a first. The Predator took on Stipe Miocic in a title fight back in January 2018. However, a loss by unanimous decision set him back.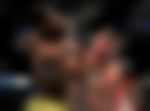 Ngannou lost another fight against Derrick Lewis following his loss to Miocic, however, he has since rebounded having fought a total of just 2:42 seconds through all 4 fights that followed his loss to Lewis.
ADVERTISEMENT
Article continues below this ad
Adding a win over Rozenstruik to his belt indicates that he is ready to take on Stipe in yet another fight. However, the odds may favor the Cameroonian fighter.
Do you think Ngannou can overthrow Stipe?