"I Can Fight Six Rounds" – Amanda Nunes
Published 06/07/2020, 10:47 AM EDT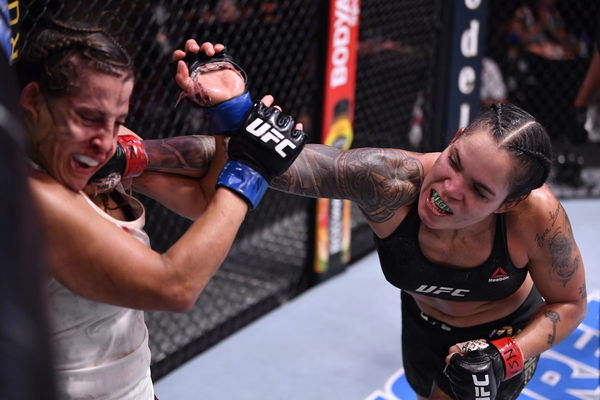 For quite a while, critics doubted Amanda Nunes' cardio. Many believed that "The Lioness" would find it difficult to keep up with the pace for five rounds. However, in her latest fight, she proved all doubters wrong.
ADVERTISEMENT
Article continues below this ad
Less than 24 hours ago, Amanda Nunes retained her featherweight gold after dominating Felicia Spencer at UFC 250. The Brazilian outstruck and even out grappled Spencer.
Nunes claimed that it was her best performance to date. She felt confident about her chin and her power. Though critics alleged that Felicia would pose a threat to Amanda on the ground, Amanda shut down all the naysayers by controlling Spencer with her Jiu-Jitsu.
ADVERTISEMENT
Article continues below this ad
"Yeah. Tonight I had a lot of fun. With all due respect to my opponent, I am feeling so great. I feel so prepared. And it's making me smile. Because I was so mentally, in spirit, and body, I was there in the fight. Doing my best. That made me smile in the whole fight."
Amanda Nunes felt fresh in the fifth round
ADVERTISEMENT
Article continues below this ad
Furthermore, she revealed that there were many opportunities to finish her opponent. Yet she wanted to put on a show for the fans. She believes that Felicia was the perfect fighter to showcase her skills. Additionally, Nunes stated that she has cardio for 6 rounds.

"I want somebody like her to show everybody… I can fight six rounds. I was so fresh in the fifth round like I was in the first. And I proved once again that I am the best on the planet right now. I did something that nobody did before, you know? And I'm the greatest of all time."
ADVERTISEMENT
Article continues below this ad
Nunes is a bantamweight who is also the champion at featherweight. Not having to cut the extra weight helped her to perform at her best. The double champion said that it was the best fight.
"The best fight tonight for me. All connected – my mind, my body was amazing."